As an Amazon Associate, we earn from qualifying purchases made on our website.
Burmester and Bowers Wilkins are two renowned and well-respected brands in the audio industry and produce high-quality speakers, soundbars, headphones, and subwoofers.
In this article, we will cover a general overview of both brands, looking specifically at the sound quality, durability, price and so on.
Of course, each brand has different devices at different price points. However, we will compare them as closely as we can.
Burmester is a high-end audio brand known for its luxurious and expensive audio equipment, while Bowers & Wilkins is a well-respected brand in the audio industry known for its high-quality speakers and headphones.
Pros and Cons of Bowers & Wilkins:
Pros: Known for producing high-quality home audio and home theater products, including speakers, headphones, and soundbars. Strong reputation in the audio industry.

Cons:

Some products may be on the expensive side.
Pros and Cons of Burmester:
Pros: Known for producing high-quality audio components, including amplifiers, receivers, and CD players. Many of their products are well-regarded for their sound quality and build quality.

Cons:

Some of their products can be expensive.
Quick History
Burmester Quick History
Burmester Audiosysteme GmbH, commonly referred to as Burmester was founded in 1977 by an Austrian-born musician and engineer, Dieter Burmester.
It is a German company that manufactures high-end audio components and is based in Berlin-Schöneberg. It has partnered with luxury car brands like Mercedes-Benz, Porsche, and Bugatti.
Bowers and Wilkins Quick History
Bowers & Wilkins, best known as B&W, is a British manufacturer of consumer and professional loudspeakers and headphones.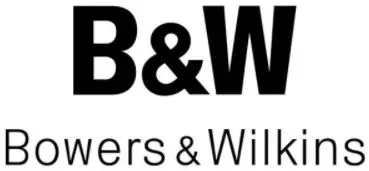 B&W was founded in 1966 by John Bowers in Worthing, West Sussex, England. They currently have many award-winning loudspeaker designs to their name.
Sound Quality
Burmester Sound Quality
Burmester devices have excellent sound reproduction and customers truly love the nuances and detailed sound of Burmester audio products.
Their audio systems paint clear and precise audio images, with the tone ranges all perfectly balanced for a natural feel to the sound output. The mids are distinct and undistorted, the highs are warm and crisp, while the bass is deep and rumbling, without overwhelming the other tonal ranges.
B & W Sound Quality
B&W puts a lot of money into research and development. This has allowed them to make many audio breakthroughs over the years. B&W devices are noted for delivering pure, natural and detailed sound reproduction. There's chest-thumping bass and clear mids and highs.
One feature of some B&W speakers is a tweeter separated from the main cabinet, this allows the tweeter to produce an accurate sound that's unaffected by the subwoofer.
Features
Burmester Features
Burmester devices have a number of advanced features incorporated into their devices. Some of the features you can expect to find in your devices are listed below.
Input options include XLR, RCA, Phono Input, MC / MM, DAC
Output options include XLR, 6.3mm and 3.5mm headphone jack, RCA, TOSLINK
Remote control, web platform and app support
Apple Airplay® support
Phono equalizer
Streaming from services such as Tidal, Diadora and others.
B & W Features
Even though B&W is an older brand, they are still competing with best-in-class modern devices with modern features, like:
Wireless connectivity includes Bluetooth, WiFi
Wired connectivity includes USB, HDMI, optical audio
AirPlay 2, Spotify Connect and aptX Adaptive Bluetooth support
Bowers & Wilkins Music App, which supports music streaming services including Tidal, Deezer, Qobuz, Soundcloud and TuneIn
Amazon Alexa voice control for hands-free operation
Build Quality
Burmester Build Quality
Burmester devices have a trademark chrome finish. They are built using quality materials that improve both the durability and acoustic properties of the device.
However, many customers have complained about the build quality of their speaker grilles, especially for car audio systems.
The Burmester BC150 speaker has a solid aluminum frame and braces to reduce unwanted vibrations. The connections are made of extremely pure copper to ensure low resistance to current flow. All components of Burmester devices are manufactured and assembled by hand.
B & W Build Quality
B&W has always been at the forefront in pioneering new techniques that improve the acoustics and durability of their devices. Their devices are enclosed in aluminum or sturdy plastic for a durable and attractive finish.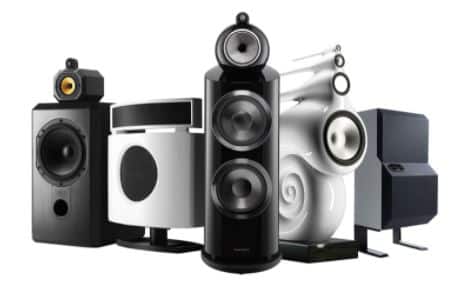 B&W patented the use of Kevlar fibers, impregnated with a stiffening resin to provide controlled rigidity and internal damping; and minimize distortion. They currently use their own material, Continuum, for their speaker cones.
Ease Of Use
Burmester Ease Of Use
Burmester devices are very easy to use, with clearly labeled dials, switches and buttons. Remote control support also makes it easier to operate them. Car stereos can be operated using the car's integrated control system.
B&W Ease Of Use
B&W devices are very easy to install and operate. This is made even easier by the company's support for voice assistants, such as Alexa. The B&W music app allows you to use streaming services on your devices and finetune the sound output to your taste.
Cost
Burmester Cost
The prices of Burmester gadgets are on the high end of the price spectrum and their top-rated devices can be very expensive.
Check out the price list for their products.
Amplifiers: $4,500-$225,000
Speakers: $7,500 – $375,000
Turntables: $10,000 – $60,000
CD players: $3700 – $60000
B&W Cost
B&W devices usually have midrange prices, though some devices are well into the high-end price range. Their price ranges are given below.
Subwoofers: $900 – $3200
Earbuds/headphones: $320 – $550
Speakers: $500 – $8400
Space Requirements
Burmester Space Requirements
The materials used in manufacturing Burmester products make them bulky. The BC150 speaker measures 309x1433x601mm (WHD) and weighs a whopping 180Kg. The Burmester 777 preamplifier measures 450x156x346 mm (WHD) and weighs 25Kg.
Whatever model you get, keep in mind that they require enough ventilation space around them to perform optimally.
B&W Space Requirements
B&W floorstanders require quite some space in which to operate and are better suited to spacious rooms.
The bookshelf speakers are more versatile and can either be mounted on a stand, fixed to a wall using brackets or placed on a desktop or shelf space. Keep in mind that they all require some free space around them for ventilation.
Remote Controls
Burmester Remote Control
Some Burmester devices support the use of third-party and in-house infrared remote controllers. The Burmester app and web interface also allow you to control your device and stream from services such as Tidal.
B&W Remote Controls
Some B&W devices have their own in-house remote controls but they also support the use of third-party remote controllers. The B&W music app and Alexa allow you to control your speaker from any device on the same WiFi network.
Connectivity Options
Burmester Connectivity Options
Burmester devices can be connected using wired or wireless options, or a combination of both. These options include Bluetooth, WiFi, USB, analog and digital audio inputs, and 3.5 and 6.3mm headphone jacks.
B&W Connectivity Options
B&W devices can be connected to each other and to other devices using wired or wireless options. These include Bluetooth, HDMI, WiFi, USB, aux input and a whole range of other options.
Power Range
Burmester Power Range
Burmester devices have high power ranges that give powerful sound outputs. The 911 Mk 3 amplifier is rated at 180 watts, which means that it can power any domestic speaker to high volumes without issue. The 159 Mono power amplifier has an astounding 1200 watts of peak power.
B&W Power Range
The power range for B&W devices varies for different devices, though they all give quite powerful performance, even without the use of amplifiers.
The B&W 607 S2 bookshelf speaker is rated at 100 Watts, while the B&W Zeppelin peaks at 240Watts.
Frequency Response
Burmester Frequency Response
Burmester devices have frequency response ranges with deep lows for punchy bass and high ranges for crisp midtones. The BC150 has a frequency response range from 34Hz to 20KHz, which makes it a great standalone speaker as its frequency response is within the recommended reference range.
B&W Frequency Response
The B&W 606 Speaker has a frequency response range of 52Hz on the low end and 28KHz on the high end, which is simply amazing for a bookshelf speaker. The B&W 804 D4 floorstanding loudspeaker has a vast 20Hz to 35KHz frequency response range.
Conclusion
Burmester is a brand that makes every effort to manufacture products that meet only the highest quality standards, and you can expect nothing less than an exceptional performance from their devices. If cost is not an issue, Burmester devices are one of the best audio devices you can buy.
B&W devices deliver excellent performance at reasonable prices. Though they can be quite costly, you should expect nothing but the best from them.
Norvan Martin is the founder of BoomSpeaker.com. He is a professional Electronics Engineer and is passionate about home theater systems and AV electronics. BoomSpeaker was created as an online hub to share his knowledge and experiences as it relates to home theaters and home audio electronics.
My email: admin@boomspeaker.com
Connect on Pinterest and Linkedin