As an Amazon Associate, we earn from qualifying purchases made on our website.
Bose and Marshall are two renowned and well respected brands in the audio industry that produces high quality speakers, headphones, soundbars, and subwoofers
In this article, we will cover a general overview of both brands, looking specifically at sound quality, durability, price and so on. Of course, each brand has different devices at different price points, however we will compare them as closely as we can.
Bose vs Marshall: Bose products are known for their fair sound quality but audiophiles complain about the lack of separation between lows, mids and highs and in addition, they may be more expensive than some other brands, while Marshall products are known for their high-quality sound and stylish design.
Pros and Cons of Bose:
Pros: Known for producing high-quality audio products with excellent sound quality and build quality. Many of their products, including headphones and home theater systems, are well-regarded by consumers.

Cons:

Audiophiles have expressed issues with the audio profile of Bose's in terms of highs and lows.
Pros and Cons of Marshall:
Pros: Known for producing high-quality amplifiers and speakers with a distinctive vintage design. Many of their products are well-regarded for their sound quality and build quality.

Cons:

Some of their products can be expensive, and some users have reported issues with durability.
Quick History
Bose Quick History
Bose is an American audio equipment company established by Amar Bose in early 1964. It is well-known for making high-end speakers, headphones, car sound systems, and other professional audio equipment.
Amar Bose started Bose because he was unhappy with the sound quality of a stereo he had bought. He did this to try to make sound systems better than they were at the time. Amar had taken the time to find out how important sound reverberation was to the sound system‌.
As a graduate of the Massachusetts Institute of Technology, Amar Bose knew how important research was to making excellent products. Therefore, he had made this the driving force for the company's growth over the past few decades.
Marshall Quick History
Marshall, also called Marshall Amplification, is a company that is well known for the production of crunchy-sounding amps. Jim Marshall, a successful drummer and drum teacher, started the company in 1962, with its headquarters now in Bletchley, Milton Keynes, England.

Some of the world's best bands and musicians have praised Marshall's equipment. Products produced by the company include amplifiers, headphones, subwoofers, and speakers.
Sound Quality
Bose Sound Quality
There is a lot of criticism about Bose speakers as it relates to sound quality. Many people believe Bose is an overhyped company that focuses too much on marketing and not enough on R&D to improve the quality of their speakers.
Many audiophiles for example lament the fact that Bose speakers tend to not have clearly defined highs and lows (bass). This is where the phrase – no highs, no lows, must be Bose came from.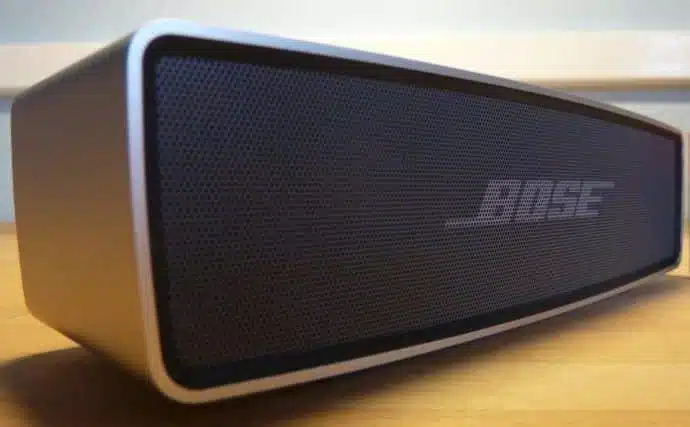 While the above may be true, to Bose's credit, some psychoacoustics has been a primary focus in the development of Bose audio equipment. This focuses on the effect of the reflected sound arriving at the listener's head and thus tries to mimic a live performance with all their speakers.
This psychoacoustic design began with the Bose model 901, which was manufactured in 1968, and as a result of its success, it is still in production to this day.
But because Bose's psychoacoustic approach is unusual and most audiophiles criticize it, but that doesn't make it sound any less impressive. The sound fills the room, making it seem like a live performance without losing any of the high, mid, or low frequencies.
Marshall Sound Quality
The company had surpassed expectations in terms of sound quality and had become one of the most well-known brands since 1962.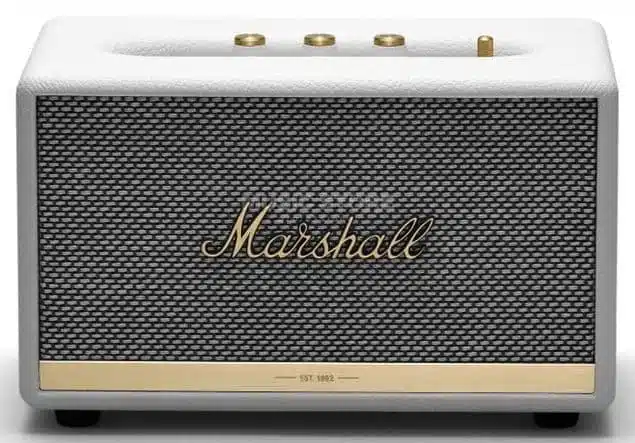 They are especially popular for producing products that sound "crunchy" and loud, and their amps and speakers are popular among rock and metal players. Although some Marshall devices have an anemic and weak low end, the treble and mid-range are crystal clear.
Features
Bose Features
Bose has features for expressive audio, intuitive controls, and modern components for better use. It is pretty easy to identify a Bose product when you see one. Some of the most common features of Bose devices are patented and device-specific.
Most Bose speakers support all audio formats, like Flac and Wav. They also have voice support, like Amazon Alexa, built-in music streaming platforms, like Deezer and Spotify, and seamless wireless connectivity for listening to music in multiple rooms through the Sonos set up and SoundTouch.
You can also expect to find a micro USB port and a 3.5mm headphone jack/aux cable on a typical Bose device.
Most Bose headphones also have a background noise canceling feature that blocks out all the surrounding noise and allows you to focus on the sound from the headset. Because of this feature, Bose headsets are a great choice for professional uses like conference calls.
Marshall Features
The majority of Marshall products have a classy design and are highly durable. Below are some Marshall device features that make their devices user-friendly:
Dual-host functionality (allowing you to connect and switch between two Bluetooth devices)
Marshall mobile app to customize or control the sound
Micro USB port.
Microphone connectivity
Bluetooth and microphone connectivity
Build Quality
Bose Build Quality
Bose products are not something you can rely entirely on when it comes to build quality. The build quality can be divided into the internal build and the external structure.
However, for a brand that has been a big player in the audio equipment industry, Bose seems to focus more on the internal build quality at the expense of the structural delivery. Therefore, this leads to a great-sounding device that has a poor structure.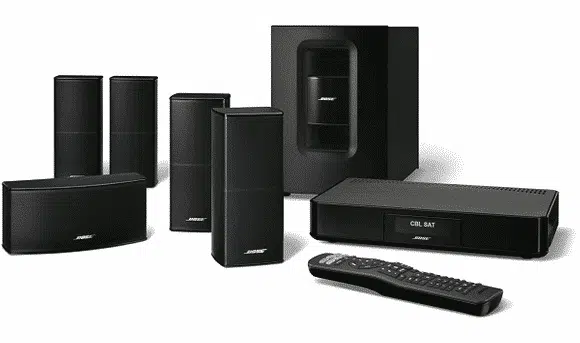 Although, another factor that might be worthy of note is the fact that the build quality varies from device to device. While some Bose products fall short of expectations, others are extremely durable.
For example, while most Bose speakers are usually reviewed to be of below-standard build quality, the headphones have enjoyed excellent reviews. An example of this is the Bose QuietComfort 35 II headphones, which most users have reported to have one of the best build quality.
Marshall Build Quality
Compared to other audio products in today's market, Marshall devices have an averagely good build quality. Marshall headphones are made of vinyl and plastic mix with a lot of padding for added comfort.
Some Marshall devices are built with a leather-clad exterior, brass fittings, a cloth grille, and of course, the iconic Marshall logo. Most speakers have rubber feet on the bottom to keep them from shifting and to preserve the surface they are placed on.
Ease of Use
Bose Ease Of Use
A great number of Bose products are easy to use. This means that even without technical know-how, you can operate them without stress.
For example, the QuietComfort 35 II headphone has a design that can be turned 360 degrees, adjusted to an angle, and can be folded easily.
The Soundlink Micro is another Bose portable Bluetooth speaker that is designed with a freestanding mount which makes it ideal for use anywhere including the bedside, bookshelf and other places. This includes poolside too since the Bose Soundlink Micro is waterproof and can stand easily.
Marshall Ease Of Use
Marshall devices are easy to use and set up due to their ergonomic features. The Marshall app is available on both the Android and Apple stores, making it very convenient to use on any device. Users can also consult the guide booklet if they are having trouble setting it up.
Cost
Bose Cost
One of the most important pieces of information you need to understand before choosing a Bose product is the fact that they are quite expensive. However, most people will unconsciously prefer to buy Bose products. This is basically for two reasons:
Bose has a brilliant marketing strategy which makes them one of the most popular brands in the world.
Bose speakers have a sound that makes your brain mimic the feeling of being in a live show. This is because of the tremendous investment by Bose in research and development.
Unfortunately, there are so many brands in the audio equipment industry with less prestige than Bose but which offer similar quality products at a lower price.
Check out the price tags for their most common products:
Bose earbuds: $180 – $450
Bose headphones: $100 – $550
Bose bass module speakers: $400 – $850
Bose Soundbar: $300 – $850
Marshall Cost
There are lots of audio manufacturers that sell at a higher price than Marshall, but this doesn't mean that Marshall products are cheap. Below is the price range for different types of Marshall products:
Speaker: $150 – $500
Headphones are sold for around $150
Amplifiers: $150 – $500
Space Requirements
Bose Space Requirements
Most Bose products, including the home theater, AV receiver, and speakers, do not require too much space as they aren't normally large and bulk. They include shelf speakers, minimal home theaters, and AV receivers with pretty sleek designs.
Bose speakers such as SoundLink Color Bluetooth speakers can be used on the bookshelf without disturbing the arrangement of books.
Marshall Space Requirements
Marshall produces some portable devices which take up less space in the room, while they also produce some heavy and wide space-consuming speakers. Hence, depending on the product you're buying, you should put your available space into consideration.
Remote Controls
Bose Remote Controls
entertainment without stress. They add this remote to almost all Bose products except for the headphones.
A pretty interesting factor to admire about the Bose remote control is the fewer buttons. The remote control adds usability to its delicate design. It allows you to perform all the desired tasks with a few clicks of the buttons.
Marshall Remote Controls
Most Marshall devices don't have a remote control. One of the devices that comes with one is the Marshall electronics IR remote control for cameras, which allows you to handle several of the camera's settings, including presets (up to six), zoom, focus settings, white balance adjustment, and more, from a distance of about 10 metres.
Connectivity Options
Bose Connectivity Options
Here are the main connectivity options compatible with most Bose speakers:
Marshall Connectivity Options
Marshall products do not really consume power compared to some other products. The power produced by their products ranges from 30 watts to 200 watts max. Marshall amplifiers output about 240 watts of power.
Most of their smaller products come with inbuilt batteries that are rechargeable.
Power Range
Bose Power Range
The power rating of Bose devices is not shown on most of their devices. But, according to different reviews from their users, the power range depends on the kind of device.
For example, the power range of an average mini home speaker like the Bose SoundLink Mini 2 is around 30 to 50 watts. The wattage of a larger speaker, such as the Bose Soundbar 300, is around 65 watts.
Marshall Power Range
Marshall products do not really consume power compared to some other products. The power produced by their products ranges from 30 watts to 200 watts max. Marshall amplifiers output about 240 watts of power.
Most of their smaller products come with inbuilt batteries that are rechargeable.
Frequency Response
Bose Frequency Response
Most Bose speakers have a frequency response of around 25Hz to 20kHz. However, for most Bose headphones, the frequency range is between 100 Hz and 10 kHz.
Marshall Frequency Response
Marshall products' frequency ranges from 20Hz to 22KHz, which is quite okay, but of course, it varies depending on the kind of product you're buying. For example, the Marshall Kilburn speaker has a frequency of 62Hz to 20KHz and the Marshall Woburn Bluetooth speaker has a frequency of 35 Hz – 22kHz.
Conclusion
For those looking for a sound system that can simulate a live performance, Bose products are the best option. However, most audiophiles feel this is not a natural sound and it is hence heavily criticized amongst audiophiles. Marshall Company, since its establishment, has been producing easy-to-use and inexpensive devices that don't even consume much power. You will most likely find a fit for your needs, irrespective of your taste and budget.
Related Articles
Sonos Vs Marshall
Harman Kardon Vs Bose
Harman Kardon Vs Marshall
Denon Vs Bose
Sennheiser Vs Bose
Sennheiser Vs Marshall
Bose vs Focal – Which Brand Is Better?
Norvan Martin is the founder of BoomSpeaker.com. He is a professional Electronics Engineer and is passionate about home theater systems and AV electronics. BoomSpeaker was created as an online hub to share his knowledge and experiences as it relates to home theaters and home audio electronics.
My email: admin@boomspeaker.com
Connect on Pinterest and Linkedin