Not sure whether Bose or Boston Acoustics is the right brand for you? These brands are well known in the audio world for producing car and home audio electronics and are often compared with strong opinions about each.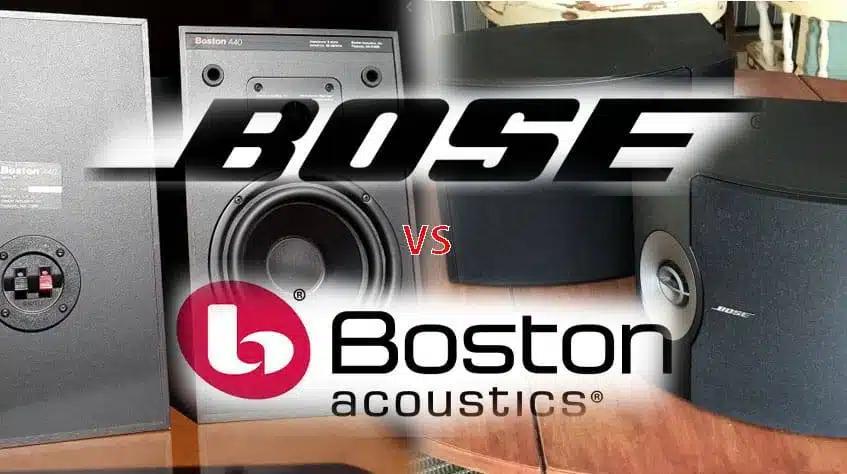 So let's compare Bose vs Boston Acoustics.
Boston Acoustics is an old brand (now retired) that spent a lot on research & development and produced reasonable quality budget systems that offer better value than Bose budget options. However, Bose spends a lot on marketing and makes budget as well as high-end products.
In terms of our recommendation, Boston Acoustics is the better brand, but it is retired. You can go with Boston Acoustics for reasonably priced smooth-sounding speakers or Bose if for some reason you like speakers that produce a lot of coloration.
In any case, let's get into more detail about the Bose vs Boston Acoustics comparison.
Bose vs Boston Acoustics Comparison Table
| Criteria | Bose | Boston Acoustics |
| --- | --- | --- |
| Brand Reputation | Bose is well-known globally for its audio and speaker innovations. | Boston Acoustics has a reputation for producing high-quality audio equipment. |
| Sound Quality | Bose products often emphasize a balanced sound with impactful bass. | Boston Acoustics is praised for its detailed and natural sound reproduction. |
| Build Quality/Design | Bose products feature sleek and modern designs with attention to aesthetics. | Boston Acoustics is known for its solid build quality and classic design elements. |
| Product Range | Bose offers a wide range of audio products, including headphones, speakers, and home theater systems. | Boston Acoustics focuses on speakers and audio systems for home and professional use. |
| Pricing | Bose products are often positioned in the higher price range. | Boston Acoustics provides a range of products with varying price points. |
| Features | Bose products often come with innovative features like noise cancellation in headphones. | Boston Acoustics emphasizes features that enhance audio performance and user experience. |
Other similar comparisons:
Bose vs Boston Acoustics Comparison
While Bose remains in the production line with their most recent product released in January 2021, Boston Acoustics has stopped production.
Besides, they have stopped hiring engineers. This is likely to affect the impact of Boston Acoustics now and in the future.
Audiophiles feel that Bose spends more time marketing than improving their speaker products. In other words, Bose is good at making you think their products are good which may not be a true representation. They rely less on specs and more on marketing.
One main advantage of Bose speakers at the lower end however is they are very portable. Of course, there are larger Bose speakers including studio monitors and passive speakers that you can use with Bose receivers. The best Bose speakers at the lower end include their Soundlink series.
Similarly, Boston Acoustics spent more time in research and development for improved sound quality. This is of course one of the main reasons people loved this brand.
Boston Acoustics' A series is a good piece of engineering for example. Their audio quality is superb. Besides, they are fitted with high-grade cabinetry too.
This unit easily beats many similarly priced competitors. However, this does not mean that it will outperform every speaker unit from Bose.
Bose vs Boston Acoustic Pricing
The fact is, there are much better options out there like Polk and Alpine than Bose and Boston Acoustics if you have the budget for it.
For example, the GoldenEar Triton 7 Towers is around the same price as the Boston Acoustics RS 334 Towers, but the GoldenEars is much better.
However, you can find some very good Boston Acoustics speakers that are very cheap like the dirt-cheap Boston Acoustics VR1. It's a great-sounding speaker that really doesn't cost much. You will be hard-pressed to find a speaker as good as another brand at that price range.
Bose vs Boston Acoustic Sound Quality
Bose speakers are designed to be energy efficient. How successful they are at that is arguable. Moreover, these speakers do tend to offer a lot of coloration which can be annoying for many people.
On the other hand, Boston Acoustics produces smooth-sounding speakers with great overall sound quality.
Bose Speaker Packages
2201 Mono
2201 Bose speaker was released in 1966. Designed for indoor play, Bose 2201 delivers its best when placed in a corner. 2201 had a frequency control switch in addition to the tone controls. This mono speaker failed terribly and was taken off the market in less than five years.
901 stereo
Produced in 1968, this stereo speaker had nine drivers for every channel, an equalizer, an isolated amplifier, and two-floor standing speakers.
301 stereo
Released in 1975, these speakers produced high-quality ultra-clear audio. With an 8 Ohms cabinet, 10.5" width, 9.25" depth, 17" height, 8" Woofer, and 3" Tweeters, you have the right sound quality with extraordinary stereophonic effects.
The other speaker which is quite similar in design to 301 is 201. However, it had smaller drivers.
Acoustimass
Bose produced Acoustimass 5" in 1987. It consisted of 2 double-cube satellite speakers with a bass module.
The recent module has a square port and the cube speakers have been redesigned to become slimmer and nonadjustable.
Acoustimass 6" and Acoustimass 10" surround speakers were released in 1996. Acoustimass 6" used a "single cube" satellite while Acoustimass 10" used "double cube" satellite speakers.
Environmental Series
Bose introduced an indoor type of 101 mode – the 111 series Environmental – in 1994. Later, 151 substituted 111 with a restructured speaker grille. 151 was later swapped by 151 SE in 2004 with the increased flexibility of horizontal and vertical mounting with flush mount brackets.
The 131 maritime series was intended for the boats. Also, the Freespace 51 speaker is an "in-ground" speaker.
It was premeditated with 360-degree multidirectional sound projection together with a bass port. These speakers are built to blend with the environment with wiring systems that could go underground.
Bose Computer Speakers
Bose has been in the market since 1987. Some Bose speakers have 2 minor satellite speakers which occasionally have a subwoofer.
Read on to learn more about the various Bose models and the quality they can offer.
MediaMate
Released in 1987, this model had magnetic shielding. This was fitted so to ensure the speaker unit did not cause any image distortion when placed near a monitor. MediaMate was built with two inputs and sources.
Embedded sources included a computer game and CD player both of which support simultaneous plays.
The speakers however did not have any controls to enable private control of the speakers. Production of this brand ended in 2005.
Companion 2
This Bose brand was first produced in 2005 and replaced MediaMate. In 2006 when companion 2 series II was released into the market, the appearance had transformed from circular to rectangular speaker grilles.
Companion 3
This speaker first appeared in the market in 2003. It had two satellite speakers together with a subwoofer.
Although this speaker allows dual inputs that can be played simultaneously, the level of every source cannot be adjusted individually.
The second type of Companion 3 was released in 2006. However, it had minor satellite speakers comparable to companion 3, and a square speaker grille.
Companion 5
Bose first listed this model in 2004 on Amazon. Then, it was a 2.1 unit with two satellite speakers, a control unit, a subwoofer, and an internal sound card.
These features especially the subwoofer system were quite similar to those of Companion 3 except Companion 5 had larger satellite speakers.
Besides, a similar version known as version 50 was produced in other countries such as Asia-Pacific and Europe.
Companion 20
Released in 2021, the Bose Companion 20 has a wired control unit (also called "control pod" by the manufacturer), and two satellite speakers. This version is still in the market.
Computer Musicmonitor
This system was in the market between 2007 and 2017. It had a remote controller and two satellite speakers and was liked by many for its small, convenient size.
It however had more substandard audio for the price. A similar version that could function on D.C. power was released in Japan in 2006.
Boston Acoustics
Boston Acoustic is an old brand. You may have interacted with this brand in your electronics store or some car.
Boston A series is known for delivering value. Whether it is A250 floor standers, A 225 C center channels, A25 bookshelf, or ASW 250 10" subwoofer", users are sure of the quality they buy.
The A series Boston Acoustics is good at getting the right combination of 5.25" mid or woofers together with 1" tweeters.
Larger floor-standers and bookshelf products exist. With 1" twitter and 5.25" woofers, they are designed to deliver.
Boston Acoustics Speaker Weights
Front speakers are slightly below 30 lbs. While A 225 C center channel is 15.40 lbs., an A 25 bookshelf weighs 10 lbs.
Generally, the internal drivers of acoustic speakers make up most of their weight. The cabinets are however very light.
Performance
The speakers in this series sound good. However, they get pinched at high play with more anemic bass.
Highs
Sonic detail
Very synergistic
Large, satisfying midrange
Lows
No threaded inserts
The subwoofer is not so musical
The Center channel is muffled
According to Wikipedia, there are no more productions at Boston Acoustics. Boston Acoustics is therefore considered a dead brand.
Is Boston Acoustics a Good Brand?
Boston Acoustics, just like Bose, is a renowned brand in the audio industry. You must have seen their products in a vehicle or at your favorite electronics store. The brand's popularity speaks a lot about its authenticity and usefulness.
What Happened to Boston Acoustics?
Since Boston Acoustics produced the A360 towers and A25 bookshelf speakers, they have had no new production plans or budgets. D&M Holdings acquired the company in August 2005. Sound United LLC acquired D&M Holdings in March 2017 and has maintained the brand name since then.
Is Bose the Best Sound System?
Bose sound system is designed with the needs of the majority of users in mind. So, the brand could be worth the money- but only for their portable Bluetooth speakers and a few other sound system components. While the components are some of the best, you can get better options for the same price for your surround system.
Conclusion
Both Bose and Boston Acoustics produce good quality speaker units but for different needs. Boston Acoustics is a budget option while Bose produces both budget and high-end options.
If you want a speaker unit that gives you quality sound at a friendly price, you can find options from both brands. However, you will likely get a secondhand Boston acoustic option while you can get a new option from Bose.
Please also keep in mind that at the end of the day, the best way to buy a particular brand of speaker is to listen to as many as you can in your price range before deciding.