As an Amazon Associate, we earn from qualifying purchases made on our website.
Music is an essential part of your everyday life as a golfer. Many people who know this often play golf while listening to some of their favorite songs.
As you likely know, this legendary game has always espoused the traditional values of etiquette and respect.
That has not changed. However, advanced technology is redefining some of these virtues. Bluetooth golf cart speakers are driving the change in many ways.
Love or hate them; these devices have become highly acceptable among game lovers.
You will find the best wireless Bluetooth speakers for a golf carts of all sizes and shapes on the market.
Moreover, many offer golf-specific features such as clips and straps for cart mounts. If you are considering buying the Bluetooth sound system for golf carts, read on for information that will help you to make the right decision.
Best Overall
Celtic Blu Bluetooth 5.0 Speaker 16W 100ft...
Most Durable
Golf Cart Speakers EZ GO Club Car Radio Stereo...
Best Overall Waterproof
BassPal Portable Bluetooth Speakers, Small True...
Best Overall
Celtic Blu Bluetooth 5.0 Speaker 16W 100ft...
Most Durable
Golf Cart Speakers EZ GO Club Car Radio Stereo...
Best Overall Waterproof
BassPal Portable Bluetooth Speakers, Small True...
We should also mention that some of these good cart speakers are some o the best offroad Bluetooth speakers for ATVs and UTVs.
If you enjoy listening to music as you play golf, this small portable speaker can be what you are looking for. It is shaped like a water bottle and has a well-designed square base.
The entire speaker comes wrapped in the aluminum grille. This speaker is commonly used as a bicycle handlebar speaker.
Nevertheless, it also has the additional protection of a rubber layer. Looking at its top, you will also see its comprehensive control panel, and you will find play/pause/volume/call and track buttons there.
You also have mode, charging as well as power buttons. The microphone is also on the top. At the bottom are the AUX input, micro SD card, USB charging port, and a USB power bank port. Two rubber flaps strategically protect these inputs.
The thing that pleases many people is the BAS technology that is used in this system. It makes the speaker provide a loud volume to fill the space. Due to this, it can produce a more penetrating sound that has excellent clarity and bass than ever.
Another essential feature of the Celtic Blu Tallboy Portable Bluetooth Speaker is the fantastic capacity of its battery. It is quite large, 6,000mAh.
This battery can supply more than 30 hours of uninterrupted playback at 50% volume, serving you irrespective of how long you practice.
The recharge also takes about 6-8 hours, which means you can do it overnight or early in the morning as you prepare to leave.
Moreover, its Bluetooth connection stretches up to 100 feet. The speaker has a micro SD slot that lets you listen to as many songs as possible. You can store up to 7,000 songs on this device.
The speaker also has IPX4 waterproof technology. Because of this, you can use it outdoors without much worry about the possibility of water damaging it. Since it also comes with a carabiner and a rubberized case, you can safely install this speaker on your golf cart.
Pros
Affordable
Long Battery Life
Efficient Bluetooth connection
Built-in microphone
Excellent sound quality
Cons
Not fully waterproof (IPX7 certified)
Celtic Blu Bluetooth 5.0 Speaker 16W 100ft...
★ 16W POWER 360 SURROUND SOUND. Celtic Blu's feature-rich designs can add Music to the Beat of Your...
★ LONG LASTING BATTERY – up to 30 Hours playtime. ★ BLUETOOTH CONNECTION – up to 100 feet (30.48 m)....
★ POWER BANK – charges your other devices. ★ AUX 3.5 mm audio jack cable – provides multiple modes of...
---
FUGOO Tough XL can handle extreme conditions due to its impressive sound quality and indestructible nature.
It's an excellent, loud portable Bluetooth speaker widely known to be rugged. Brilliant mid and bass make it highly attractive.
Besides that, this portable speaker has an excellent waterproofing capacity and stereo effect. Moreover, the speaker has a brilliant sound stage for its size.
A single speaker can serve you correctly when you are indoors. However, you need a pair to get the same output when you are outside.
Here, this classic speaker still excels. The design also shows the speaker is built with the challenges that the user might encounter in mind. It is designed like a tank, which also contributes to making it extremely durable.
Moreover, FUGOO Tough XL is appealing due to its ability to offer the desired range and secure connectivity.
The battery can serve you for a long duration, but you need to take care. If you like playing loud volume, you may get a playback time of around 6 hours. This output is the same as or better than most of its rivals.
The front and back of this speaker feature a 62 mm mid/sub driver and two 28 mm tweeters.
At the same time, one of the short edges has a 105 mm by 66 mm passive bass radiator. To see why many buyers say it is a 360-degree sound device, combine all these features with the 8-degree upward tilt all around.
This means that you are assured of the excellent quality of sound. Also, you can achieve a startling maximum volume.
And because of the exceptional outdoor mode, the music can travel farther than many expect. At times, it also produces adequate bass to cause some buzzing.­
Pros
360-degree sound
100% Waterproof
Sturdy built
Excellent sound quality
Highly durable
Designed for both indoor and outdoor
Cons
High volume significantly reduces the playback time
Heavy
No products found.
---
The Yamaha golf cart stereo pods are a custom solution to your sound needs that comes in pairs. This means you can install them on your Cart's rod to enjoy any music you choose.
Interestingly, the value of the golf cart speaker pods matches their quality. A sturdy and durable polyvinyl has been used to house the speakers.
This material neither oxidizes nor dents. As such, it will leave you enjoying any genre you fancy on your golf cart for a long time.
Furthermore, the Yamaha golf cart Bluetooth speaker has an exclusive black textured finish that is highly weather resistant.
Due to this feature, you can use it despite the unprecedented changes in weather patterns. Other than that, it guarantees such a high quality of service that you will no longer worry about longevity.
What's more, each of these 6.5-inch speakers comes with an anodized aluminum clamp that fit well. You will have no problems using them on your cart 1-inch square tubing.
You may also like the speaker due to its excellent power output. Each of the speakers always delivers 3,000 watts.
There is no question whether this amount is adequate to produce a rich, clear, and loud sound. Users also agree that this power allows them to enjoy high-quality bass whenever possible.
Pros
Water-resistant
Easy to mount
Excellent sound
Durable
Cons
Good bass
Not perfectly weatherproof
Cons
---
This is widely regarded as one of the best wireless Bluetooth speakers for the golf cart due to its IPX7 full waterproof speaker system. We have seen many speakers with good sound features but no highly credible ratings.
That is not the case with the BassPal Portable Wireless Outdoor Bluetooth and a few others. What does all this mean to you?
In essence, the high rating for this wireless Bluetooth speaker means that if you accidentally immerse it in up to three feet of water for around 30 minutes, nothing wrong will happen. Your speaker will still be able to serve you just like before the accident.
But that is not all. You will receive 5W HD small speakers if you order this speaker unit. Size does not matter.
While these speakers are incredibly small, they are properly designed to work together to give you startling bass and clear vocals. Besides, it is another group of golf cart speakers with lights.
The unit uses LED mood lighting technology. So, this might be the solution if you want golf car speakers with lights that can perfectly keep you in a relaxed mood as you listen to classical music.
But this Bluetooth speaker is also lightweight and comes with a detachable suction cup. So, you will experience no problems when it comes to mounting it to the dashboard.
Pros
IPX7 full waterproof
Clear sound and amazing bass
Relaxing ambiance
Hands-free speakerphone
Perfect human design
Cons
Expensive than some Bluetooth speakers
SALE!!
BassPal Portable Bluetooth Speakers, Small True...
♬TWS TECHNOLOGY: True wireless stereo technology support two speakers play music synchronously through a...
♬INCREDIBLE 3D STEREO SOUND: The wireless speakers for your PC with 10W total output acoustic drivers and...
♬MINI SUPER-PORTABLE: This portable outdoor speaker delivers full, vibrant natural sound from ultra-small...
---
If you love listening to music while golfing and have found a speaker that perfectly suits your needs, considers this one. Many people who want to turn this game into a mobile discotheque find it the most appropriate.
This Bluetooth speaker comes with 5.25-inch N5 speakers, 3-inch passive radiators, a controller, and a 4-channel amplifier, which is enough to create the ambiance that golfers need while enjoying golf.
The passive radiators ensure this speaker produces excellent bass at all times. Some high-value speakers are no longer in demand because users cannot get value for their money. After all, they waste lots of energy.
They convert all the unused power into useful low-frequency sound. That is why the excellent bass it produces will give you the feeling that it is a much bigger Bluetooth speaker than its rivals.
But since the speaker has an amplifier, too, you expect much more than others offer by all standards. Thus, you will get the feel of a bigger speaker system and a balanced speaker. So, you are guaranteed clear sound at all volume levels.
If you are wondering how you will mount it in your golf cart, the manufacturer has designed it with this concern in mind. You can use the quick-mount clamps and attachments without any difficulty.
Pros
Excellent high and low sounds
Ride in any weather conditions
Able to bridge fit a subwoofer
Sound better than bigger 6.5 –inch speakers
Feel light
Cons
Comparatively costly
NOAM NUTV5 - Marine Bluetooth ATV/Golf Cart/UTV...
HIGH-QUALITY PERFORMANCE: Each component of the NUTV5 is new and never seen before. The speakers, amplifier...
N5 SPEAKERS: At only 5.25", these speakers will beat any bigger 6.5" speakers. Your vehicle will have the...
VERSATILE: Your search for a bluetooth waterproof speaker is finally complete! All around water resistant...
---
JBL Xtreme portable Golf cart speaker is another great option for individuals who want a personal discotheque and a system that offers a perfect balance of low, medium, and high volumes.
It is another class of golf cart speakers with lights, which must be appealing to you. They have a huge rechargeable battery, exceptional connectivity, and a big sound.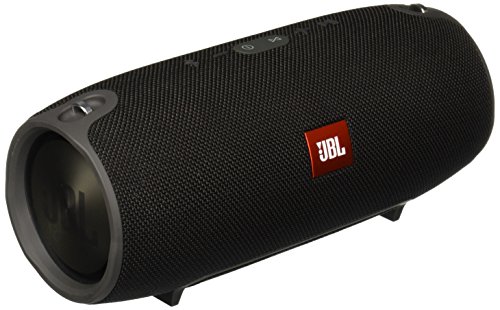 Xtreme features a cylindrical design. This speaker, however, is a little bigger than most of its counterparts, including the JBL Charge and Flip 4.
It is a bit heavily built, but that is not meant to scare you since the weight is entirely within the normal limits. To be precious, this speaker is 5 inches tall, 11.1 wide, and 4.8 deep. So you can easily carry it. Moreover, its weight is only 4.66lb.
Moreover, the controls of these speakers are configured in the same way as any other familiar JBL speaker. If you want to connect the shoulder strap, turn to the two metal clips on each end of the top of your speaker.
Other essential control buttons include JBL connect, play/call/pause, and power. Bluetooth and volume, on the Xtreme's top. Xtreme also features a huge battery, 10,000Ah. Furthermore, it supports up to 15 hours of playtime.
These Bluetooth speakers are also equipped with 2.5 niche woofers, 2 passive radiators, and 2 -1.4 inches tweeters. Besides, on the top, you will find two rubberized feet and a zipper that protects the compartment.
Moreover, you have a single micro USB port for only updates, 2 USB output ports, and DC charging input.
Due to these unique features, if you buy this Bluetooth speaker, you can expect to get full and great sound while driving your golf cart, Jet Ski, UTV, or ATV.
Pros
Decently built
Easy mounting on a golf cart
Perfect bass sound
Easy-to-use standard controls
Huge long-lasting battery
Connect up to 3 smartphones or tablets
Cons
No dedicated track buttons (backward/forward)
Only splash-proof
SALE!!
---
Bose SoundLink is one of the smallest portable Bluetooth golf car speakers. It has a sturdy strap that you can easily attach to your Cart in only a second.
If you are looking for a speaker that is simple and hassle-free, then this is what will help you.
Its controls are super simple, and anyone can use them. You can use the volume as well as the multifunction buttons that are on the front panel to control your speaker as you desire. The multifunction button can help you to play or pause music.
You can also use it to activate Siri or Google Now, skip, forward/backward, and answer calls. The power button is located on the left side on top of the speaker. You will also see the Bluetooth button on the right side, and in the middle of the speaker, you will find a micro USB charging port.
If you look right under the charging port, you will get 1 LED Bluetooth and 5 LED battery status indicators. The good news is that all these buttons are responsive and rubberized.
Another great feature of this speaker is its IPX7 rating. This means SoundLink Micro is fully waterproof.
The battery has an average lifespan. It can deliver up to 6 hours of playtime when you play at about half the full volume. And recharge takes about 4 hours. Despite that, SoundLink Micro does not deliver distorted sound.
Pros
Fully waterproof
Super simple controls
Stable Bluetooth connection
Clear and undistorted sound
The silicone strap on the back offers the perfect mounting solution
Cons
The speaker does not float
No alternative connection
Bose SoundLink Micro Bluetooth Speaker: Small...
BOSE WATERPROOF SPEAKER: Small but powerful, the Bose SoundLInk Micro Bluetooth speaker produces loud, clear...
TEAR-RESISTANT STRAP: This small portable speaker comes equipped with an easy-to-use, tear-resistant silicone...
RUGGED OUTDOOR SPEAKER: Constructed from durable materials, including a rubberized silicone exterior,...
---
This Bluetooth sound system for golf carts lives true to its name. Many people will tell you they have looped it to almost all parts of their bodies as they swim without any problems. You can do the same on any viable body part and enjoy the sport.
You may be asking now whether we are talking about golfing or swimming. We know this guide is about the best wireless Bluetooth speakers for golf carts, but we cannot resist giving you a comprehensive review of this rocker from POLK Audio.
You likely know about the high-quality and amazing-sounding products that originate from this company. The Boom Swimmer Duo is no exemption.
And the good news of that its amazing functionality does not only come in handy for swimmers but many other sports as well. If you are a golfer, you will likely find that it is your must-have due to its value.
To effectively use this Bluetooth sound system for golf carts, ensure you loop one or two around the roof frame, and there you go!
With exceptionally easy stereo pod linking, you can utilize a pair of them as your right and left speakers.
Remember, this speaker is waterproof, dust, and shock resistant. In this regard, it will withstand extremely harsh outdoor weather conditions. Besides the useful loop, your speaker will come with a suction cup. As such, you have many real attachment options at your disposal.
Do not forget that the manufacturer has used high-quality drivers. This guarantees you high sound and decent bass. But you can also improve the bass by replacing the tail with the suction cup. You should also stick your speaker to a flat surface for much better output.
Pros
Lightweight
Speakerphone ready
High-quality sound drivers
Brilliant stereo pairing
Cons
Low sound (unless you pair two speakers)
Less bass (unless you use the suction cup)
BOOM Swimmer DUO - Dirt, Shock, Waterproof...
Waterproof, Dirt proof, Shockproof
Now with stereo linking, the Swimmer Duo gives you more robust sound and better sonic range. Easily link two...
Loop your Swimmer around virtually any object and for a secure fit, pull the tail through the open slot and...
---
Features of Bluetooth Golf Cart Speakers to Look For
All the various Bluetooth speakers that we have seen here are great. You may ask how to determine the best suits you or have a clear edge over the rest.
Remember, the prerequisite for these devices is nearly the same, with a few critical features you should never ignore. Here are these indispensable attributes.
Design
When it comes to design, carefully evaluate the mounting system of your speaker. It is necessary if you have immediate plans to mount it on your golf cart.
One day you will likely need this vital feature. Many Bluetooth speakers come with straps, clips, carabiners, or a whole-mount pack.
Note that the size and shape of your mounting system also matter a lot. Those that are too small or too big can be difficult to attach to your golf cart.
If you find a great speaker that lacks mounting systems, let that alone not be the reason to ignore the device. You can always buy an affordable mount for your golf cart whenever necessary.
Battery Life
Battery life may determine how long your golfing sessions will take. Some can deliver more than 20 hours of playtime, but others cannot exceed 5 hours, which may be inadequate for some activities.
When you want to know the strength of your battery, check its mAh. It is always indicated on the surface of the cell. Anything over 1,000 mAh is okay. These batteries can give you at least 7 to 8 hours of continuous playback.
Then again, you may need to consider if the portable speaker has a power bank. Some of them on the market have inferior battery quality. But if they act as a powerful power bank, do allow the low quality of the battery to distract you. Many portable speakers that work as power banks have a battery life of more than 4,000 mAh, which is more than you may need.
Charging Style
Charging style is an essential feature because it can mean the difference between your ability to get quality music or not.
Standard USB charging ports give you a higher degree of convenience than others. You can still charge when you are already outdoors and have no wires on you.
Build Quality
It may not be necessary to stress how important the durability of your portable speaker is to you. Since you are going to use it outside, go for something durable. For example, you can consider one with a rugged exterior or waterproof rating.
If you want fully dustproof and waterproof speakers, ensure it is 1P67 certified. Moreover, you will benefit most if its body is reinforced with rubber fabric, metal, or silicone.
Sound Quality
Many people often rush to consider this for obvious reasons. We always want the kind of sound that suits our unique taste.
If you use your portable speaker, especially on a golf course, you will most probably want to hear the sound from all directions. This means many regular speakers may not serve you well.
This means you may want omnidirectional speakers. This may not be necessary if you use it mainly when riding. But it is smart to buy these 360° speakers for other outdoor scenarios.
That may not be all, given the need to take care of the interest of other golfers. You must be looking for a well-defined and balanced sound at low volumes. Loud music may not work well for you.
The problem is that many speakers are competing based on volume. What this means, in essence, is that if you buy speakers with high sound, you should ensure you can easily use the control panel. This way, you can manage the sound output depending on the situation.
Bluetooth Connectivity
The right connectivity features are other essential elements you must consider before buying.
If your portable speaker's audio quality is phenomenal yet lacks these features, will that help you? It is evident that without this, you will not need to think you have a golf cart speaker.
Here, the discussion is mainly about the capacity of your Bluetooth. As you know, today, there is nearly no question whether your device will come with Bluetooth.
So, regardless of which of these speakers you go for, you will almost certainly have a certain level of connectivity. The question is whether it will be enough or not.
Check the version of you're the Bluetooth of your golf speaker. Ensure it is 4.0 or higher. These are some of the latest versions, and other than the better range, they also offer excellent connectivity and reliability, high speeds, and enhanced sound quality. If you are looking for a device that can give you over 100 feet, buy a Bluetooth speaker with at least version 5.0.
People who use the few non-Bluetooth devices still available in some markets can also benefit from this advanced technology.
If that is you, go for a portable speaker directly from SD playback or a 3.5 mm audio output.
Speakerphone
In this digital age, speakers with excellent speakerphone capabilities should never be negotiable. No one completely immersed in the game should ever be forced to take a break to pull his or her phone out to receive a call.
It is unjustifiable, given that technological advancements are meant to make our lives easy. We can answer calls from the comfort of our golf carts without even looking at the phone with speakerphones.
This feature adds a unique layer of convenience that people should consider when buying a useful Bluetooth speaker.
It can also greatly help you when you like making conference calls. Moreover, speakerphones will also ensure you do not miss any urgent calls.
Speakers that have this feature are programmed to allow you to communicate effectively with your callers.
They ensure the music automatically stops when you receive a call and then resumes when you are done. Thus, this feature takes away a lot of work from your hands. It also allows you to enjoy your game as you remain in touch with the people who matter most.
---
Golf Cart Bluetooth Soundbar
The quality of sound that you will get depends mainly on the soundbar that you will choose. Moreover, it should be waterproof and dustproof.
You should check how the one you want performs in real-life situations. If you have a great speaker but the sound is a problem, you can augment it with a good golf cart soundbar. Check out some of the best golf cart Bluetooth soundbars on amazon below:
---
Golf Cart Speaker Pods
You don't want to string your speaker up loosely in your golf cart. Your speaker should be firmly attached to the golf cart, so those bumps and ruffs don't cause wires to get lost or damage your speaker.
Speaker pods are the answer. Golf cart speaker pods provide a convenient way to attach your speakers to your gold fart.
They provide a stable base to support your speakers. Check out some of the best golf cart speakers on amazon below:
---
5 Pieces of Advice When Playing Music on the Course
As we said, golfers have a strict code of conduct. In fact, in the near past, the managers would not allow you to play music while you were on the course.
However, things have changed over the last few years. The popularity of Bluetooth speakers is growing at unprecedented levels. For you to enjoy music too, here are essential tips to help you.
Be Smart
If your volume is too high that people near you cannot communicate with each other peacefully, you are messing up.
As a rule, turn your music down whenever you are within walking distance of different people on the golf course. You do not need to take up another person's space.
Use it in the Cart
Never bring your Bluetooth speaker with you to the tee box. Enjoying your music as it plays in the golf cart is okay, provided the volume is within realistic limits.
Do not draw the attention of people so much to it. You do not need to give those who do not value music a reason to misunderstand the purpose you brought your speaker to the course.
Ask Permission
Help your playing partners to enjoy their day. Ask them what they prefer to hear. Remember, you can always reach a compromise for the sake of others.
Once you do that, play the songs. Do not force them to listen only to your choice, which may not be perfect.
When you ask for permission and work with them this way, all of you will be able to enjoy the game and increase the chances of connecting at a personal level.
Have an Extra Battery
Nothing is as unfortunate as being the chief DJ and failing to deliver on your promises. You may not feel right if you have agreed to play various songs and fail to do that because of your faulty battery.
You can mitigate the shame by bringing an extra battery for any eventuality. To make people happy through music, you must be prepared well.
Keep Golfing
Remember the exact reason you brought the speaker to the golf course. Humans are social beings, and music helps them to achieve their professional goals.
Use it just for that as you interact with your playing partners. This way, you will prevent your masters from thinking about the need to implement any rule against it.
3 Important Tips for Beginning Golfers
If you are new to this game, we want to remind you that golf is meant to be interesting. But if you are not careful, you might find it frustrating.
Simple mistakes can make your life incredibly difficult on the course. We have provided a detailed overview of the best wireless Bluetooth speakers for a golf cart to help you overcome possible boredom and frustrations.
There are also more tips that you need to enjoy your lessons. Here are the main ones.
Take the Right Lessons
Start on the right footing by taking some golf lessons. You will be able to learn the best ways to make a golf swing.
Moreover, you will be able to learn how people use music on the course to be more active and achieve their goals.
This way, you will get guidance on avoiding small mistakes that make some people dread this popular game.
Choose the Best Club
Many new golfers often fail to use a club that can get their shots past the front of the green. Learning how to make your solid chances translate into something meaningful is excellent.
Besides getting insights from experts and using the appropriate Bluetooth sound system for golf carts, you need to get a club that you can swing at 80% and get right into the hole.
Learn this trick, and you can conserve your energy and use it on many other important things.
Ensure the Ball Remains Low in the Wind
New golfers often find life difficult when playing in the wind. Do not be one of them.
As soon as the wind begins to kick you, immediately start to adapt too. Put your hands ahead of the ball and keep them at impact to ensure it remains as low as possible. Through this, you will manage your game as a pro in turbulent times.
FAQs
1. How do I connect my Bluetooth to my golf cart speaker?
To link the Bluetooth device, open Bluetooth settings and turn the Bluetooth on, on your phone.
Your device may now "discover" the Bluetooth speaker.
Locate and choose the speaker's "Brand Name" from your device's menu.
Confirm that the code is correct and tap "pair" on your smartphone.
2. Do golf carts come with speakers?
Some golf carts may have an in-built music system in them. However, we suggest adding a speaker with better bass and features for better-quality music.
3. When did the current Bluetooth version appear? Is it good?
Bluetooth version 5.3 came into the market in the year 2021. It is an enhanced version and works better than its predecessors. Although it has similarities to 5.0, 5.1, and 5.2, it is faster and better than them.
4. What is the range of Bluetooth wireless speakers?
Bluetooth speakers can connect at different ranges. Depending on the size and type, most will range from 30 feet (9 meters) to 100 feet (30 meters).
Final Thoughts
We have reviewed the best wireless Bluetooth speakers for golf carts available on the market now.
You can find them on Amazon or other reliable sources. All of the speakers are good. Golfjams golf cart Bluetooth speaker, Celtic Blue, and Yamaha golf cart Bluetooth speakers are famous for their sheer ease of use, friendly user experience, and efficient controls.
Fugoo Tough XL, on the other hand, is appealing to many buyers due to its solid build quality and excellent sound. The rest also have unique attributes that attract many buyers, as we have seen. So, you are spoilt for choices. Use the advice above to help you choose the best wireless Bluetooth speakers for a golf cart and enjoy golfing whether you are a beginner or not.
Norvan Martin is the founder of BoomSpeaker.com. He is a professional Electronics Engineer and is passionate about home theater systems and AV electronics. BoomSpeaker was created as an online hub to share his knowledge and experiences as it relates to home theaters and home audio electronics.
My email: admin@boomspeaker.com
Connect on Pinterest and Linkedin