As an Amazon Associate, we earn from qualifying purchases made on our website.
Both the sound and appearance of speakers matter when shopping for sound systems. Vintage speakers are known to satisfy both, but added to that is the nostalgiua of the vintage experience.
Many top brands are known for reproducing old vintage speakers with the latest technology while retaining essential gems such as sound performance. In this article, we review some of the best vintage speaker brands.
Considering the old speaker brands, Klipsch is vintage and tops the list of the speaker brands in that category. It is a 75-years old audio manufacturer started by Paul W. Klipsch in Arkansas, 1946.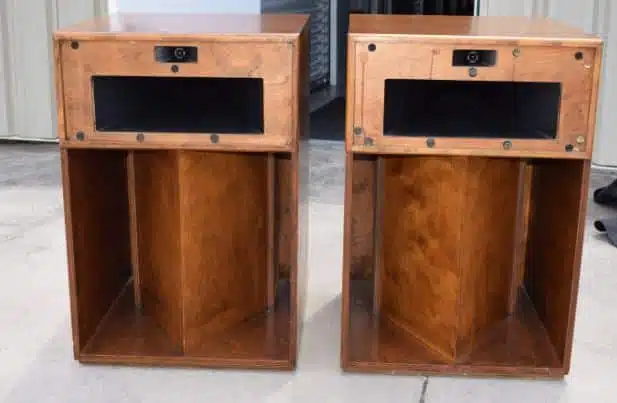 Although Klipsch is a vintage brand, it continues to outshine other speakers manufacturing and assembly brands with workers hand-producing Klipsch Heritage Series, Select Reference II, Palladium, and many more cinema speakers in Arkansas.
Assembling Klipsch speakers take between 40 minutes to 12 hours. Employees consider it a lifelong commitment to brand excellence.
JBL was founded by an American Audio engineer, James Bullough Lansing (1902 – 1946), and officially launched in 1946.
This was just after World War II. James is best known for establishing JBL and Altech Lansing, both bearing his name. JBL was therefore coined from his full name.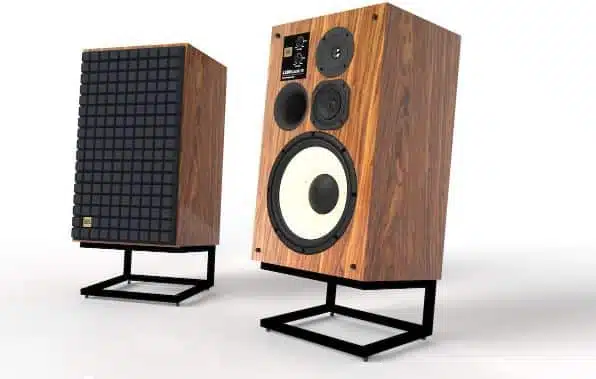 Presently known as James B. Lansing Sound, Incorporated, the company was first called Lansing Sound, Incorporated.
The legendary L100 Century Loudspeaker is the best and most referenced JBL speaker. An essential part of hi-fi history, the speaker, was first introduced in 1970. The brand dominated the market in the seventies.
In the 1950s, JBL introduced the first 375 high-frequency compression driver, which became the first commercially available 4″ diaphragm driver.
It was a re-invention of the Western Electric 594 driver and had a four-inch voice coil with an Altico V magnet. The company also introduced 075 UHF ring radiator drivers, known as "JBL bullets," due to their distinctive shape.
These speakers are standard and are less expensive too. They were trendy back then, but Klipsch has overtaken them.
Harman Kardon dated to 1953 when Sidney Harman and Benard Kardon founded the company.
In the early 1950s, Bernard Kardon was the chief engineer, while Sidney Harman was the general manager at David Bogen Company.
The company manufactured public address systems. However, Kardon and Harman resigned from the company due to some changes in the management and invested $5,000 each to start Harman Kardon Company in 1953.
Harman Kardon has designed some of the first high-quality audio products in the 1950s. For instance, in 1955, the company introduced Festival D1000, an AM/FM compact Hi-Fi receiver.
In 1956, Benard Kardon retired and sold his interest to Sidney Harman, who later changed the name to Harman International. However, the tuners, amplifiers, and receivers were still sold under the Harman Kardon brand.
In 1958, Harman Kardon introduced Festival TA230, one of the first stereo receivers for non-technical users.
Dr. Amar G. Bose founded Bose corporation in 1964. The vintage company is well known for manufacturing home theater systems and loudspeakers for vehicles, professional venues, and home use. Also, the company makes noise reduction headsets for consumers and aviation.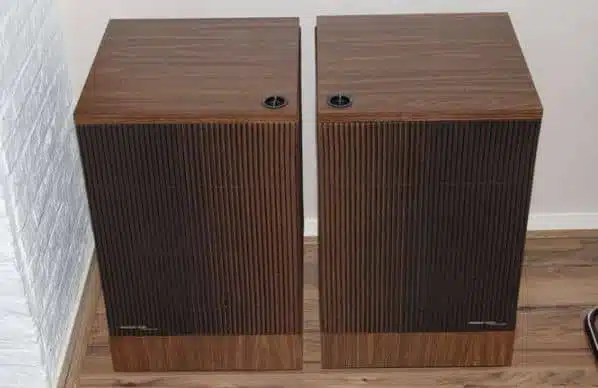 Model 2201 became the Bose's very first loudspeaker. The speaker model was designed for placement within the corner of a room to expand the room size through sound reflections off the wall.
Bose used an electronic equalizer to flatten the frequency spectrum of the speaker system, and the listening tests were more disappointing.
In April 2021, however, Dr. Amar donated his stake in the corporation to the Massachusetts Institute of Technology.
Boston Acoustic is an American home and mobile audio equipment manufacturer. Andy Pettit and Frank Reed founded the company in 1979.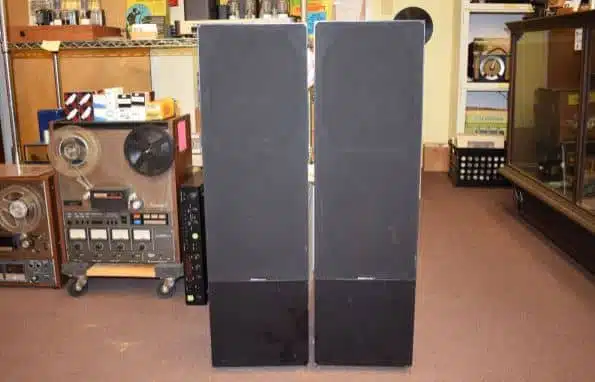 Boston A series is known for value. From A250 floor standers, ASW 250, A 225 C center channels to the A25 bookshelf, users are pretty sure of the quality they get.
The A series Boston Acoustics have a perfect match between the 5.25″ mid or woofers and 1″ tweeters.
Larger floor-standers and bookshelf products also exist. They are designed to deliver with 1″ twitter and 5.25″ woofers.
The company was founded in 1952 by Edgar M. Villchur and his student Henry Kloss. Edger was an audio engineer, researcher, inventor, and audio-electronics teacher.
After a few years of testing and research, Acoustic Research introduced the small AR-1 in 1954.
This was followed by the AR-2 and AR-3 in 1958 and came with improved dome tweeters. Later, the company introduced AR-2a and AR Turntables. Villchur designed these.
Advent is a consumer audio and video hardware company founded in Cambridge, Massachusetts, in 1967 by Henry Kloss.
In 1968, Kloss left KLH to build low-cost projection TVs. He, however, met many financing challenges as he could not finance the research and development.
He, therefore, built and sold high-performance and low-cost dual-driver speaker systems with 10-inch woofers and called them "The Advent Loudspeaker" (Later called the Larger Advent after the introduction of The more miniature Advent Loudspeaker).
In 1977, Kloss founded a spin-off company, Kloss Video Corporation (KVC), where he invented the Novatron tube. In 1979, Advent closed the Cambridge factory after running into hard times due to the high labor cost. Almost all the workers were laid off, and production moved to New Hampshire.
In March 1981, the company was declared bankrupt. KVC thrived and reacquired the New Hampshire brand before later merging it into Jensen Electronics. In 2004, Audiovox acquired Jensen Electronics, while KVC sold assets and closed down later due to increasing competition.
Why Vintage Speakers?
Vintage speakers still sound amazing. Despite the many years of technological improvement, there's no denying that they still favorably compete with modern speakers in sound performance. Here is a brief description of the top 7 best vintage speaker brands of all time.