As an Amazon Associate, we earn from qualifying purchases made on our website.
Headphones are strange, this is because while newer is nearly always better in most other gadgets, it is not really so with headsets. We found a couple of older headphones that are still functional today to prove this point. They don't have extra features and may be retired soon, but they are still terrific bargains for anyone who enjoys the retro look and feel.
Top Pick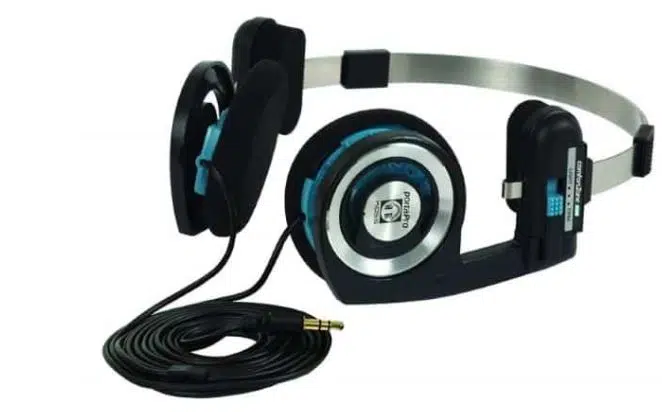 People still use the Koss PortaPro headphone despite their old looks like something offered alongside the Super Nintendo or the popular Sony Walkman.
SALE!!
Koss Porta Pro On Ear Headphones with Case, Black...
Designed for deep bass performance
Comfortable, secure fit with adjustable headband and multi-pivoting earplates
Two adjustable temporal-comfort zone pads shift the pressure and perfectly balance the ear plates on your ear
The PortaPro's "Back to the Future" look isn't for everyone, particularly for a reason that includes the thin headband that has a habit of biting hair. But, the lovely surround sound offers an amazing experience.
Since the early 1990s, the Sony MDR-7506 has been a favorite among radio DJs, but you don't have to be an expert to appreciate its natural-sounding, nicely balanced profile.
Sony MDR7506 Professional Large Diaphragm...
Neodymium magnets and 40 millimeter drivers for powerful, detailed sound.Specific uses for product :...
Closed ear design provides comfort and outstanding reduction of external noises
9.8 foot cord ends in gold plated plug and it is not detachable; 1/4 inch adapter included
Some might find the sound from the Sony MDR-7506 headphone a little thin, but these headphones work well with various genres.
Since the late 1990s, the HD 600 has been a fantastic companion for home theatre or high-end audio settings.
SALE!!
Sennheiser HD 600 - Audiophile Hi-Res Open Back...
Lightweight aluminum voice coils ensure excellent transient response.Specific uses for product : Professional
Neodymium ferrous magnets maintain optimum sensitivity and excellent dynamics
Sophisticated design, elegantly finished in black and gray
It still plays smoothly, extensively, and clean for an old headphone. The HD 600 aren't especially movable because of its laid-back tone and the fact that they're all open-backed. However, it may still be a soothing listen with the correct audio set.
The AKG K240 Studio is an upgraded version of the older AKG K240 Monitor, yet its design and sound are still reminiscent of the legendary pair from the 1970s.
SALE!!
It's a semi-open headphone aimed at studio professionals, so it doesn't have a lot of basses, but it has a lot of detail and a wide soundstage.
The Grado SR80e is, once again, more of a remastered version of a vintage headset, but it's close enough to its predecessor to earn a slot here.
GRADO SR80x Prestige Series Wired Open Back Stereo...
4th generation Grado tuned 44mm drivers, easy to drive 38ohm
Upgraded braided cable eliminates twisting and kinking, 4 conductor super annealed copper wiring
Upgraded adjustable padded headband made of synthetic, vegan-friendly material
As we've previously stated, Grado's handcrafted cans aren't for everyone, but its devotees are bordering on cultish for its natural sound and clean delivery.
The Best Antique Headphones
The MDR-51 could easily pass as the greatest vintage headphone, however, this isn't because of a lack of bass; instead, it's because they're on-ear with foam pads.
A pair of MDR-54s from 1990 have more bass, but these sound great now that they've been fitted with proper cushions rather than foam, which improves the bass even more.
Here are the specs.
■ Price ~ $3,000
■ Type open-air dynamic type
■ Diaphragm 30mm dome type
■ Impedance 24Omu
■ Playback frequency band 14-24,000Hz
■ Permissible input 100 mW
■ Sensitivity 105DB / MW
■ Code 2m OFC Litz wire stereo 2-way plug
■ Weight 52g (It does not contain code)
■ Sale August 1990
■ Discontinued around 1994
Headphone in the style of the 1980s
Grado Prestige SR325e Headphones
Grado, founded in Brooklyn, has developed audiophile-friendly headphones since the 1950s. So, if their products now look vintage, it's because the rest of the world has changed, not them.
While some of the company's designs go back to the 1960s and 1970s, the Prestige SR325e model boasts an aluminum housing and speaker grate–inspired design that screams '80s — and sounds great while doing so.
Wireless Vintage Headphones
MW60 Wireless Over-Ear Headphones by Master & Dynamic
Classic design meets cutting-edge technology: These folding over-ear headphones are made of high-quality materials like grain leather and a stainless-steel frame, and they come with Bluetooth and a 16-hour battery for streaming music from your phone.
Koss Wireless Headphones
The famed Koss Pro-4AAs have undergone several revisions since their inception, but this edition still tells a unique story. It comes with a beautiful army green color scheme and a brilliant silver band. This headphone exudes flair.
The Koss brand has a long history, but these headphones have much more. An interesting thing about the Pro-4AAs is that it was the first dynamic headphones to deliver accurate, full-frequency, high-fidelity sound, revolutionizing the audio industry.
Walkman Vintage Headphone
Wired On-Ear Headphones from Sony's ZX Series
The Sony ZX Series on-ear headphones have it all, combining comfort and performance in a single package. Another excellent feature is the ear cups' swiveling, enfolding, closed-back design, which traps in sound while taking up very little space.
They're additionally padded to comfort you while wearing them. The L-shaped port accepts a 3.5mm connector, and the anti-tangle y-type cables are 1.2 meters (3.93 feet) long. Even when you're dancing to your favorite song, they're resistant to snagging.
You'll never have to worry about charging or replacing batteries with these headphones because they're wired.
Vintage Microphone Headphones
The Studio Pro-10 is an over-the-ear DJ headphone with dynamic bass. This comes as a 50mm neodymium driver that accurately reproduces all the dynamics in your music while also providing the regulated bass that DJs and audiophiles want.
It's perfect for DJ digital mixers, mixer panels, turntables, monitoring in recording studios, film production, video, electronic news gathering—pretty much any application that requires high-quality sound.
Specifications
Model: Pro-10
Color: Black
Speaker: 50mm
Impedance: 32 Ohms
Sensitivity: 110dB +- 3dB
Frequency Response: 20Hz-40KHz
Max input power: 1600mW
Plug Type: 3.5mm/6.35mm
Stereo Cable 1: 2m-3m 9.8ft 3.5mm to 6.35mm
coiled cable Cable 2: 1.2m 3ft 3.5mm to 3.5mm cable with microphone
Vintage Bluetooth Headphones
Marshall Over-Ear Headphone
Marshall Amplification is a well-known audio company that designs and manufactures various audio equipment, such as speakers, headphones, and amplifiers.
It was founded in London in 1962. Marshall's Monitor is the company's first wireless over-ear model. It was first offered as a wired model, but it has since been improved to include Bluetooth, a beautiful feature.
FAQs
1. Is retro vintage headphones' quality comparable to current headphones?
They are, indeed! The best retro vintage headphones have all the features of their modern counterparts.
They feature a wired/wireless option owing to Bluetooth aptX so you may use them even up to 30 feet away from your device. These headphones also feature a long battery life and noise-cancellation capabilities.
2. What are the greatest retro vintage headphones brands?
Retro vintage headphones are not the same as conventional headphones, and not all manufacturers provide them.
Some of the greatest brands for retro-style headphones, such as Marshall, Sony, Koss, Panasonic, and others, may already be familiar. In this guide, you'll discover a review of these brands' items.
3. What can you do with vintage retro headphones?
Retro vintage headphones aren't just for at-home use; you can use them for anything depending on the extra features you choose.
Retro vintage headphones with studio-quality audio were designed exclusively for sound mixing during live concerts, recordings, and DJ activities. Headphones with headsets and built-in microphones are also available, which are ideal for gaming.
4. Did headphones exist in the 70s?
Yes, they did. By the 1970s, headphones had transcended the workplace as a tool to enjoy music without bothering others. The next stage was to detach headphones from home stereo systems so that consumers could listen to music anywhere they wanted: Office rides, restaurants, libraries, and more.
Conclusion
Although, most of these vintage headphones might easily scare you when you think of the year of production. But when you select any of the vintage headphones mentioned in this article, it will definitely be a worthy buy. Remember, old is gold.
If a vintage headphone is not for you, then you can always get a wireless Bluetooth headphone, but please note that some of these wireless headphones may take a while to charge; that's a major disadvantage.
Norvan Martin is the founder of BoomSpeaker.com. He is a professional Electronics Engineer and is passionate about home theater systems and AV electronics. BoomSpeaker was created as an online hub to share his knowledge and experiences as it relates to home theaters and home audio electronics.
My email: admin@boomspeaker.com
Connect on Pinterest and Linkedin