As an Amazon Associate, we earn from qualifying purchases made on our website.
Bookshelf speakers are some of the best indoor speakers you can find in terms of performance, aesthetics, durability, and overall appeal. Sometimes, however, you may need your bookshelf speaker to fit a vintage decor.
For example, you may need a vintage bookshelf speaker if you want to connect to a vintage record player.
Best Overall
Edifier R1280T Powered Bookshelf Speakers, 2.0...
Most Powerful
Edifier R1700BT Bluetooth Bookshelf Speakers -...
Most Versatile
Klipsch R-15M Bookshelf Speaker (Pair)
Best Overall
Edifier R1280T Powered Bookshelf Speakers, 2.0...
Most Powerful
Edifier R1700BT Bluetooth Bookshelf Speakers -...
Most Versatile
Klipsch R-15M Bookshelf Speaker (Pair)
In such cases, you will be looking for the best vintage bookshelf speakers until you find one that suits your needs.
That's what this article is all about – the best vintage bookshelf speakers available. While this is a hard question to answer since the "best vintage bookshelf speaker" for me, may not be what is "best" for you.
However, we have considered a number of very important factors in reaching this conclusion.
We considered vintage appeal, performance, features, price and overall quality. When all these factors were considered, these vintage speakers below were the cream of the crop!
This is why they make excellent gifts for audiophile dads! Really, the best-sounding vintage bookshelf speakers out there.
Before you go on, you may want to check out the best vintage bookshelf speakers of ALL TIME!
So let's get to it!
Before you continue, you can also check out other guides in this series:
Best Vintage Bookshelf Speakers of All Time
Vintage vs Modern Speakers
Best Vintage Speakers Under $1000 and Under $500
Best 70s Vintage Bookshelf Speakers
Time and again, Edifier has proven that they are masters of design.
The R1280T is one the best bookshelf speakers from these folks, giving you a classic exterior in an attractive design.
The construction is fairly simple, yet quite elegant.
The sides are made of MDF, making the speaker strong and durable. It comes with 4-inch full-range sound drivers and 50-inch silk dome tweeters.
This gives the speaker a combined power output of 42-watt RMS (21 watts per channel).
Performance-wise, the R1280T delivers great mid and detailed low-ends, with the tweeters giving clear trebles. In addition, it comes with a glossy Infrared remote control.
At 4.9 kg, the Edifier R1280T is a lightweight and highly portable bookshelf speaker, measuring 5.75″x 9.5″ x 7″ (WxHxD). However, the speaker grilles may dampen the high-end. Of course? you can solve the issue by removing the grilles.
---
Designed to be a multifunctional speaker that suits your every need, the Edifier R1700BT is of the best vintage bookshelf speakers.
It comes with a small and sleek wireless remote control and Bluetooth pairing capability.
When it comes to performance, this versatile Bluetooth speaker gives you exceptional sound quality.
The R1700BT reduces all interference from the environment, giving you a clear sound and a strong bass.
This speaker comes with dual 18-watt sound drivers and two 15-watt bass drivers to give you a dynamic audio output while looking classic and elegant, allowing it to match almost any home décor.
This portable speaker weighs about 6.6 kg and measures 15.4cm x 25.4cm x 21.4cm (WxHxD).
It comes in a classic wood finish and it allows you to conveniently adjust the volume and swap the inputs. However, you might have a rough time with the Bluetooth pairing since there is no AptX support.
---
If you are looking for power and versatility in a compact and attractive unit, the Klipsch R-14M is the best bookshelf speaker for you.
This vintage-looking speaker comes in a small, black veneer cabinet and it's very efficient when it comes to performance.
The R-14M bookshelf speakers have a nice power handling capacity, pumping out up to 200 watts peak power and about 50 watts (RMS) nominal sound.
Thanks to its 4-inch IMF woofer and 1-inch tweeter, it gives detailed mid-level tones and clear highs.
It comes with rear-firing ports to provide efficient sound flow from the cabinets, giving you a powerful bass and clear sound.
This versatile bookshelf speaker is suitable for anyone who is looking for some decent sound quality on a limited budget.
They are constructed with the Tractrix horn technology, but you may need an extra subwoofer such as the JBL Arena S10 Black 10″ 100W Powered Subwoofer if you need the extra strong bass.
---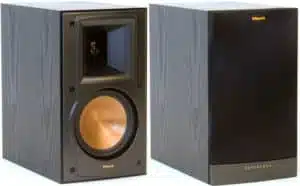 Packing affordability and power in the same unit, the Klipsch RB-51 II is among the best vintage bookshelf speakers.
This small and compact speaker comes with Tractrix horn technology, giving you a combination of precision, power, and clarity.
This vintage bookshelf speaker comes in a beautiful wood grain vinyl cabinet and it has an attractive black ash finish to complete the vintage look.
It comes with a 1-inch tweeter and a 5.25-inch woofer that gives you 75 watts of pure sound.
The RB-51 II plays beautifully in loud volumes, allowing you to enjoy up to 300 watts of peak power. The sound performance is beautiful, and you can crank up the volume without getting any distortion.
Aside from having a classic look with strong exteriors, this 2-way bookshelf loudspeaker comes with keyhole slots.
This creates room for optional wall mounting. It's truly a vintage speaker that offers versatility and performance in the same unit.
---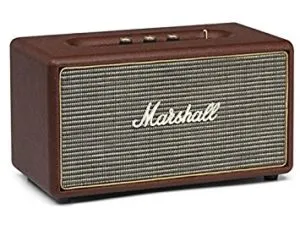 Ideally suited for audiophiles, the Marshall Stanmore offers an excellent listening experience with a classic audio appeal.
This vintage speaker comes in a visually appealing design, with a vinyl cabinet and brass buttons.
With modern connectivity features like chrome cast, Airplay, and Spotify Connect, the Stanmore Bluetooth speaker gives you a great streaming experience. It delivers excellent sound and is built for multi-room music.
The price may seem a little on the higher end, but the performance of this bookshelf speaker is totally worth every penny.
It features dual 15-watt tweeter amplifiers and a powerful 50-watt woofer that gives you a strong and detailed sound.
This bookshelf speaker weighs about 5.1 kg and measures 35cm x 18.5cm x 18.5cm (DxWxH).
It's highly portable and user-friendly, but it doesn't offer a wireless remote control. It may also seem bigger than most units.
---
Over the years, Klipsch has been a very consistent brand when it comes to creating powerful speakers with a room-filling sound.
The R-24F is a beautifully built vintage speaker that gives you brilliant soundtracks and a wonderful listening experience.
This 2-channel sound system offers a rich and loud stereo sound.
Its power handling capability is pretty good, allowing it to pump out an average of 75 watts RMS and up to 300 watts peak power. Additionally, it features two copper woofer drivers and a horn-loaded tweeter.
As a 5.1 speaker system, the Klipsch R-24F is not only one of the best bookshelf speakers, but it's also one of the finest classic floor-standing speakers.
Its tower measures 9.5cm x 16.5cm x 25.5cm (H x W xD) and you can easily set it up. However, you may experience bright upper ends depending on what you're playing.
---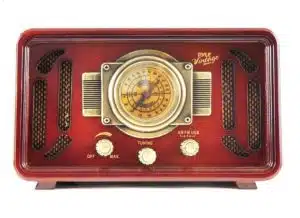 Created with a really cool, classic vintage style inspired by the retro era, the Pyle PUNP34BT beautifully combines the classic look with modern technology.
Thanks to Bluetooth and RCA connector jacks, you can easily stream music from your phone, tablet, and PC.
This classic speaker has a simple button control panel and rotary knobs to ensure that you can easily regulate the sound.
A bit like those '90s radios right? The nostalgia is real with this one! In addition, the unit is lightweight and portable, measuring 30cm x 18cm x 18cm (HxWxD) and weighing about 3.2kg.
Aside from offering an elegant vintage design, the PUNP34BT offers AM and FM radio stations, an SD card reader, and a USB port.
The volume may not get very loud, but the speaker allows you to enjoy a decent bass, clear highs, and distortion-free mid-level tones. Additionally, it doubles as a power bank for your devices.
---
Why Vintage Bookshelf Speakers?
You may be wondering why should you use vintage Bookshelf speakers. why not simply get a good, modern Bookshelf speaker?
Well, there are many reasons a vintage Bookshelf speaker may be right for you. For example, you may already have other vintage audio devices or it may fit your quaint decor. In any case, there are many advantages of using vintage speakers compared to modern speakers. Many people like the fashionably nostalgic or old-fashioned retro look that these speakers offer.
In addition, there are some speakers that we could say are between vintage and modern. They were released recently but may have a slit touch of yesteryear in terms of design. As an example, check out our KEF Q100 vs Q150 to learn more.
One final reason may be that you have a vintage receiver. In this case, you can get a vintage speaker for your vintage receiver.
Are Retro Bookshelf Speakers Durable?
Retro bookshelf speakers can either be speakers that are new but have a style and design from the past or actually an old speaker from the past. In the case of these older speakers from the past, are they durable?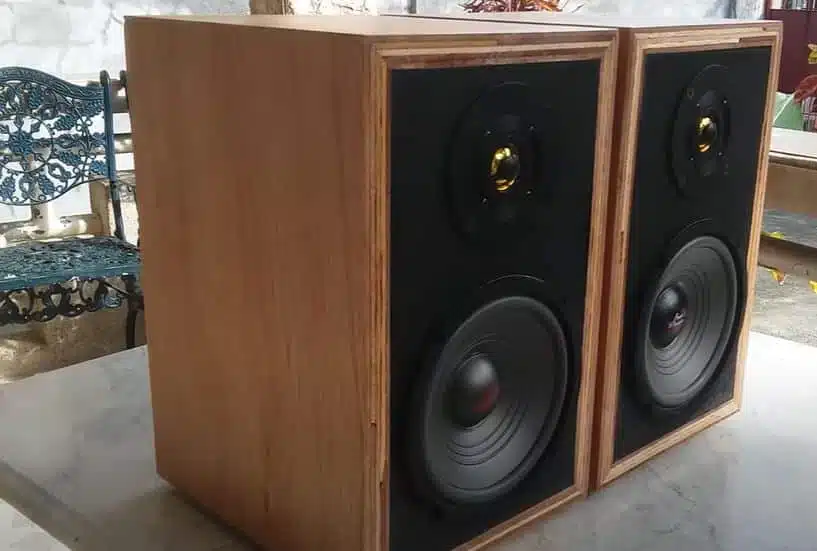 The fact is that depending on the condition you get the speaker in, most retro bookshelf speakers are more durable than modern bookshelf speakers. This is because many of these old retro speakers were made by hand with some of the best materials and craftsmanship. and especially the fashions of the past – fashionably nostalgic or old-fashioned retro look.
Final Take
Vintage doesn't necessarily mean old. As you can see, you can purchase perfectly good, in fact, excellent vintage speakers brand new.
Vintage is about classic design. So, there you have it, the best vintage bookshelf speakers available. These speakers not only look vintage but offer a wonderful, very natural sound. At the end of the day, that's all that matters, right?