As an Amazon Associate, we earn from qualifying purchases made on our website.
Last Updated on January 13, 2023 by Norvan Martin
Despite all of the technological and mechanical advancements since the 1970s, today's speakers sound undernourished when compared to some antique arrangements.
The 1970s to most sound lovers is a golden period of pleasant sounds and this was due to the many wonderful speakers of this era. This article provides a list of some of the best speakers with the best sound that made 70's golden.
The very first on the list is;
Wharfedale is one of the frontline sound systems of the 70s. The Wharfedale Linton Heritage speaker is a production of the British loudspeaker company Wharfedale. A major characteristic of the Wharfedale speakers is the extra bass power that it possesses.
This characteristic is the major feature that gave it influence throughout the 70s. The Wharfedale Linton Heritage is a sturdy box with three-way bass power made up of a kevlar woofer, another kevlar midrange, and a soft dome tweeter.
If you are an audiophile, JBL should definitely ring a bell as it is one of the best bookshelf vintage speakers of all time. It's one of the main speakers we use to compare vintage and modern speakers.
Even if you are not around in the 70s, just think of a better JBL you know around today. The JBL L100 classic is the desire of every young person in the 70s.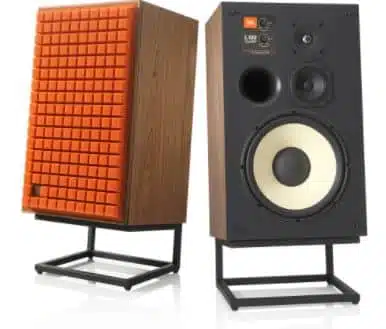 This is because of its elegant and beautiful design to make you want to have one. They have a grille covering the speaker surface that comes in a bright color to catch your attention.
If you are familiar with the JBL speakers, one thing you will agree to easily is the pleasant quality of its sound production. The JBL L100 classic has such a wonderful sound that makes you think of other speakers as below average. No wonder the JBL L100 classic remains the best-selling JBL speaker in history.
The Klipsch Forte III is one of the earliest manufactured horn-loaded speakers for premium sound delivery.
One of the special characteristics of this 70s-era speaker is its reproduction of high-quality delivery that makes you feel you are in a live session.
The Klipsch Forte III speaker is an 8-ohms compatible speaker that produces faster sound delivery at low power requirements.
The Tannoy SRM speaker is also one of the high-performing speakers of the 70s. It has a calibrated control system for its high-frequency production.
It has a high-performance range because of its rigid framing that helps control the vibration to ensure smooth delivery.
One factor that also contributed to the influence of the Tannoy SRM speaker was its attractive appearance. This was due to the detachable transparent grille cover on the speaker.
If you are familiar enough with JBL speakers, you might have noticed their rigid backing which helps them produce high-quality and smooth sound. The JBL 4345 is a considerably large speaker that is used as a monitor speaker. It has a weight of over 112kg.
The JBL 4345 was a headliner of the 70s studio production and was used mostly as a professional speaker.
Characteristics such as its four-way loudspeaker scheme with a strong bass-reflex scheme and an efficient cone woofer made it one of the best choices for monitor speakers in the 70s.
This is one speaker that really contributed to the golden sound era of the 70s. The ESS AM-T 1b speaker came into the 70s scene with a whole new design that captivated the market.
It has a speaker design from a heil air motion transformer that was novel for that era. This design improved the existing sound production up to multiple folds of the existing design and quickly got attention from the market.
The AR-5 speaker manufacturers produced it as an improvement to the AR-3a speaker which was reported to have had too much bass.
The AR-5 speaker is produced as a three-way speaker having a woofer, dome midrange, and a dome tweeter. The speaker has a strong wide range of sound coverage.
Another factor that contributed to the success of the AR-5 is affordability. Unlike the other speakers, the AR-5 is considerably the most affordable speaker of the 70s.
As with other JBL speakers, the 4311B is a powerful speaker with strong sound output. However, the JBL 4311B is a professional monitor speaker for a rather small space.
The monitor is a professional use monitor that is specifically designed for a small studio or small enclosure for maximum quality sound production.
The pioneer HPM 100 was popular for one reason; it was the best version of JBL L100. The HPM 100 speaker was designed by a former JBL senior engineering executive.
Most of the engineers that designed the JBL L100 also designed the HPM 100, so they had just one work to do: make it better than the previous design.
The Pioneer HPM 100 was designed as a four-way speaker with other special components such as;
● Super woofer from 300mm fiber
● A polymer-designed tweeter
● 4 high-power speakers
10. Altec Model 19s
The speaker frame comes in oiled oak with a shiny appearance and a sturdy frame. It is a large floor-standing speaker for balanced sound production in a corner. Part of its success in the era was a result of some innovative design ideas.
The innovation includes a new plug face, that also helps the speaker produce sound with minimum distortion, and an equalizer that allows for a new type of equalization accommodating room change.
11. Bowers &Wilkins DMA 2A
This is one of the best high bass speakers of the 70s, and interestingly, the one speaker you can still go-to for quality bass.
However, it is considerably large with its body made from a cast frame and not the best choice for moving around. However, it has one obvious use; the production of quality bass.
IMF TLS 80 M11
This is a free-standing super speaker with big success throughout the 70s. It wouldn't be out of place to call it a super speaker, considering the efficiency of the 4-way speaker.
The IMF TLS 80 M11 speaker has a dome tweeter but not an ordinary dome, it is what will be safe to call a super dome. The sound production is beyond 20hz even after audibility.
12. Acoustic Research AR-10pi
This is believed by most people who used it in the 70s as a super woofer. It is a three-way speaker system with top-quality sound production.
It has a deep bass delivery which is an upgrade of the AR 3A speaker, ultimately producing the best version of the AR bass speaker with smooth and low dispersion.
Marshall Action is a vintage speaker that is optimized for performance. It is well-balanced, and the latest built-in features make it a big rival for many brands.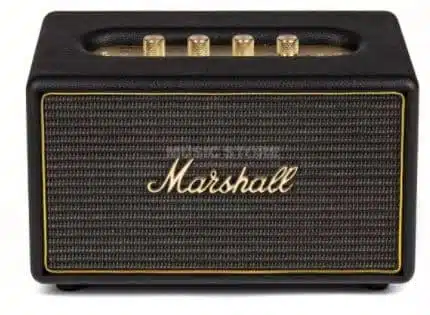 Some of the key features include Alexa Revolutionary sound, voice recognition, and sound customization, which adjust the music to your ideal requirements.
Pros
Alexa voice control added
Bluetooth connectivity
Easy to carry
Multi-room feature
Bass and treble control
Music has depth and detail
Cons
Trouble setting up through the Marshall voice app
Very expensive
No portability options
Coming second on our list is the Edifier R1280DB which brings studio sound quality to improve your home listening experience.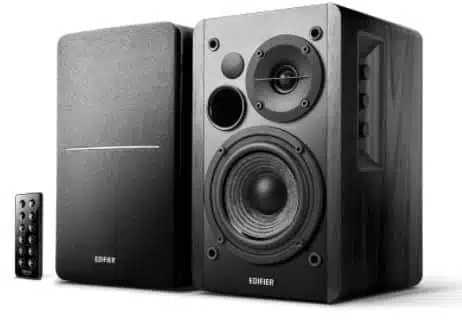 The speaker has several connectivity options and can be controlled with remote control. Other features include style variants and panel controls.
Pros
Side panel controls
Optical input
Solid MDF wood housing
Bass and treble control
Bluetooth connectivity
Great bass quality
Cons
Bluetooth connectivity can be shaky
The OTR Wood Series Munzen audio speaker is gorgeously hand-carved to emphasize timbre and warmth.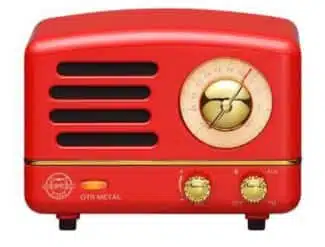 It's wireless, has a high-definition sound speaker, and offers up to 8 hours of playtime after one full recharge.
Pros
Long battery life
Easy to use
Superior sound quality
FM radio
Hooks up quickly
Wireless Bluetooth pairing
Cons
This is one of the best classic Jukeboxes of the 70s built with a CD player and Bluetooth connectivity.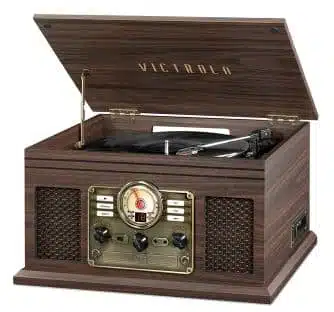 You can easily customize the lights with the Retro Color-changing LED light tubing with up to 5 colors.
Pros
Old-time diner style
Built-in CD player
Wirelessly stream music
Easy to use
Loud enough
Perfect sound quality
Cons
The CD player does not perform well on some occasions
Rockshelf 68B offers audiophile-grade quality sound at very affordable prices. The design is appealing, and power handling capability is average.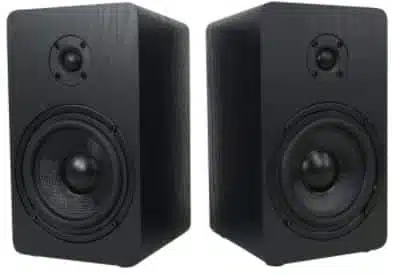 It is a perfectly built home theater vintage speaker with three attractive color options.
Pros
Silk Dome Tweeter
The crisp and realistic overall sound
Mid and low-frequency response
Includes Kevlar woofer cone
Affordable
Cons
No seals around the tweeter
Crossley CR3036D is one of the best affordable speakers of the vintage class with both AM and FM radio capabilities.
It comes in a unique design with an inbuilt rechargeable battery.
Pros
Equalizer
Bluetooth receiver
Easy to tune the radio
It doesn't take up space
Cons
Volume and tuner are small
FAQs
1. Why do some people invest in vintage speakers?
Some individuals love the warm sound of older audio equipment, but others may prefer the contemporary sound of most recent speakers. Also, they like to preserve the good ol' feel of vintage speakers. Such speakers are no longer manufactured. So, that's why they are worth buying and also why people invest in them.
2. Which is the oldest form of a speaker?
The oldest form of a speaker is the Horn loudspeaker, the most classic style of a loudspeaker system. Horns have been employed as voice-amplifying megaphones since the 17th century, and they were utilized in mechanical gramophones as early as 1877, making them the oldest speakers to ever exist.
3. What is the oldest speaker brand?
Thorens is one of the oldest firms on our list, having been established in 1883.
4. Why do some vintage speakers sound better?
Because the recording industry employed fewer bass-boosting technologies at the time, older speakers had greater bass responses than modern versions. As a result, vintage speakers create more powerful lows and let listeners to distinguish between upright and double bass.
Conclusion
Although most of these speakers are still very much around as either vintage sound systems or remodeled as a new model from the old ones, a deep look into their performance during the 70s era has granted them a spot as one of the best speakers from the 70s. Please note that not all the speakers noted here are good for vintage receivers. If you have a vintage receiver and you want a vintage speaker for it, please check this list.
Norvan Martin is the founder of BoomSpeaker.com. He is a professional Electronics Engineer and is passionate about home theater systems and AV electronics. BoomSpeaker was created as an online hub to share his knowledge and experiences as it relates to home theaters and home audio electronics.
My email: admin@boomspeaker.com
Connect on Pinterest and Linkedin