As an Amazon Associate, we earn from qualifying purchases made on our website.
Traveling around for leisure or work has made driving an essential skill. However, driving your car daily can be boring, especially if there is no entertainment. That's why having speakers is a bit pleasurable. Excellent car speakers that produce high-quality sound are all you need to turn your vehicle into the best listening room.
There are various speaker sizes for your car, ranging from smaller 4 x10 speakers that can be installed on the dashboard to larger 8-inch speakers that can fit on the car door.
The best speaker sizes for most cars are 6 inch and 6.5 inch (6 1/2″) speakers which are used in the doors. 6×9 inch models are also used in the rear deck. The most popular option is 6.5 inch speakers which are currently the largest size available (other than the 6×9) and offer good bass, midbass, and midrange. For the dash and pillars, small midranges and tweeters should be used.
Check out the chart below for varying speaker sizes and where they can be used: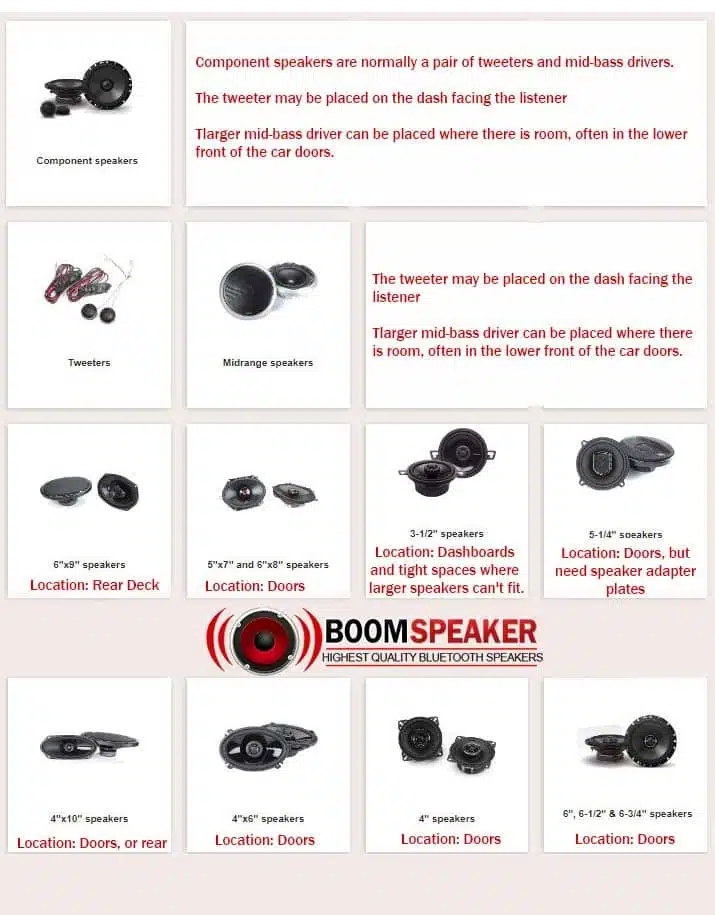 Let's help you find the appropriate size of speakers that suits your vehicle.
What Speakers Fit My Car
Ideally, the car speakers' dimensions depend on the diagonal distance between the frame mounting holes. And, different speaker sizes have different features. So, the bigger, the merrier.
You have to measure the height and width of your factory speakers to ensure that you purchase the correct size. You can get the correct size measurements by:
Unmounting the speaker:

You need to unmount the factory speakers to take correct measurements. Unscrew the mounting screws and carefully put the speaker out.

Measure the width

You need to measure the width of the speaker and get new speakers that are an exact match. You can also get a larger size if you are willing to make modifications to the mounting hole.

Measure the height:

Measuring the width is always considered necessary when buying a speaker of the right size. However, measuring the height is equally important. To get the right size, ensure the mounting frame faces upward, and the cutout side is on a flat surface.

Take the measurements of the mounting frame:

Now measure the dimensions of the mounting frame and also include speaker depth measurements.
These strategies are sure to help you get the correct car speaker size for your ride. You can also use this tool from Crutchfield to help you to determine which speakers will fit your car's factory locations.
Now let's analyze car speaker sizes.
8-inch Speakers
If you want top-notch sound, high-pitch, and excellent bass, then 8-inch speakers are suitable.
They fit in a car's trunk and are primarily ideal for big automobiles. 8-inch speakers need an amp to ensure they perform at their fullest potential. However, most are pretty expensive.
6 X 9-inch speakers
Install a 6×9-inch speaker in your car if you love top-notch sound. These drivers perform well even without an additional subwoofer.
However, choosing these speakers often means that you may have to make modifications to your factory speaker mounting hole. Plus, the high-quality sound may come at a high price.
6-Inch Speakers
6-inch speakers are suitable for most average-sized vehicles. They are ideal for drivers who enjoy banging and loud music. These speakers do not disperse or distort even at the highest volume.
They can also withstand high vibration and shock. Despite being large, they are often light and easy to install. In addition, they produce optimal mid-range frequency and decent bass.
5 x 7-Inch Speakers
5.7-inch speakers are known to provide excellent sound, ideal for music lovers. They're designed for mid-range frequencies and have no sound distortion.
However, they do not fit many car models.
6.5-Inch Speakers
6.5-inch speakers work with a wide array of sound frequencies, but they are pretty big for an average-sized car.
These speakers are often installed inside the front doors. However, most aren't the best for playing loud music.
5-Inch Speakers
5-inch speakers are standard in Japanese cars and work well for high- and mid-range frequencies.
They are a solid choice for audiophiles looking for crisp treble and solid bass. Unfortunately, they are not the best for people who love banging and loud music.
4 x 10 Speakers
These speakers are mostly oval in shape and fit in areas with more length. They are adequate for treble and mid-range but have less bass to offer.

With this in mind, now you know the speaker size your car needs.
What Size Rear Speakers Are in My Car?
5 x 7 and 6 x 9- inch speakers are commonly found in the rear of most vehicles. Mostly at the car doors or under the rear seats. Sadly, getting the right size of rear speakers for various models can be challenging. Some manufacturers use non-standard speaker sizes, making it hard to pick the right dimensions.
But there are some car sites with an extensive database of rear speaker sizes for popular car models. So, buying a rear speaker for your car becomes easy.
In some cases, measurements for specific cars are not available. In these situations, you will have to modify the speaker housing. Modification can be as easy as altering the house itself or converting the mounting frame to suit that of your car model.
But keep in mind that your considerations of the rear speaker should go beyond their sizes. Wattage is also a crucial factor to consider. The head unit and amplifier of your rear speaker should offer optimal performance.
Editors Notes
Speakers have standard sizes, but some manufacturers might have slightly different dimensions.

Ensure the speaker fits in the installation cabinet to avoid damages

Installing an audio system is easy but getting help from an audio professional is much safer.
Speaker Hole Size Chart
A speaker size chart helps you understand the right size of a speaker to fit your car.
| | | | | |
| --- | --- | --- | --- | --- |
| Speaker Sizes | Bass | Sound Quality | Installation | Power Consumption |
| 6.5 inches | Low-quality | High-quality | It fits in most car models | 300 Watts |
| 5 inches | Good quality | High | Ideal for Japanese cars | Low or high |
| 6 x 9 inches | High | High | It fits in most car models | 150 Watts Max |
| 5 x 7 inches | Good quality | High | Limited to few car models | 600 Watts |
| 6 x 8 inches | High Quality | High | Ideal for Chrysler, BMW, Mazda, and Ford | 350 Watt Max |
Speaker Size Calculator
The Speaker size calculator is designed to help you determine how loud a speaker will be. You also need to know the amp rating your speaker needs for a certain level of loudness. Some general levels of speakers are:
95-110dB – For heavy music

70 – 80db – Speech only

80 – 95db – this is ideal for light music
FAQs
1. Does the size of the speaker matter?
A lot of people have this belief that the size of the speaker matters. In some cases, larger speakers are preferable since they are louder. Big speakers can attain high levels that a little speaker cannot. There are less strained noises with huge speakers. While small speakers provide the illusion of rich sound, huge speakers really offer it. The sounds are rich, genuine, and lifelike. Music sounds much better when played over huge speakers.
So, size can be crucial if you need your speakers to be loud, but louder audio does not always equal finer audio.
2. What ohms are best for car speakers?
4-ohm speakers are mostly preferred in automotive audio. This is due to the fact that automotive audio systems operate on 12 volts DC rather than 120 volts AC. Vehicle audio speakers with a 4-ohm impedance might draw more power from a low-voltage car audio amp. Car audio amplifiers are intended to be used with low-impedance speakers.
3. What size car speakers sound the best?
The 6×9 size car speakers may pack a powerful punch, and in the absence of a subwoofer, they will provide the bass. They have the finest high and low frequency range.
Final Words
The market has a wide array of car speaker sizes. These speakers also come with different features to offer different levels of performance. Hopefully, you will get the correct speaker sizes after reading this article.
Norvan Martin is the founder of BoomSpeaker.com. He is a professional Electronics Engineer and is passionate about home theater systems and AV electronics. BoomSpeaker was created as an online hub to share his knowledge and experiences as it relates to home theaters and home audio electronics.
My email: admin@boomspeaker.com
Connect on Pinterest and Linkedin