As an Amazon Associate, we earn from qualifying purchases made on our website.
Soundbars are a popular choice for home theater system audio. However, in most cases, a soundbar alone just won't do. Soundbars with wireless rear speakers are a better choice to complete your home cinema.
Not only will this setup offer better surround sound quality, but most of these systems are integrated and offer features such as multi-channel equalizer adjustments, bass adjustment, treble adjustment, and some even pre-programmed settings for different genres.
Top Pick
Sony 3.1ch Soundbar with Dolby Atmos (HT-Z9F) with...
HIGH-RESOLUTION AUDIO: It feels like the artist is performing right in front of you
Wi-Fi: Wirelessly connect to online music streaming with built-in Wi-Fi
DSEE HX: Upscales your existing music to near high-resolution sound quality
Our list below rounds up the very best soundbars with wireless rear speakers.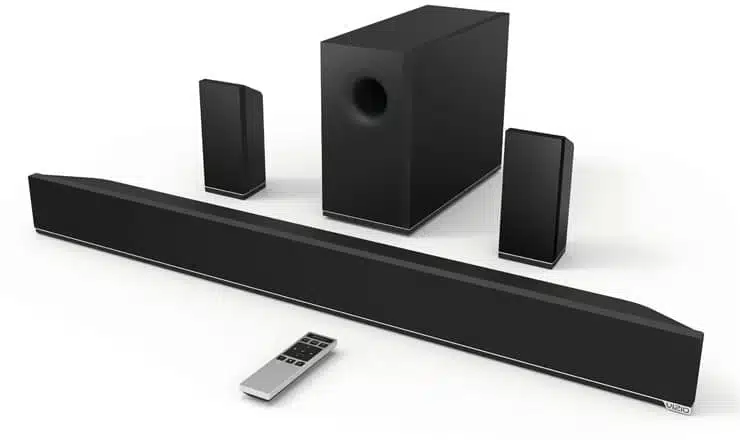 The Sony HT-Z9F is arguarbly the best Dolby Atmos soundbar with wireless rear speakers .
It comes in a price range where most speakers offer great performance for your money and it delivers a decent set of features.
Design and Features
Design-wise, the HT-Z9F presents a neat and simple construction with removable grille on the 1-meter soundbar to conceal a trio of drivers.
The rear connectivity features two HDMI inputs compatible with Dolby Vision and 4K HDCP. The soundbar also features a HDMI output with ARC, optical digital audio input, a USB port, and an analog 3.5mm mini-jack input.
The device comes with two Z9R wireless speakers to complete your home theatre for surround sound as well as a remote control.
Performance
The Sony HT-Z9F offers an expanded sound field with post-processing virtualization. It uses DSP (digital signal processing) to create a better soundstage than its 3.1-channel system can do on its own.
That includes Sony's vertical surround system that enhances the performance of your select content.
The Z9F is also stocked with surround sound processing for HD audio formats such as DTS:X, Dolby Atmos, Dolby TrueHD, DTS 96/24 and DTS-HD Master Audio.
Pros
Slim and sleek design
Clear dialogue
Powerful, well-defined sound
Impressive virtual surround
Cons
Vertical surround features bring sibilance on the midrange
Surround performance varies with installation
Verdict
[content-box color="blue"]If you want a powerful virtual surround sound in the smallest package possible, the Sony HT-Z9F is your answer. It's not the cheapest option on the market, but it delivers a brilliant array of features and an impressive virtual surround better than any bar at its size. Moreover, the system is well built to make it reliable.[/content-box]
---
If a surround sound system, a soundbar, and several wireless speakers were magically whisked together, the result would be the JBL Bar 5.1.
It looks like your average 2.1 system with a subwoofer and soundbar configuration or soundbar with subwoofer pre out, but its ends are detachable.
Design
The JBL Bar 5.1 boasts an attractive design with a drilled black metal body and chrome trims that give it a cool, sleek look. Finished in matte black, the soundbar is reassuringly heavy and large enough for a decent entertainment area.
The rear access for cables is a little fiddly, making it easier for flush-wall mounting. However, that may reduce the useful lifetime of the HDMI ports if you regularly unplug your cables. Nonetheless, the whole system is easy to set up, and you have a remote control to keep you off the buttons.
Performance
When it comes to soundbars with wireless rear speakers, JBL is always a standout. Designed as a blend between a 2.1 and 5.1 audio system, the JBL Bar 5.1 gives a room-filling sound with minimal setup.
It comes with a calibration mic, allowing you to set up the sound in seconds automatically. Even better, its battery-powered rear speakers can last for about 10 hours while watching movies or listening to music.
With 510 watts of audio power, the JBL Bar 5.1 doesn't disappoint when it comes to producing a big sound. Its bass is generally subtle, but enough to feel dramatic while its punchy mids deliver clear voices amid strong movie effects.
Pros
Tidy soundbar setup
Impressive bass
Battery-powered rear speakers
Excellent 5.1 surround sound
Cons
The price is a bit high
Quiet listening performance is lacking
Verdict
If you want a minimalistic soundbar that greatly delivers the immersion of a surround sound performance, the JBL Bar 5.1 is the way to go. This system is capable of a loud and bassy sound that makes sports more immersive and movies more intense. Its surround sound capabilities are also deeply impressive.
---
Nakamichi was one of the most popular companies in the 80's, popular for its prestigious tape decks.
Its newest Soundbar, the Shockwafe Pro comes as part of the company's plan to restore its former glory in the audio space.
Design
The Nakamichi Soundwafe Pro is a 45.5-inch soundbar boasting five discrete front drivers joined by a wireless sub and two wired rears.
The two rears connect effortlessly at the back of the subwoofer, and the wires are long enough to stretch across a decent size living room.
For easy connectivity, the Soundwave Pro features several connection options including a HDMI output with ARC and two HDMI inputs with DTS and Dolby Digital decoders. You can find other excellent HDMI passthrough soundbars here. It's also among the best speakers with a 3.5 auxiliary port and a USB input for firmware updates.
Performance
The Nakamichi Shockwafe Pro is a is equipped with powerful wireless rear speaker home theater that delivers powerful bass. Featuring three audio processing engines, the Soundwafe Pro allows you to unleash the full dynamics of a total surround sound.
The two rear speakers come with inbuilt tweeters that produce high-frequency signals with captivating clarity, while the full-range driver delivers the surround effects with power and precision.
With an 8-inch wireless subwoofer, the Nakamichi Soundwafe Pro delivers tight, heart-thumping bass that enhances your home theatre's impact. The bass effects will be equally distributed across the room in all directions for maximum immersion, but you can easily tell it's coming from the subwoofer.
Pros
Tidy soundbar setup
Impressive bass
Battery-powered rear speakers
Excellent 5.1 surround sound
Cons
The price is a bit high
Quiet listening performance is lacking
Verdict
The Shockwafe Pro comes with some of the best features from Nakamichi, creating a reliable audio system with top-notch clarity. This 5.1 channel soundbar supports 4K video sources, though it doesn't support DTS Master Audio and Dolby TrueHD. Nonetheless, you have 600 watts of audio power pumped through 7.1 channels for a lifelike surround performance.
---
Performance
The Polk Audio MagniFi Max SR Soundbar is the perfect mix of affordability and sound quality. Polk Audio is well known for creating such quality devices and so this is no surprise. In fact, the Polk Audio MagniFi Max SR Soundbar features Polk's patented SDA technology for boosted surround sound and voice adjustment.
Design
In addition, the wireless rear speakers and the small subwoofer which are lightweight, slim and then allow you freedom of placement.
Pros
Polk's patented SDA technology
Voice Adjust technology
Small profile
Bluetooth streaming
Google Assistant
Google Chromecast built-in
Night mode
Cons
Chromecast is only accessible through the music app
Sonos has always been a unique brand in the soundbar market, usually prioritizing music lovers over movie fans.
However, the company seems to be turning their talents to home cinema with the Sonos 5.1 Playbar.
Design and Features
This 5.1 Home Theater soundbar comes in a simple design, but it accepts everything stored on your computer and NAS device. However, don't expect it to decode hi-res audio tracks.
The setup is simple, and there's even a pair of Ethernet sockets to allow you to connect other components like your smart TV to the internet.
It also comes with an IR sensor with an inbuilt repeater, meaning you can teach the system to control the volume using the controls on your TV's remote. It also makes sure there no signal mix-up.
Performance
Right out of the box, the sound performance is clearly a huge improvement over any high-end flat-screen TV.
It has a mighty impressive soundstage width, and there is a tonal balance, weight, and detail that no TV can deliver on its own.
The Sonos Playbar performs brilliantly on its own, but the subwoofer and its pair of rear speakers come together to create a full 5.1 surround sound system.
The bass is deep enough for you to enjoy all the dramatic effects of your movie, and you can connect the rear speakers through your home Wi-Fi.
Pros
Great minimalistic design
Stunning audio clarity with deep bass
Great optimization for night-time use and dialogue enhancement
Slim and powerful subwoofer
Cons
A bit expensive compared to most competitors
Verdict
Evidently, the Sonos 5.1 Soundbar is unrivaled in its price range. The price tag may hold you back a little, but you can be sure that it's well worth every dime. The play bar alone can outperform some 3.1 systems with its immersive frequency range.
---
Since the launch of Dolby Atmos speakers, soundbar manufacturers like Philips, Samsung, and Yamaha have made decent attempts to grab our attention.
However, only Sony has managed to that with the HT-ST5000 Bluetooth Soundbar.
Design and Features
The HT-ST5000 pairs a sense of height with elegant sound quality, giving you a fuss-free way to add DolbyAtmos to your home.
It's relatively easy to set up, and it features three HDMI inputs compatible with HDCP 2.2 for 4K support. Other input options include a 3.5mm jack, a USB port, Wi-Fi and Bluetooth connection.
The bar has a fabric mesh on the front, though it looks better while uncovered since the drivers are attractive. Inside, two gold-rimmed tweeters sit right and left, with upward-firing units on the top for Dolby Atmos support.
Performance
In full flight, the Sony HT-ST65000 delivers a wide, high soundstage with up to 800wats of audio power.
The subwoofer certainly hits hard, and the soundbar's vocal performance is rich and well-rounded to allow you to experience Dolby Atmos in a 7.1.2 channel system.
The subwoofer works together with the audio drivers to create crisp, clear audio that fills a standard living room. The center drivers make dialogues easy to hear, while the sub creates a tactile vibration to the floor without being muddy.
Pros
Excellent spatial presentation and audio clarity
Generous HDMI inputs
Compatible with hi-res audio files
Solid and elegant construction
Cons
Frighteningly expensive for a two-piece combo
Atmos effects not very convincing
Verdict
If you want to upgrade your home theatre system with a simple soundbar with a subwoofer, the Sony HT-ST5000 is a great choice. It delivers a great sound with superior features that you only get with multiple pieces joined together. With a soundbar like this, you never have to deal with a lot of tangled wires.
---
Recap
There you have it, the very best soundbars with wireless rear speakers. If you are looking for a soundbar for your home theatre system, then don't settle for just a soundbar. A proper soundbar setup involves a soundbar with wireless rear speakers. This kind of setup integrates extremely seamlessly – making for a rather unique listening experience. Believe it, the difference is super noticeable.
By the way, of note as well, many soundbars with wireless rear speakers tend to be more powerful soundbars for larger TVs. For example, many soundbars for 65 inch TVs have wireless rear speakers.