As an Amazon Associate, we earn from qualifying purchases made on our website.
If you are going to purchase a soundbar in this day and age, you may as well purchase a soundbar with HDMI passthrough.
To simplify, soundbars with HDMI passthrough are just soundbars or speakers with HDMI input and output.
HDMI passthrough HD audio and video from a source device such as a cable set-top box or a Blu-ray player to a home theatre system.
In other words, it just provides a means to play unaltered source audio and video through your home theatre.
The alternative would be to connect several cables, which can get rather messy. Below, we have compiled a list of the best soundbars with HDMI passthrough for your home theatre needs:
Best Soundbars With HDMI Passthrough:

Top Three Picks
Preview
Best Overall
Best Construction
Most Stylish
Title
Sony CT800 Powerful Sound bar with 4K HDR, Google...
SAMSUNG 3.0 Sound+ Premium Soundbar HW-MS650/ZA...
Bose 767520-1100 SoundTouch 300 Soundbar, works...
Sound Quality
Clear vocals & deep, solid bass
Remarkably loud with tight bass
Compelling surround sound experience
Best Overall
Preview
Title
Sony CT800 Powerful Sound bar with 4K HDR, Google...
Sound Quality
Clear vocals & deep, solid bass
Best Construction
Preview
Title
SAMSUNG 3.0 Sound+ Premium Soundbar HW-MS650/ZA...
Sound Quality
Remarkably loud with tight bass
Most Stylish
Preview
Title
Bose 767520-1100 SoundTouch 300 Soundbar, works...
Sound Quality
Compelling surround sound experience
What Is A Soundbar With HDMI Passthrough?
A soundbar with HDMI passthrough is simply a soundbar with HDMI input and output.
---
First on our list of the best soundbars with HDMI passthrough is the Sony CT800 Powerful Sound Bar.
The soundbar brings you a powerful cinematic sound with surround sound experience while expanding your entertainment system with Google Home.
Design
With a slim, lay flat design, the Sony CT800 Sound Bar is ideal for placing on a TV stand, beneath your flat-panel TV, or mounting on a wall.
Expanding the home theater setup is easy, allowing you to connect all your equipment using three HDMI inputs, a USB input, and an HDMI Arc output.
You can stream your playlist through Bluetooth and Wi-Fi, which supports multi-room listening with other compatible Sony speakers. It's a true soundbar with HDMI passthrough.
Performance
While the soundbar is ultra-slim, it delivers an impressive sound thanks to its built-in DSP processing and directional drivers.
Its wireless sub provides deep solid bass, making it easy for the stereo bar to cover other frequencies for clear vocals.
Even better, all its HDMI inputs and output are compatible with 4K HDR signal and HDCP 2.2 copy protection. That allows you to use the latest audio formats, such as DTS-HD Master and Dolby TrueHD.
Pros
Surprising versatility
Tons of useful and effective streaming options
Customizable high-quality sound with excellent bass
Cons
You may need a few tweaks to suit your room
Verdict: Sony is known for creating products with a sleek visual design, and the CT800 is no different. It's a nice-looking soundbar with an accompanying subwoofer that screams premium, from the construction to the performance.
The overall sound performance is loud, clear, and well-defined, with great control over the playback. That includes Google Home for voice control through Chromecast.
---
Samsung is arguably the biggest TV manufacturer aiming to offer great home entertainment.
The Samsung HW-MS650 ZA forms part of the company's plan to become the leading audio brand.
Design
Hailing from Samsung's latest sound range, the HW-MS650 ZA is among the best single-body soundbars with rigid and robust construction.
Its high-quality bodywork and metal speaker grille give it a high-end look spiced with gentle curves, chamfered edges, and an elegant top panel.
It doesn't go overboard with the connections, but the available options will suffice. That includes an ARC-ready output and HDMI input that supports 4K signals of the HDR, 60p, and HDCP 2.2 variety.
Performance
With Multi-speaker control and noise cancellation features, the HW-MS650/ZA delivers powerful bass without using an external subwoofer. It has enough power to fill a large room with a remarkably loud sound.
Its tight and transient bass gives you a terrific sense of momentum and drama while watching a movie, making it the perfect antidote for weak TV speakers. Additionally, it offers plenty of high-frequency detail to give you a crisp and airy sound.
Pros
Solid and stylish one-piece design
Built-in Wi-Fi and Bluetooth
Multi-room and surround sound support
Excellent bass without an external sub
Easy to set up
Cons
Slightly aggressive sound at top volume
Only one HDMI input
SAMSUNG 3.0 Sound+ Premium Soundbar HW-MS650/ZA...
HOME THEATER SOUND: 9 speakers with dedicated amps let you experience rich, room-filling home theater sound...
WIDE-RANGE TWEETER: Hear consistently great sound anywhere in the room with tweeters that cover a much wider...
ALEXA VOICE CONTROL: Enjoy your soundbar hands-free using Alexa voice control by simply saying the song title...
Verdict: The Samsung HW-MS650/ZA is an all-in-one soundbar that boasts of cutting-edge technology and a pleasing sound. It has an excellent array of features, including HDMI connections with 4K support and an array of unrivaled Wi-Fi features.
It's a brilliant choice if you want a soundbar that's easy to hook up and stream music. Nonetheless, its price is on the higher end compared to rivals such as the Yamaha YAS-108.
---
While Bose is no longer the driving force it once was in the soundbar market, it's known to create spectacular audio equipment.

The SoundTouch 300 is a good example of its innovative products, offering an attractive design and a myriad of modern features.
Design
Boasting high-end design and sleek build quality, this Bose flagship soundbar comes with tampered black glass on top and an aluminum grille.
It has non-slip rubber pads at the base and decent connection options. That includes HDMI with ARC, Ethernet, micro USB connection, and optical digital audio input. These HDMIs support 4K HDCP 2.2 sources with Dolby Digital and DTS audio formats.
Performance
The SoundTouch 300 soundbar sounds as good as it looks. It offers an exceptional bass performance with virtually zero distortion and compelling surround sound effects for a theater-like audio experience.
The ST300 is capable of a generously wide soundstage, reproducing dialog and incidental effects with utmost precision and clarity. It also offers easy music streaming through Bluetooth and Wi-Fi.
Pros
Wide and articulate audio presentation
Gorgeous build quality and design
4K pass-through with HDCP 2.2 compatibility
Compatible with multi-room components
Cons
The setup can be a bit frustrating
No external subwoofer
Bose 767520-1100 SoundTouch 300 Soundbar, works...
Works with Alexa for voice control (Alexa device sold separately)
HDMI connectivity with 4K pass through brings your music, movies and TV shows to life. Supported audio formats...
Premium glass and metal grille make the soundbar look as good as it sounds. Video source compatibility: HDMI...
Verdict: If you've used the Bose SoundTouch Multi-room system, then connecting the ST300 with your HDMI ARC-enabled TV will be a no-brainer. The SoundTouch 300 is an impressive performer, capable of delivering loud and detailed audio.
The upper glass tampered plate is a fingerprint magnet, but the overall performance of the soundbar warrants two thumbs up. Nonetheless, the price may be a concern to some buyers.
---
The HW-N650 is one of Samsung's latest soundbars from the state-of-the-art audio lab based in California.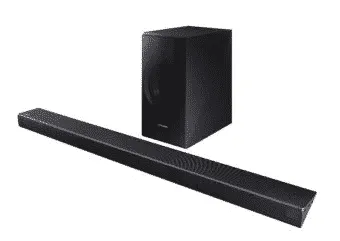 This soundbar is created with gamers and movie fans in mind.
Design
Its design is similar to other Samsung models, with a durable all-metal construction and a rectangular shape.
Though its look is more functional than eye-catching, it has a solid build quality with a substantial weight and sturdy feel.
Its connections are available at the bottom of the soundbar, with the HDMI located in a recessed section on the right.
Performance
Using a 5.1-channel speaker configuration, the HW-N650 offers a strong audio power ranging at 360 watts.
It has an active wireless subwoofer with a 6.5-inch driver and a rear port to offer a decent bass extension.
The HW-N650 also features Samsung's Acoustic Beam Technology that delivers a large and intense front soundstage for a cinematic experience with movies and games. Moreover, it has a decent set of connections, but only a sing HDMI Input is available.
Pros
A wide and immersive front soundstage
Great musical performance
Fantastic build quality
Powerful wireless subwoofer with solid bass performance
Cons
Single HDMI input
A bit pricey
Verdict: The Samsung HW-N650 is a high-end soundbar that rocks a minimalist design and a robust build quality combined with several great features. The sound quality is brilliant, with a loud and immersive front soundstage for movies and music listening.
Its price tag is fairly hefty, but the addition of the Acoustic Beam technology and a wireless subwoofer justifies it. It's a worthy recommendation for anyone who needs a superb all-around soundbar!
---
When getting value from your money, Polk is one of the top American brands available on the market.
Design
The MagniFi Max SR comes with a separate woofer and surrounds speakers, making it great for those who want a virtual surround sound effect without fitting in a full surround sound system.
The soundbar can be wall-mounted and also thin enough to comfortably sit below your TV without messing with the remote commands.
Performance
Sonically speaking, the MagniFi Max SR is a bit of a mixed bag. You can expect decent speech clarity through the soundbar, even without having to tinker with the Voice-Adjust settings.
The subwoofer design gives it enough power to fill a decent-sized room with thumping bass, though not the best quality. Nonetheless, the surround speakers hurl the effects behind you decently, offering a voice similar to the soundbar.
Pros
Great surround sound effects
Easy to set-up
Control voice levels independently
Chromecast built-in for wireless music streaming
Cons
Not subtle enough for some music genres
The subwoofer might not integrate well with your system
SALE!!
Polk Audio MagniFi Max SR Home Theater Surround...
BIGGER, MORE DYNAMIC SOUND - Packed inside this slim and sleek sound bar 7 powerful drivers and tweeters...
INCLUDES PLUG AND PLAY WIRELESS SUBWOOFER & TWO WIRELESS SPEAKERS, which are instantly recognized by the sound...
EXPERIENCE TRUE 5.1 WIRELESS SURROUND SOUND WITH POLK'S PATENTED SDA AUDIO TECHNOLOGY that creates an...
Verdict: If you're looking for a surround sound system with maximum discretion and minimum fuss, the MagniFi Max SR is a solid option. Its price point is a little steep but in the same price range as other top soundbars on the market. That means you'll be paying for a premium soundbar that's second to none in cinema immersion.
---
Advantages of Soundbars With HDMI Passthrough
It's the only way to send HD audio signals in digital form. The eight audio connection only transmits analog signals.
It simplifies cable connections on your soundbar to give you a decent audio performance without complex audio connections.
Soundbars with an HDMI pass-through are ideal for your new 4K HDR TV or DTS: X/Dolby Atmos-enabled audio devices.
Please Note:
Soundbars with HDMI pass-through may not be compatible with all devices, so you need to ensure the HD audio source supports an HDMI Pass-through.
Nonetheless, the best soundbars offer multiple connection options, including wireless methods such as Wi-Fi and Bluetooth connections.
If the TV doesn't have an HDMI out, you can still configure the sound using an HDMI ARC (Audio Return Channel) port.
You can also use an optical cable and connect it to the TV's digital audio out port going to the HTS digital audio input port. Don't forget to set it to external TV speakers once you're connected.
What Features Do You Look For In a Soundbar?
Though there are many solid options out there, sorting through the available options to find a good soundbar with an HDMI Passthrough can be a dizzying process. Here are several features you may want to consider when shopping for your soundbar.
1. App Control
If you're planning to control everything with your tablet or smartphone, you'll want a manufacturer that offers an app compatible with your device's operating system.
2. Dialogue enhancement
Not everybody likes to turn on closed captions when watching a movie. However, you may need to do that to clearly make out what the people are saying unless your soundbar has a dialogue enhancement feature.
The feature uses an algorithm to identify frequencies normally associated with speech, running them via a digital signal processor. That helps to distinguish the vocals from the music, background audio, and sound effects.
3. EQ (Equalization)
Some soundbars offer equalization to help you tune it to a particular placement, like in a cabinet or on a wall.
This equalizer adjusts specific sonic characteristics that happen to your speaker in a specific scenario. However, EQ shouldn't be confused with room correction since the latter uses more sophisticated technology.
4. Room Correction
The structure of a room is a key determinant of how a soundbar will sound. Top manufacturers like Paradigm have sophisticated and highly functional room-correction technology that offers multiple sonic benefits.
A good soundbar with an effective room correlation can give you a jaw-dropping audio experience, but the feature is normally expensive. It will cost you over $1000 to get a soundbar with a well-implemented room correlation feature.
Most high-end soundbars on the market will allow you to enjoy the latest audio technologies like DTS:X and Dolby Atmos. These soundbars feature object-oriented audio, but they're typically limited to a 5.1.2 or 7.1.2 configuration.
A 5.1.2-channel sound system comes with a front right, front left, right surround, left surround, right height, left height, and subwoofer. A 7.1.2-channel also has the same configuration but with right and left rear surrounds.
6. Subwoofer Support
If you're a bass lover, you'll want to get a soundbar that you can connect with a subwoofer. Some soundbars, like the Sony CT800 and Samsung HW-N650, come with a pre-packaged subwoofer, while others have a subwoofer output to allow you to connect the subwoofer model of your choice.
The prepackaged route is great if you're not a bass junky, but that's mainly because you can't upgrade either component without getting rid of them both.
FAQs
1. What is an HDMI passthrough?
HDMI Passthrough sends visual and audio data from a High Definition (HD) source to a Home Theater System (HTS) through an HDMI connection.
2. Which is better, PCM or passthrough?
Passthrough technology outperforms PCM in terms of sound quality and simplicity of use, and it is favored in home theatre landscape configurations. However, PCM technology excels at managing numerous audio channels and transforming analog to digital sound.
3. I am looking for a soundbar with 3.5mm Stereo Analog Inputs. Which one should I buy?
The Samsung HW-N650 comes with 3.5 mm stereo analog inputs. It comes with an HDMI Video Passthrough Resolution of 4K.
4. I am on a budget. Which one on the list I can opt for?
Compared to the rest, Polk Audio MagniFi Max SR Surround Soundbar is a good option for you if you want good features at an affordable price. It is extremely pocket-friendly when compared to the rest of the products that have been mentioned in this list.
5. How do I enable HDMI passthrough?
Press the HOME button on the remote control that you own.
Choose Settings.
Go to HDMI Settings.
Choose the Pass Through option.
Once done, press Auto.
Recap
Soundbars with HDMI passthrough offer several advantages including a single cable method of passing HD audio and video formats. It's a great way to set up a clean and modern audio system.
Even if you choose to purchase your soundbar at your local electronics store, ensure it has an HDMI passthrough, Blu-ray player, or Set-Top Box to the TV without altering the signal. You get top-of-the-line video and audio formats, all in digital and high definition.
Norvan Martin is the founder of BoomSpeaker.com. He is a professional Electronics Engineer and is passionate about home theater systems and AV electronics. BoomSpeaker was created as an online hub to share his knowledge and experiences as it relates to home theaters and home audio electronics.
My email: admin@boomspeaker.com
Connect on Pinterest and Linkedin