As an Amazon Associate, we earn from qualifying purchases made on our website.
Passive speakers allow you the free will to select the amplifier that best fits your sound system. But, getting the best audiophile-accepted small passive speakers may be tough to come across.
This is because you need to set it up with an amplifier while still saving space. This article will show you some of the best small passive speakers on the market that are also audiophile accepted.
You can also check out our list of small audiophile speakers (not all passive).
Audioengine A2+ is one of the high-quality and easy-to-use small passive speakers available on the market. It is a wireless speaker that uses a kevlar fiber woofer and silk tweeter to deliver its beautiful design and strong sound output.
It has a minimalistic style that makes it fit easily into any space and forms part of the home decoration.
Although it has pretty good wireless connectivity, the Audioengine A2+ also comes with a USB port behind it for connecting to a computer.
The sound delivery from an Audioengine A2+ speaker will always amaze you. It has a natural and more accurate sound simulation that comes with a restoration effect.
The Audioengine A2+ speaker has a sturdy low-frequency volume, loose vocals, and a transparent treble that gives it a balanced performance.
Features
Power on/off transient protection
Bluetooth 5.0 aptX speaker system
Dynamic sound effect
Balanced high, mid, and low-frequency performance
Centre screw inclusion for stands installation
Pros
Comes with quite amazing highs
Has excellent flexibility and audio quality
Ease of connectivity and use
Has an impressive durability
Cons
The volume knob is almost hidden
It doesn't come with grille protection for the exposed drivers
No stand is included with the center screw
The Peachtree Audio D4 features a vented voice coil and cast basket woofer. This gives the bass a realistic and strong tone.
The silk dome tweeter features a smooth, high-frequency response. Each cabinet is constructed of 34 1″ MDF. When you lift a Peachtree Audio D4, you'll sense its weight and quality construction.
In other words, every joint is perfect since the cabinets are cut using premium European CNC equipment that measures every joint to the micron. The binding posts and backplate are of the highest quality.
The D4 was designed to be positioned next to a wall without sacrificing sound quality. The grilles even have a baffle blanket to ensure the speakers sound as nice with or without them.
Features
Detachable grilles
Includes 4 adhesive rubber feet for stability
1-inch silk dome tweeter with 4-inch polypropylene woofer for balanced sound
Comes with a color-coded binding post terminal for easy identification.
Pros
Has a magnetic shield that prevents picture distortion
Threaded inserts for optional wall-mounting brackets
Comes with up to 5years warranty
Cons
Using this speaker system, CD-quality audio can be easily transformed into an audiophile's dream of high-quality audio.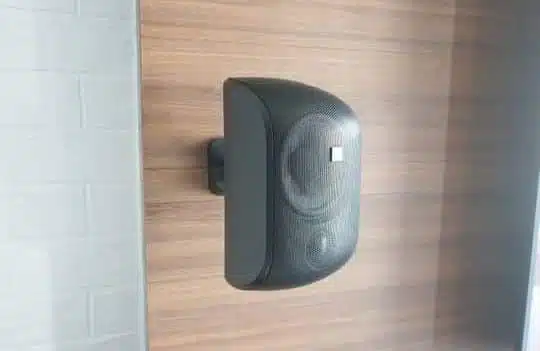 Once you give it a chance, it sounds fantastic with wideband gear that gives life to the sound coming to it.
In terms of both design and quality, these speakers are one of the best sounding PC speakers you will find for this size. Speakers of this size are mostly incapable of producing sound as well as they do.
Pros
It has a Near-Field listening experience with perfectly balanced sound
Comes with an impeccable build quality
Has an elegant design
It has a USB compatibility for pulling audio with a cleaner signal
It has amazing lows with tactile bass that deliver balanced audio.
Cons
Only sounds better at close range play
The price is quite expensive
Users reported it gets hot after using it for a while
It has a narrow soundstage
These bookshelf speakers have a two-way design. Despite their compact size, the 4-inch bass driver and 1-inch titanium tweeter provide more than enough output to deliver an amazing musical experience.
Compact bookshelf speakers, such as the B4 Compact Bookshelf, are easy to integrate into home theater and multi-channel audio systems because of their small size.
Size, performance, and pricing make the B4 an ideal loudspeaker for use in an urban home.
Features
4-inch bass driver and 1-inch titanium tweeter provide
Sub-compact monitor
Up to 150watts monitor rating
Pros
It has a sound delivery that is clear, controlled, and concise.
The build has a quite high durability
Comes with an articulate and engaging midrange
Has an attacking and agile sound output
Cons
Has a treble with a hard edge
The design is not modern
Discontinued
The Micca RB42 bookshelf speaker features a strong bass response that is enjoyable to listen to.
With the Micca RB42 speaker, you get a 4-inch subwoofer that delivers deep and satisfying bass. This speaker is equipped with a silk dome tweeter, which ensures that the sounds produced are clearly and accurately defined.
The speaker boasts sleek, modern lines and curves that make it visually pleasing to the eye. The Micca RB42 is small enough to be placed anywhere in your home, the speaker helps you create enough space to hold the amplifier, which is essential for connectivity.
Features
It comes with a 4-inch woofer (made from carbon and coated with paper and rubber surround)
Has a 0.75 inches silk dome tweeter
It has a power handling capacity of 15-100W
Pros
The vocal production is clear and well-defined
Affordability
It responds pretty fast due to its high sensitivity
Has good sound when compared to its size
Cons
The bass production from the woofer is not very impressive
Does not support direct wireless connectivity
Best Small Passive Speakers
The Audioengine A2+ is a fantastic passive speaker. Most small speakers hardly produce a good sound on their own like the bigger speaker.
Audioengine A2+ Wireless Bluetooth Computer...
PREMIUM WIRELESS SPEAKERS FOR GAMING - The Audioengine A2+ Bluetooth Speakers are the best wireless desktop...
INCREDIBLE SOUND - The A2+ 60 Watt Wireless Computer Speakers with subwoofer output deliver high-fidelity true...
VERSATILE COMPACT DESIGN - These compact Bluetooth speakers for home may be small, but they pack a big punch...
This speaker could still perform admirably with bass-heavy songs. Although it might not have the ability to play the extremely low-frequency sound of an audio set, drums and bass will still come out punchy and clear.
Best Passive Computer Speakers
The Logitech S150 is an easy selection for computers. It comes with USB connectivity and built-in controls.
SALE!!
Logitech S150 USB Speakers with Digital Sound
Balanced audio sound with depth - 2 Watts Peak/ 1.2 Watts RMS power produces immersive and crystal clear...
Simple and quick USB connection. Just plug the speakers into your computer USB-A port. An orange LED stays lit...
Easy controls. You can easily control the volume or mute on the front of the right speaker to get great audio...
It also comes with an audio power output of about 1.2 Horsepower that gives it a maximum range of user support.
Best Passive Speakers for Home Use
This speaker is easy to use at home since it comes with wireless connectivity support.
Audioengine HD3 Wireless Speakers with Bluetooth -...
PREMIUM BLUETOOTH BOOKSHELF SPEAKERS - The Audioengine HD3 Bluetooth Speakers are the best wireless speakers...
INCREDIBLE SOUND - The HD3 60 Watt Wireless Computer Speakers with subwoofer output deliver true high-fidelity...
VERSATILE COMPACT DESIGN - These compact Bluetooth speakers for home may be small, but they pack a big punch...
It has both Bluetooth aptX-HD and USB connectivity that makes it easier to connect to phones and computers for an amazing audio experience. What makes this speaker a good option is the quality features it has contained in a small box.
FAQs
1. What are active speakers?
An active speaker is one that includes an amplifier. Because they must be connected to a socket or battery, they are typically called powered speakers. They do not require any additional components to create sounds, and you may plug your audio devices directly into them.
2. Which ones are better: active speakers or passive speakers?
When it comes to audio quality and setting up, active speakers are better than passive ones. They are even portable and can easily connect to Wi-Fi and Bluetooth. They don't even take up that much space.
Both are incredibly good in their right ways, but active speakers take the cake here.
3. Do passive speakers need an amplifier?
Passive speakers require their own amplifiers or mixers to be powered, as well as speaker wires to carry music from the amplifier to the speakers. The vast majority of speakers are passive, which means they must be powered by a separate amplifier.
4. How do I know if my speakers are passive?
A passive speaker has no built-in amplifier and hence requires no power. There is no such thing as power.
Active speakers, on the other hand, feature an amplifier integrated right into the speaker. They only require power to the amplifier to make a sound.
Conclusion
Passive speakers can prove a tough choice to select. This is especially true since they do not have a built-in amplifier. However, this article has shown that there are several passive speakers in the market that have amazing features, are reasonably priced, and have pretty good size and portability.
Norvan Martin is the founder of BoomSpeaker.com. He is a professional Electronics Engineer and is passionate about home theater systems and AV electronics. BoomSpeaker was created as an online hub to share his knowledge and experiences as it relates to home theaters and home audio electronics.
My email: admin@boomspeaker.com
Connect on Pinterest and Linkedin