As an Amazon Associate, we earn from qualifying purchases made on our website.
As you may very well know, an av receiver is a device that receives audio and video signals from several sources and uses that to drive loudspeakers, TVs, projectors, etc.
In terms of electronics, a receiver is just a broadcast radio tuner and preamplifier/amplifier circuits combined on the same circuit board and in the same device.
However, even though receivers already have amplification, in many cases, it is preferred to have a separate amplifier that can properly power your loudspeakers, media center, etc, and that you have complete control over.
In such a case, you will need a receiver with a preamp out. However, the benefits that you get from adding an amplifier to your receiver will depend on several factors:
Room Size – Large rooms need more power to sustain high sound pressure levels. That also means that an amp may perform well in a smaller room, but poorly in a bigger room.
Listening Habits – How loud do you like the sound to be?
Bass Management – If you have your main speakers on full range, they'll demand more power for smooth operation through bass-heavy passages.
Speaker Load – Speakers have different load impedance. Their efficiency also plays a key role.
We also have a complete guide on receivers with pre outs and why you would need one. If your current receiver doesn't have a pre-out port, check out our article on connecting an amplifier to a receiver without pre outs.
So what's the best receiver with preamp out?
We have created a list of the best receivers with preamp out to help you to achieve greater wattage output per channel and greater flexibility:
Top 3 Reciever With Preamp Out Picks
Preview
Best Overall
Best For Home DJs
Most Affordable
Title
Yamaha TSR-7810 7.2-Channel 4K Ultra HD Network AV...
Pyle Updated Premium Pyle Stereo Preamplifier,...
Pyle Rack Mount Studio Pre-Amplifier - Audio...
Sound Quality
Powerful surround sound experience
Best Overall
Preview
Title
Yamaha TSR-7810 7.2-Channel 4K Ultra HD Network AV...
Sound Quality
Powerful surround sound experience
Best For Home DJs
Preview
Title
Pyle Updated Premium Pyle Stereo Preamplifier,...
Most Affordable
Preview
Title
Pyle Rack Mount Studio Pre-Amplifier - Audio...
---
1. Best Overall Reciever With Preamp Out: YAMAHA RX-V6A
What's the best receiver with preamp out on the market? The YAMAHA RX-V6A takes that title. When buying home audio systems, Yamaha is one of the most high-end brands on the market.
Their TSR series is one of the best lines of AV receivers from this manufacturer, offering high-end audio converters for brilliant audio performance.
The TSR-7810 packs enough power to drive powerful speakers and support the latest audio formats.
Design And Features
The TSR-7810 A/V receiver is built the same as the Yamaha RX-V781, with a 7.2-channel surround sound system that supports DTS:X and Dolby Atmos.
This Ultra HD receiver also comes with a free MusicCast controller app that makes it easy to access music streaming services and connect your audio in up nine additional rooms.
The TSR-7810 also has great wireless connectivity through Bluetooth, Wi-Fi, Spotify Connect, and Airplay. Additionally, it supports voice control using any Alexa device, adding to the system's versatility.
Performance
With high-resolution audio support and a compressed music enhancer, the TSR-7810 receiver delivers exceptional musical clarity.
It also packs 95 watts of audio power, allowing you to pair it with powerful speakers or an extra amp to rock any indoor or outdoor party.
Additionally, it comes with Yamaha's YPAO auto speaker calibration feature for an easy home theatre setup.
Pros
High-resolution audio support
Great system versatility
Supports all the latest audio formats
Easy to set up
Cons
A bit pricy
Manual calibration works better than its YPAO sound optimization
Verdict: The TSR-7810 is a high-end pre-amp receiver with all the nice features that you'd want in a system that supports UHD audio formats.
It does a fantastic job with the music, and you can add your existing amplifier for an immersive surround sound experience with ground-shaking bass. Nonetheless, you need to watch the price as it might not be the ideal option under a budget.
With over three decades in the speaker manufacturing industry, Pyle's expertise and experience are easy to note in all their products.
The PT395 Updated Stereo Amplifier is a hybrid preamp receiver with a preamp out that brings great musical clarity to any room.
It comes at an affordable price and it's easy to connect with your home audio system through multiple connectivity options.
Design and Features
The PT395 is a compact 2-channel amplifier that can connect up to four speakers for all home theatre entertainment needs.
You can stream your tunes wirelessly via Bluetooth or connect all your external audio devices through a myriad of wired connections such as RCA, AUX and USB inputs.
Besides its excellent connectivity, the Pyle PT395 comes with an inbuilt fan to avoid overheating. It also comes with two microphone inputs and an FM radio with an LCD.
Performance
With the ability to power multiple speakers, the Pyle PT395 pre-amp receiver packs a massive 2000watt peak power.
It also adopts advanced digital techniques that allow it to support digital MP3 audio files, giving you crisp, clear sound with solid bass.
However, you might get a little background noise when connected via Bluetooth, though it's nothing to ruin your musical experience.
Pros
Easy to install
Adjustable volume, treble, and bass
User-friendly remote control
Supports digital audio files
Cons
No power button on the remote
Bluetooth connection has a little background noise
Verdict: For the money, the PT395 offers excellent connectivity and power for all your home theatre entertainment needs.
The sound performance is solid enough for a large room, but the volume control can be a little tricky to get to the level you want. It can get too loud or not loud enough, though it can pump out up to 2000 watts of audio power.
When working under a budget, finding a high-quality pre-amp receiver can be hard. However, Pyle has made sure that you can get the best-sounding audio receiver system and receiver with preamp out under $100 budget.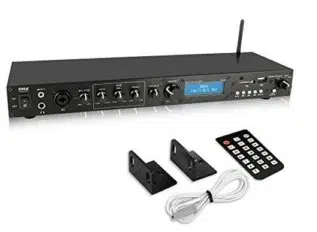 The PPRE70BT Pro Rack receiver works with the latest audio devices, and it comes with a user-friendly remote that allows you to access all the receiver's functions quickly and efficiently.
Design and Features
Unlike most pre-amplifier on the list, the Pyle Pro Rack Pre-Amplifier comes in a minimalistic design that makes it highly portable.
It has an inbuilt Bluetooth 2.1 for wireless audio streaming, two RCA inputs, and two mono RCAs for subwoofer out. It also features a unique recording mode that allows you to save audio through the SD/USB port.
Performance
With a rated power input of 7 watts and 15 watts maximum power consumption, this receiver with preamp out is an excellent pre-amplifier.
It offers vast flexibility, with effective master volume and tone controls designed for a great sound.
Additionally, the built-in radio works flawlessly, though you might need to tune the antenna to pick up some stations carefully.
Pros
Rack-mount compatible for easy assembly
Compact and slim design
Unique audio saving mode
Affordable price
Cons
The control buttons appear to be a bit flimsy
Its construction feels a bit cheap
Verdict: Though its performance can't match other audiophile devices costing ten times as much, the Pyle PPRE70BT remains a solid choice for the money.
The tone and volume controls have a solid feel, and you easily control everything from a distance using its user-friendly remote control. Additionally, you can record your music from the radio using its unique recording feature.
---
If you're looking for a high-quality receiver to pair with your new 4K UHD TV, the Sony STR-DH Av receivers are a great choice.
This series of receivers is non-networked device that allow you to enjoy the best digital sound performance without connecting them to the internet.
Design and Features
As one of the best units from Sony's STR-DH series, the STR-DH770 is a 7.2-channel receiver ready for the latest UHD content.
The receiver comes with a host of input and output options compatible with HDCP2.2 and 4K HDR/60p for true 4K quality.
These input options include a 4K HDMI pass-through, two preamp outputs for powered subwoofers, and four analog stereo inputs.
Performance
The STR-DH770 delivers an exceptional lossless sound quality with a surround sound experience, giving you a true cinematic audio performance in your living room.
It has enough power for multiple speakers, giving you 90 watts RMS power and up to 145 watts peak power per channel.
It has a little audible distortion at high volume levels, though the signal-to-noise ratio and frequency response makes up for it. That means the sound quality is more than sufficient for a home theater system.
Pros
DTS and Dolby surround sound decoding
Automatic digital cinema calibration for quick and accurate speaker setup
Convenient on-screen display
Lossless surround sound quality
Cons
Audible distortion at maximum volume levels
No multi-room support
Verdict: The Sony STR-DH740 receiver is a fantastic alternative to the more expensive Yamaha TSR-7810. It delivers a decent surround sound quality and the high-resolution digital sound decoding is enough to give you a memorable audio experience.
Additionally, you have an unlimited number of features and ports to connect all your audio devices.
What's the best receiver with preamp put for karaoke? The Pyle PD1000BA takes this title. This receiver is yet another budget-friendly receiver that allows you to enjoy Pyle's three and a half decades of expertise.
This 4-channel pre-amplifier is ideal for karaoke and home entertainment audio systems, providing versatile video and audio entertainment.
It also comes with everything you need to connect your soundbar, multi-channel speakers, subwoofers, and TV.
Design and Features
As a professional integrated indoor receiver, the PD1000BA wireless amplifier uses Bluetooth to stream music and can be paired with the latest audio devices.
It has seven inputs, including a CD/DVD player at the front, two mic inputs that have an echo effect for karaoke, an FM tuner, two subwoofer outputs, and an RCA preamp out.
This compact rack mount amp also features an inbuilt digital fluorescent display to show all the inputs and functions used. Additionally, it comes with a simple remote controller for distant audio adjustments.
Performance
The PD1000BA gives you 1000W peak power for driving multiple speakers with 2-8 ohms impedance. This means this amp can drive 4 ohm speakers.
That ensures you enjoy high-quality sound, with mic, tremble, echo, bass, and volume control to allow you to personalize your audio performance.
You can also connect external surround sound speakers for a cinema-style media experience from your home theater.
Pros
Excellent Bluetooth connectivity
Hassle-free installation
Crisp and powerful audio performance
Rack-mountable system
Cons
The lighting on the control panel is too bright
Verdict: The PD1000BA is a reasonably priced amplifier that delivers excellent sound for karaoke and all your home audio entertainment needs.
It has enough power to drive multiple speakers and up to 7 input options to pair all your audio devices. Moreover, everything is quite simple to set up.
---
Receiver Preamp Out and Power
Before you run ahead and purchase any receiver with preamp put, you need to ensure that the receiver you purchase can effectively drive the amplifier you're looking at.
You can measure or check the spec sheet for the voltage outpour of the amplifier's preamp out. For example, 2Vrms is usually adequate to drive the majority of amplifiers to full power.
However, you need to check your specific model because some devices require more power. Just check your amp's spec sheet.
FAQs
1. What is the preamp output on the receiver?
They are typically used in conjunction with a subwoofer and help add many channels to your home theatre. You might contemplate significant upgrading choices by using the preamp output. It is a method of extracting your signal from your amplifier before it travels into the power section.
2. Does a preamp increase the playback quality?
No, a preamp does not increase playback quality, but, however, it may assist you in getting cleaner recordings.
3. What Is the Difference Between a Preamp and an Amplifier?
They are unique devices that frequently need the usage of the other to generate a rich, high-quality sound.
The preamplifier and amplifier will each require their power sources.
The preamplifier converts several input signals into a single output signal, then supplied to the amplifier. This signal and the required power to make sound are then sent to your speakers via the amplifier.
If you choose a preamp system, you must ensure that your amplifier is compatible with the preamp you choose.
4. What to look for in a preamp?
You must check the following when getting a preamp:
The input and the output
The onboard EQ
Compression
Gain (max)
Channels
Recap
So did you find the best receiver with preamp out for your specific purposes? Having a preamp out on a receiver is an excellent choice even if you don't plan on having additional amplification.
This is for the simple reason that you don't know if you will need to add additional amplifiers in the future. As your needs change, your audio system should be able to adapt.
On that note, in our experience receivers tend to be less than durable devices. After all, they do so much!
Product failures are a common thing for receivers and for that reason, the receivers above were not just chosen due to the fact that they have pre-amp out ports, but also because of their durability – receivers that should offer years of unfailing usage!
Norvan Martin is the founder of BoomSpeaker.com. He is a professional Electronics Engineer and is passionate about home theater systems and AV electronics. BoomSpeaker was created as an online hub to share his knowledge and experiences as it relates to home theaters and home audio electronics.
My email: admin@boomspeaker.com
Connect on Pinterest and Linkedin