As an Amazon Associate, we earn from qualifying purchases made on our website.
Bose is a household name in the audio world and many consider its speakers to be among the best. For others, there is some controversy around the quality of Bose speakers. In any case, it is always best to pair your Bose speakers with a quality receiver.
While any brand and model will suffice, not all stereo receivers can fully bring out the abilities of your speakers.
Therefore, you should always prioritize quality over the cheapest options available. You will find top-reviewed receivers with detailed descriptive guidelines of their features, usage, pros, and cons to help you get an excellent product in no time.
Top 3 Picks
Best Design
YAMAHA R-S202BL Stereo Receiver
Best Dolby Atmos
Sony STR-DH790 4K 7.2-Channel Surround Sound Home...
Best Wireless Streaming
Denon AVR-S540BT 5.2 channel Receiver - 4K Ultra...
Best Design
YAMAHA R-S202BL Stereo Receiver
Best Dolby Atmos
Sony STR-DH790 4K 7.2-Channel Surround Sound Home...
Best Wireless Streaming
Denon AVR-S540BT 5.2 channel Receiver - 4K Ultra...
Top 7 Best Receivers for Bose Speakers
It is required that a receiver comes with an advanced circuitry design, Bluetooth streaming or Wi-Fi connectivity, and high-power channels or amplifier. Knowing this will help you make a suitable choice for your home theater system.
The Yamaha R-S202BL Stereo Receiver, according to Yamaha Audio, brings "music to your ears". You'll never run out of FM or AM station presets with this device, as it comes with 40 preset tuning options.
If you prefer a simple design, then you will definitely love its brushed aluminum finish. It has a luxurious feel to it and will last for years in both function and appearance. This device is compatible with Bose speakers.
It also has an ECO mode, which reduces power usage to 0.5W by automatically switching to standby mode. This receiver was designed with minimal interference and maximum power in mind.
The Yamaha R-S202BL Stereo Receiver's power transformer was positioned adjacent to the amp circuit so you can get a peak power supply.
Pros
ECO mode reduces power consumption to 0.5W automatically.
40 station presets
40 station presets
Design is simple and elegant (brushed aluminum finish)
Remote control that is simple to use
Cons
When using Bluetooth input, a small percentage of customers report that the unit turns off.
The Sony STR-DH79 7.2 channel receiver delivers theater-quality sound so you can stream your favorite television shows, movies, and other media. This is possible due to the new functions that aren't available on the previous Sony STR-DH770.

The most recent three-dimensional audio formats (DTS: x and Dolby Atmos) are supported by this AVR. It's as though you're right in the thick of things when watching a movie with this unit.
This home theater receiver promises to take your viewing experiences to a new level as it supports Dolby Vision and 4K Ultra HD picture quality.
The sleek metal finish of this item is quite appealing, and the adjustment knobs are large and smooth. It looks pretty decent overall.
Pros
7.1 and 5.1 channel support with clear indications.
Setup is automatic and includes a microphone.
Ear speakers could be used as an A/B.
Excellent sound quality
Bluetooth compatibility
Cons
Inability to connect via Ethernet or Wi-Fi
There is no phono input.
The user interface is poor.
Spring clips are used in most speaker terminals.
The Denon AVR-S540BT Receiver is one of the best for excellent color, brightness, contrast, and clarity as it supports HDR and 4K UHD video playback.

It features five HDMI ports, allowing you to connect not just your TV but also your gaming system, streaming device, and other devices! You can also simply use the on-screen setup aid to guide you through the basic steps of connecting the TV and optimizing the surround sound.
This device is extremely simple to set up as it also comes with built-in Bluetooth connectivity. Streaming your favorite music from your smartphone or tablet is simple and quite straightforward using this feature.
Pros
Exceptional resolution
Built-in Bluetooth support
Setup assistant
Room calibration
Ultra HD audio and video
Cons
The Sony STRDH190 AV Receiver will enhance your Bose Lifestyle home audio experience. It includes one analog audio output and four analog audio inputs, making it simple to connect traditional audio components like recorders, turntables, and CD players.
This 2-channel stereo receiver additionally features a smart Bluetooth connection, allowing you to stream music directly from your connected tablet or smartphone.
This Sony STRDH190 receiver for Bose speakers has an exquisite design that allows you to enjoy good sound quality in stylish packaging.
Pros
Has 30 station presets

A/B switching to play in separate zones or all at once

Speaker impedance – 6–16 ohms

Wireless remote control comes with batteries

Can connect up to 4 speakers
Cons
Does not handle music when turned too high
You can also use the Onkyo TX-NR595 to connect your Bose speaker system! It has 7.1 channel processing and can rival the sound quality of your Bose Acoustimass.
It has a 4K pass-through of up to 60p and 4K up-scaling for video. It has Dolby Vision, which is a high-resolution imaging format. This means more sharpness, depth, brighter bright, and darker darks.
Dolby Atmos cinematic audio format is also supported by the Onkyo TX-NR595 for Bose Acoustimass series and other Bose speakers.
Pros
Bluetooth and USB connectivity

SONOS compatible

Supports Bluetooth, Wi-Fi-, and Ethernet

Phono and USB inputs

DTS: X capable, Dolby Atmos
Cons
No IMAX enhanced

No Front Wide Channel Support
Your home entertainment experience will be enhanced by the high-power 2-channel drivers and amplification features. The Onkyo TX-8020 two-channel Stereo Receiver is a low-cost AV receiver with excellent performance and smart streaming features.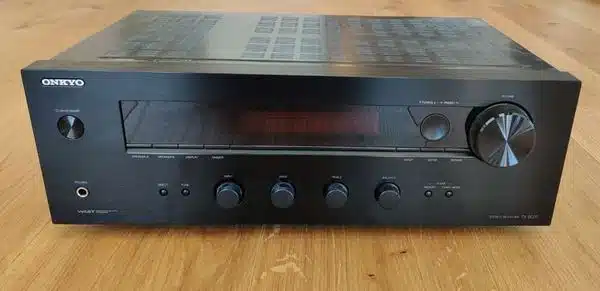 It has a variety of connecting options. You can either use audio speaker cords or a Wi-Fi streaming connection. This wide-range amplifier technology produces high-quality audio with good bass and balancing adjustments.
Without having to worry about compatibility difficulties, you may connect this receiver to any speaker. It has an EI transformer for quick connectivity with DS/AS AirPlay devices like iPods, iPhones, and iPads.
Pros
Reasonably priced

Multiple inputs for wiring

Sleek and compact Design

Allows for a high-speed wireless connection
Cons
There may be a loss of sound.
Yamaha RX-V385 is a fantastic alternative for anyone seeking a low-cost home theater setup as it is budget-friendly. This five-channel receiver delivers excellent surround sound in a variety of settings, including small apartments and huge living rooms.
It produces excellent picture quality when used with the latest 4K TVs and Blu-ray players. Bluetooth integration allows you to stream music from any app on your compatible mobile device.
The RX-V385 allows you to gradually expand your system. Whether you connect a single pair of bookshelf speakers or a full five-channel surround sound system, specialized DSP modes help you get the finest sound from each setup.
Pros
It has a warranty of 2 years

It has an output for five speakers

It also comes with a remote control

Its compressed music enhancer improves the sound quality of MP3s and other digital music files
Cons
It has no phono input

No preamps multi-room audio output
Best Receiver For Bose 301 Speaker
Here are some best receivers for Bose 301 speakers:
Fosi Audio BL20C 320 Watts Bluetooth 5.0 Stereo...

The Fosi Audio BL20C is a Bluetooth 5.0 enabled 2.1 channel stereo amplifier and U-disk player with a compact...
The BL20C stereo receiver amplifier boasts the STMicroelectronics TDA7498E chip for powerful audio...
Experience top-notch sound quality with the BL20C mini amplifier's advanced circuit design that ensures hi-fi...

[

amazon box

="B07P684PVV"]

SALE!!

Pyle Home Home Audio Power Amplifier System with...

2X120 WATT POWER: The Pyle Dual Channel Stereo Amplifier is perfect for your PA and home theater acoustic...
4 INPUTS: This personal digital amp box supports various external sources 3 pairs RCA audio input for tuner,...
PAGER/MIXING MODE: The mini integrated indoor AV receiver features pager and mixing switch. In pager mode, the...
Best Receiver for Bose Acoustimass 5
There are lots of receivers that are best suited for Bose Acoustimass, some are listed here:
SALE!!
Sony STRDH590 5.2 Channel Surround Sound Home...
Cinematic Sound at Home: Enjoy your favorite movies, TV shows and more with theater like sound in the comfort...
Virtual Front Surround: S Force PRO delivers virtual surround sound with only a 2 speaker setup
4K Pass Through: 4K HDR Compatible with Hdcp 2.2 Support for Sharper Source to Screen Image Quality
This Sony AVR delivers crisp, simple sound with a hint of brightness. The high-resolution sound quality is excellent for listening to music and watching movies.
You can connect an active subwoofer to the dedicated subwoofer output, which will complement the entire sound system and deliver a more powerful low-end frequency.
The Denon AVR-S960H, like most AV receivers, offers two dedicated subwoofer outputs to which you may connect up to two active subwoofers. It also employs Audyssey to ensure that your Bose Acoustimass 5 and subwoofers work in unison in your listening space.
SALE!!
Marantz 8K UHD AVR SR5015-7.2 Ch (2020 Model),...
THE MOST MUSICAL SOUND – Extensively tuned by Marantz sound masters at the most state-of-the-art facilities...
UPGRADED 7.2 CHANNEL DISCRETE HIGH-CURRENT POWER AMPLIFIERS ON ALL CHANNELS – Refine your home theater...
ELEVATED HOME CINEMA – Enjoy all your entertainment in the highest quality formatting. Screen movies in 8K...
Up to two subwoofers can be connected, and Audyssey can calibrate all of your connected speakers so that they sound their best in your listening room. If music is important to you and movie experience is secondary, the Bose Acoustimass 5 should be paired with the Marantz SR7013.
Bose lifestyle Receiver Replacement
Bose Lifestyle home theatre production has been discontinued (650, V25, and some other versions). This can make it a bit difficult to get a replacement for your Bose lifestyle receiver.
If you have an older Bose Lifestyle system that isn't working and you want to fix it, such as video projectors, you can try to return it to the manufacturer.
However, in most cases, not all Bose Lifestyle is up for repair by the company. Your best bet may be to simply replace the whole home theatre set, including your receiver,.
Bose Speaker With Onkyo Receiver
Unfortunately, because the impedance of individual Bose speakers differs from that of typical theater speakers, you normally won't be able to connect them directly to a receiver without damaging them.
However, you can in some special cases and if you know what you are doing. Check out our article on how to use Bose speakers with or without a receiver to learn more.
You can use your Bose speaker with an Onkyo receiver by converting the special Bose speaker plug to a standard one so you can make use of regular speaker cables.
FAQs
1. Can I use Bose speakers with any receiver? What amplifier do I need for Bose speakers?
Almost any receiver may be used to connect your Bose speakers. Choose one that complements the sound quality of your speakers.
Speaking of amplifiers, the best one for Bose would be the Bose Music Amplifier. You can connect your Bose passive speakers with it.
2. How do you match speakers to receivers?
You must consider the number of ohms and match it between your speaker and receiver. The smaller the amount of ohms, the more difficult it is for the receiver to power or drives the speakers. This information is usually included in the receiver specs.
3. How do I choose a good AV receiver?
Ensure that your AV receiver is compatible with your Bose speaker.
Take note of your connection.
Determine the appropriate quantity of power for your location.
Make sure there is adequate space.
4. How many watts is a good receiver?
We recommend it to be somewhere between 25 and 400 watts, with others suggesting even more. Choose a receiver that can produce a consistent level of power within the recommended rating. Also, if a speaker requires 25-150 watts, a receiver that can offer 45-100 would be ideal.
Conclusion
You can connect your Bose speakers to other receivers if you have a Bose speaker adaptor. However, characteristics such as impedance and speaker sensitivity must be considered.
You should always use the correct receiver with the right Bose speakers to ensure optimum performance.