Active subwoofers have build in amplifiers and so do not require an external amplifier. For this reason, active subs are often more expensive than passive subwoofers that require an external amp.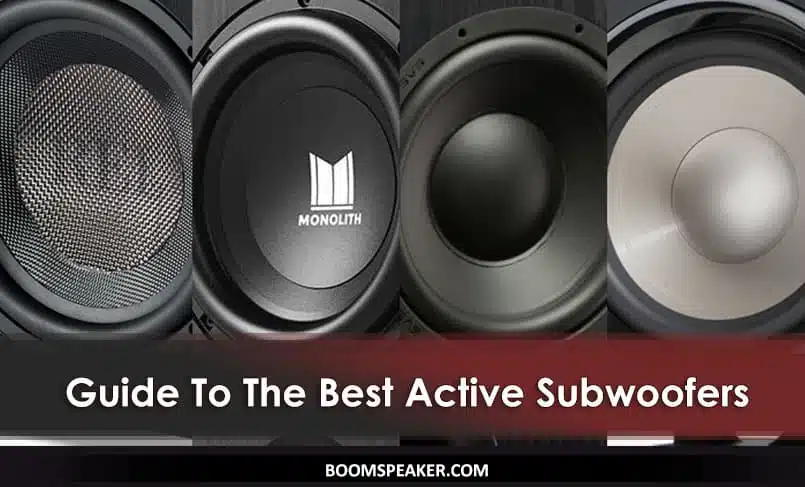 If you can afford it, you can always pay premium price to get a sub with all the bells and whistles and top-tier sound quality. However, that doesn't mean you cannot get a decent device within your budget. Several subs on the market have good audio quality and features, as well as price tags that don't break the bank.
Let's discuss some of the best inexpensive active subs you can get.
What to Look for in a Good Subwoofer
There are always some features to watch out for when you want to purchase something. These features tell you how good the object is and whether it will work for you. In active subwoofers, here are some features to check for.
This is undoubtedly the most important criterion for choosing a good subwoofer (or any other audio device). The sub you choose should always produce clean, natural sound without annoying noises or distortion. It should properly accompany quiet portions while rising gently for higher pitches.
Subwoofers specialize in deep bass tones. So, the sub you choose should do that well. A sub that doesn't produce enough bass is practically useless.
Passive and active subwoofers differ because the active subs have internal amplification to increase the audio signal strength. Check if the sub has sufficient amplification. With low amplification, the sub might be overshadowed by the other audio components.
Getting a cheap subwoofer does not equate to getting mediocre components. Get a sub with a sturdy build and long-lasting materials.
Best Budget Active Subwoofers
This is a selection of the best budget active subwoofers with good sound quality, build quality, and enough power to give you deep, chest-thumping bass.
You shouldn't expect top-of-the-line performance, but you will get excellent sound quality from these subwoofers.
This good subwoofer manages to get all the important things right. At 13.5×13×14.6″ (HWD), this subwoofer is compact enough to fit in tight spaces, despite having a 12-inch driver.
It's sufficiently powerful, with a 300W RMS and 700W peak power rating. The sound quality is excellent, with deep bass tones, airy midtones, and highs that are never muddy. The sub output spans 24Hz to 260Hz on the frequency spectrum. It is a sealed subwoofer, so it needs to be used at high volumes to match the output of a ported subwoofer.
This sub is an example of thoughtful construction. It has a vented pole piece to prevent overheating and massive dual ferrite magnets for high-quality sound with low distortion. Everything is enclosed in a sturdy cabinet in a variety of colors.
Pros:
Works well in small rooms

Excellent sound quality

Effective thermal management
Cons:
Might require high volumes to work well

The bass might feel shallow
BIC America is well-known for its affordable and high-quality audio devices. Well, you won't be disappointed with the F12, one of their most popular subwoofers. It measures 21×19×22″ (HWD) and weighs 42.7lbs.
The sound quality is superb, especially with low tones. There's very little distortion, even at high volumes. It produces bass tones clearly and middle or high tones with precision. The frequency response is 25-200Hz. It's rated at 150W RMS and 475W peak power.
The components are housed in MDF board and black laminate. There are rubber feet that improve traction and prevent excessive vibrations while working.
Pros:
Has magnetic protection to eliminate noise

Easy to install
Cons:
It gets hot during prolonged sessions
Rockford Fosgate R2S-1X10 (Best Compact) –

replace
This subwoofer is a compact device with a shallow and slim enclosure measuring 19⅛×13½×5¼" (WHD). The enclosure is covered in a carpet felt to protect the components and reduce sound muffling. It doesn't win any design awards, but it works well.
The RMS power rating is 200W, and the peak power rating is 400W. The frequency response is 38-250Hz, which is enough for most users.
Like all Rockford Fosgate devices, this sub has excellent sound quality. It reproduces bass, midtones, and high notes with surprising clarity. There's also little distortion at high volumes.
Pros:
Compact design

Sufficiently powerful

Comes with everything you need for installation
Cons:
Felt cover is not waterproof

Basic design
This sub uses a digital amplifier with a peak output of 300W. It uses a single large woofer cone made of spun copper in the classic Klipsch style. The enclosure is also classic Klipsch, with a sturdy black enclosure.
The frequency response lies between 32Hz and 120Hz. That's not much range, but the subwoofer makes full use of it. You get thumping bass, airy mids, and crystal-clear highs. This subwoofer is the perfect choice if you want a clean overall audio experience.
Pros:
Spun copper woofer cone

Fully digital amplifier

Accurate sound
Cons:
Needs specific cables to install

Inefficient below 60Hz
This subwoofer delivers decent sound quality while keeping a budget price tag. The subwoofer measures 16.2x14x14.4″ (HWD) and uses a 10-inch driver. It is well-designed, with a silver front and a grille to protect the woofer cone. The sub cabinet is made of durable and smooth MDF boards.
The internal amplifier lets the sub deliver 100W RMS, which might be too low for some users. The sound quality is decent; you get pleasing bass, airy mids, and sharp highs. With the small frequency response range of 40Hz-160Hz, the bass will sound shallow sometimes.
Pros:
Has inbuilt protection against power fluctuations

Fast and easy installation
Cons:
Slightly low sound quality

Lacks LFE
Conclusion
That's it! A guide to the best budget active subwoofers. Moreover, choosing a subwoofer can be a tedious task because of the cost sheer number of brands and feature sets available.
However, you can find good budget options as we have presented here. If none of the subs on this list appeal to you, read the section on what to look for in subwoofers and find one that matches your needs.