As an Amazon Associate, we earn from qualifying purchases made on our website.
For most music lovers, a Bluetooth speaker is a must-have item in your home. Even better, if your Bluetooth speaker comes with a USB port, you can play your MP3 files even when you don't have any Bluetooth-enabled devices nearby.
Moreover, you can enjoy fast charging through the USB port if your unit comes with a rechargeable battery. Here is a list of the best Bluetooth speakers with USB port:
Best Overall
The Bose SoundLink Revolve, the Portable Bluetooth...
Best For Outdoors
FUGOO Tough 2.0 | Durable & Portable...
Best Deisgn
GOgroove Computer Speaker Mini Soundbar - USB...
Best Overall
The Bose SoundLink Revolve, the Portable Bluetooth...
Best For Outdoors
FUGOO Tough 2.0 | Durable & Portable...
Best Deisgn
GOgroove Computer Speaker Mini Soundbar - USB...
Design: The Bose SoundLink Revolve rocks the same design as the Soundlink Mini II, extending into a cylindrical shape with strong aluminum housing.
It has simple control buttons on the top, with AUX input and a USB charging port on the side.
Moreover, this IPX4 speaker has a microphone on the upper side to enable it to hear your voice from any direction.
Performance: This speaker is known for offering detailed and expansive omnidirectional sound.
Volume-wise the SoundLink Revolve pumps the music loudly in all directions, though it lacks some bass response.
However, you can remedy the issue by placing the speaker near the wall (learn about proper speaker placement here). Additionally, the built-in battery can provide 16 hours of music playtime, and you can quickly charge it using a USB cable
Verdict: With an IPX4 rating, the Bose SoundLink Revolve is an excellent choice for users looking for a waterproof unit offering immersive 360-degree sound. However, you don't want to dunk it in water as it's not fully waterproof. That may come as a drawback given its price, but the sound quality is far much better than most of its fully waterproof competitors.
---
Design: Built to deliver rugged durability and superior sound quality, the Fugoo Style wireless speaker is among the loudest, most powerful and best waterproof speakers on the list.
It's built in line with IP67 waterproof rating, allowing it to be dustproof, mud-proof and snow-proof.
Even better, the speaker can float and can also survive up to 30 minutes when submerged in a meter of water.
Performance: The Fugoo Style XL speakers produce a broad sound with balanced treble and bass tones.
The sound can get incredibly loud without distortions at maximum volume and you can enjoy up to 35 hours of music playtime thanks to the robust inbuilt battery.
It also has a strong Bluetooth connection and several other options for wired connections.
Verdict: If you want a portable unit that works for your house, the beach and by the poolside, the Fugoo Style XL speakers are among the best. You can update the firmware using the USB port and also connects to your Smartphone through the Bluetooth connectivity. It offers hands-free calling through the inbuilt microphone, but the speaker-phone may feel muffled. However, the sound is seriously loud.
---
Design: This GOgroove Computer Speaker Mini Soundbaris a cute little cube Bluetooth speaker with a USB port and AUX input to allow you to connect with any media device like USB flash drives, Android phones and tablets.
It has a removable 600mAh battery that offers up to 5 hours of music playback and weighs a little over half a kilo – making it ultra-portable. Furthermore, it includes two audio inputs; USB port and 3.5mm AUX for playing MP3 files.
Performance: With angled drivers , the GOgroove Computer Speaker delivers a crystal clear 6watt sound with distinct mids and highs.
The speaker can get impressively loud despite its small size, with great clarity and enough bass. However, the battery doesn't last long (3 hours) when the speaker is working at high volumes.
Verdict: GOgroove Computer Speaker Mini Soundbar is an ideal portable speaker for anyone who needs a compact and loud unit in a unique cube design. You can use a mini USB input or AUX cable to connect your MP3 files, while dual full-range sound drivers ensure that you get a clear and loud sound. It doesn't offer wireless Bluetooth connection, but that's hardly an issue given its price.
---
Design: Available in a large size, the Alphasonik Pro Bluetooth speaker with USB is a complete party speaker featuring numerous connectivity options.
For audio streaming, it comes with a reliable Bluetooth connectivity and you can also connect up to 32GB USB and SD card.
Additionally, it comes with a tripod stand for easy mounting in both outdoor and indoor scenes.
Performance: With dual-sided airports and Alpha Q equalizer, the Alphasonik Pro offers a balanced digital sound.
The speaker's design makes it ideal for optimal sound performance, with a solid bass response and enough volume for a large party.
Moreover, it has multiple pre-set sound profiles to personalize the 8000watt sound output.
Verdict: Boasting of a durable and rugged ALPHATOUGH cabinet, the Alphasonik Pro DJ loudspeaker is built for the road. The speaker comes with a multi-directional microphone and a dual-sided ported design for optimal sound performance. However, it's a little disappointing that you can't manually set-up audio profiles, but there are several pre-set profiles.
---
Design: Pyle Blaster is one of the best boomboxes available on the market. It is made of rugged materials and comes with multiple connections, apart from Bluetooth the speaker has a USB port, guitar input, DVD and AUX-in jack.
This Street Blaster also has LCD digital lights display and a powerful rechargeable Li-ion battery, that last up to 6 hours.
Performance: As its size suggests, the Pyle Street Blaster X was built for maximum bass response and volume.
It comes with a digital amplifier that delivers a 100watt full-range sound, with friendly audio configuration settings that help you to adjust the bass, volume, echo, and tremble. The system also includes intuitive controls and FM radio.
Verdict: With a big size and smart engineered design, the Pyle Street Blaster lives to your expectation with maximum audio performance and strong bass. The speaker boasts of a rugged, portable, and high fidelity housing that not only gives you great functionality but also durability. The FM radio reception is nothing to brag about, but the speaker offers multiple connection options and USB recording.
---
Design: JBL is a leading manufacturer of portable Bluetooth speakers popular for their price, size and form factor.
The Xtreme 2 is among the largest and best sounding speakers from their collection. Additionally, the speaker is IPX7 waterproof, with a rugged design for durability and a unique clip-on shoulder strap for durability.
Performance: The JBL Xtreme 2 can connect with two Bluetooth devices, with users taking turns to enjoy the immersive stereo sound.
The sound is good at high volumes, although there is the presence of a boost that gives the music a slight edginess at a higher volume. That requires the volume to be below 75 percent, to avoid any troubles with the audio output.
Verdict: The Xtreme 2 is ideal for anybody who needs a large portable speaker that's both portable and durable. It's a great party starter as it has great bass and the sound performance is omnidirectional. Also, it comes with a bottle opener integrated to its straps to suit the needs of its target demographic – people looking for a good, loud time. However, it's one of the most pricey JBL Bluetooth speakers.
---
Portable Wireless Bluetooth Speaker -Big Sound,48...
►NEW 5 in 1 MULTIFUCTIONAL◀ Bluetooth speaker+Touch Sensor Led lamp+Alarm Clock+MP3 player+Hand Free...
►SUPER LONG PLAYING, SUPER LONG LIGHTING◀ Large capacity build in rechargeable battery with 4400mAh which...
►EASY CONNECTION with DIFFERENCE DRIVES◀ Speaker can connect with any BT device that you have. Easy...
Design: The POBEES Portable Wireless Bluetooth Speakeris a four in one multi-function speaker with a bedside lamp, power bank, emergency light, and a portable Bluetooth speaker.
The Bluetooth speaker has 6000mAh Lithium battery which offers 7 hours of music playing and is easily rechargeable through a USB port.
ieGeek comes with seven-color changing lights. ieGeek has a lightweight material with an IP43 waterproof rating.
Performance: This cool LED speaker is equipped with 4.2 Bluetooth version POBEES Portable Wireless Bluetooth Speaker doesn't require an app to connect to audio devices. ieGeek supports Bluetooth 4.2 and above with a connection range of up to 33ft.
The 4.7w power rate enhances the bass resonator bringing a crystal clear and enjoyable music experience. The multi-colors are dimmable and easy to adjust the brightness level.
Verdict: The high-quality Bluetooth in this dimmable lamp allows you to pair with other Bluetooth devices including Samsung Galaxy, Android Smartphone, and tablets. The IP43 waterproof rating and the super lightweight portability makes ieGeek ideal for outdoor functions. The touch control multi-colors which are dimmable create a visually romantic light environment as you enjoy music.
---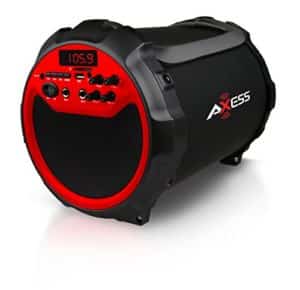 Design: AXESS 2.1 speakers come with dancing LED lights at the front, these lights offer a visually amazing effect while listening to crystal clear music from the built-in subwoofers.
On the speaker are a USB port, TF card input, and an AUX-in port, which help stream music from other audio devices. AXESS comes with a built-in rechargeable lithium battery.
Performance: The AXESS speakers have the kind of sound and style all music enthusiasts will enjoy. The speaker's bass is enhanced by the built-in subwoofers, while the LED lights dance to the music.
Aside from Bluetooth connectivity, there is AUX jack which allows you to connect to other audio devices as well.
Verdict: AXESS 2.1 Hi-Fi Portable loudspeaker connects to any Bluetooth enabled device and it's suitable for outdoor and indoor use. Additionally AXESS has an SD Card reader, auxiliary jack and a USB port this ensures that you can stream music from other audio devices and flash drives loaded with MP3 files. The sound system also has a bass speaker and a volume control yielding to well-balanced music.
---
Design: The LERSGO portable Bluetooth speaker is an all in one unit that features an FM radio, alarm clock, and MP3 player.
It comes with a built-in 2000mAh Li-ion battery, providing an extended music playtime of up to 8 hours. Moreover, the speaker provides easy connectivity through USB and TF card input and Bluetooth 4.0.
Performance: LERSGO speakers produce full-bodied stereo music with an enhanced bass made possible by the dual high-performance drivers
. It has less than 1% harmonic distortion, ensuring that you have the best audio performance with enhanced fidelity and clarity. Despite its small size, it can pump out about 5 watts of stereo sound.
Verdict: While the speaker comes in a small package, the sound performance of the XPLUS is amazing and the connectivity is great. You can connect your audio through a TF card and USB input, as well as Bluetooth connectivity. Moreover, the inbuilt speakerphone gives you the chance to receive hands-free calls, while the battery powers the speaker for 8 continuous hours.
---
Conclusion
There you have it, the best speakers with USB out there in 2020. USB speaker are a great alternative to Bluetooth speakers if you don't want to use Bluetooth for whatever reason. These portable speakers are also great choices if you plan on using them along with your laptop. So there you have it, the best speakers with USB in 2019. Enjoy!