As an Amazon Associate, we earn from qualifying purchases made on our website.
When we think of component speakers, 6×9 speakers are the port popular in the category. In fact, 6×9 speakers with deep bass are some of the most appreciated.
It's for good reason – these speakers pump dynamic bass and offer powerful overall performance.
In addition, they are small enough to fit in almost any vehicle but they are large enough to offer enhanced features and good performance.
If you are seeking to replace your old stock speakers or customize your audio system with good 6×9 speakers, you will be pleasantly surprised by the power and performance these speakers offer. This is especially true for 6×9 speakers with deep bass.
In this article, we look at the best 6×9 speakers with deep bass. These speakers offer the best punch when it comes to thumping bass performance. Let's get right to it!
Best Power Handling
JBL GTO939 GTO Series 6x9" 300W 3 Way Black Car...
Best Overall
Infinity REF-9623ix 300W Max 6" x 9" 3-Way Car...
Best 5 Way
Pioneer TS-A6996R A-Series 6" X 9" 650W 5-Way...
Best Power Handling
JBL GTO939 GTO Series 6x9" 300W 3 Way Black Car...
Best Overall
Infinity REF-9623ix 300W Max 6" x 9" 3-Way Car...
Best 5 Way
Pioneer TS-A6996R A-Series 6" X 9" 650W 5-Way...
When thinking about building your car's audio system, Infinity is one of the brands that remain on top of your list.
The REF-9623IX is a great 6×9 speaker from this brand, built to deliver excellent sound.
With each speaker rated at 300 watts peak power and 100W RMS, the REF-9623IX delivers nice audio performance. It's great for all your audio needs and can pump out heart-thumping bass.
This 3-way speaker system boasts of a great style and delivers the incredible Infinity's signature sound. This gives you performance and affordability in a single unit. It's also designed to fit in conventional speaker spaces, making it easy to install in your car and integrate it with your audio system.
If you want a car speaker that gives you superior sound quality, JBL is one of the brands that can't be ignored.
Built with state-of-the-art technology, the JBL GTO premium speaker offers great power and intensity at a low budget.
This 6×9 speaker has a good aesthetic look and an awesome power handling capacity, reaching 100W RMS and 300W peak power per channel.
It's a 3-way speaker system with 3 ohms nominal impedance and 94 dB sensitivity control, allowing it to work efficiently and deliver clear sound.
This low-impedance speaker has a nice design and it's built with poly-injected cone material, making it highly durable and lightweight.
It comes with great crossover components and a dual-level volume adjustable tweeter that lets you customize the sound.
Aside from being durable and reliable in terms of performance, the JBL GTO 939 premium speaker has one downside – it has a narrow frequency range, allowing you to stream music from 46 kHz to 21 kHz.
For those looking for a 5-way speaker with a high-power capacity and a low price range, the Pioneer TS-A6996R is the unit for you.
This 6×9 speaker unit not only delivers a dynamic sound but also allows you to enjoy a loud volume.
Its design is very stylish and it can fit in most speaker spaces.
Designed by Pioneer to be an upgrade of the OEM speakers, the TS-A6996R has 100 watts of RMS power and can handle up to 650 watts of peak power.
This speaker set also comes with a good frequency range (28-38 Hz), for the smooth reproduction of mid and high-level tones. The bass output is also very impressive.
One of the distinguishing features of this high-power speaker set includes a spider design that offers better and stiffer suspension. The speakers also feature a nice mesh grill cover and a dynamic mica matrix cone with multiple layers. Additionally, you can adjust the tweeter angles. one downside is that the speakers have a complicated wiring process.
As one of the best 6×9 speakers from the Pioneer's TS-A series, the TS-A6976R offers a dynamic sound and an improved bass compared to its predecessors.
This 3-way speaker unit is perfect for all your needs and the installation process is a real breeze.
Weighing only 7.3 pounds and measuring 5.5"x11" (HxW), the TS-A6976R is built with a lightweight elastic polymer and has a mesh grille cover design.
It has an improved power capacity, ranging at 90 watts nominal power and can handle a maximum power of about 550 watts.
These speakers deliver a great performance and amazing sound, with clear and loud tones. the bass is incredibly strong, but you might experience slight cut-offs with some music genres. Considering the price, this is a reasonable compromise.
If you want powerful 6×9 speakers with a great coaxial design and high responsive sensitivity, go for this little beast.
The Pioneer TS-A6985R is a highly functional 4-way speaker set, built with quality materials and advanced construction methods.
It comes with a multi-layered cone for stability and uses mica matrix materials to maintain minimal internal sound loss. The rigidity of the cone makes the speaker durable and its layers utilize lightweight and water-resistant materials.
The voice coil has a great heat-resistant capacity and its wire can handle heat dissipation like no other unit. That means that the TS-A6985R speakers are designed and created for heavy-duty applications.
Pioneer's state-of-the-art technology creates a powerful sound reproduction, allowing the TS-A6985 speakers to achieve a loud and strong sound.
The bass is solid and you can enjoy up to 550W peak power, but you may encounter heavy distortions with time. That is the only drawback that you need to deal with.
If you have a 3-way car system, the Infinity Kappa is the best 6×9 speaker for you.
They can handle a nominal power of about 110 watts per speaker and each pair will give you a 220watt stereo sound.
Its peak power is about 330 watts per unit, giving you a total of 660 watts per pair.
The speakers have a soft, edge-driven fabric tweeter dome and a glass fiber cone with injected carbon.
This makes them durable and very functional. They also utilize one-cone plus technology, giving them more cone area than other units in this class. All this comes together to give an amazing bass and great audio performance.
The Kappa 693.11l speakers have a high-frequency response of about 35 Hz to 35 kHz and a 2-ohms nominal impedance, making them ideal for replacing factory-installed speakers. They also feature a high-temperature voice coil to reduce distortions.
One thing that might disappoint you is that the frame is made of plastic material. However, it's nothing to worry about, given the amount of power that the speakers deliver.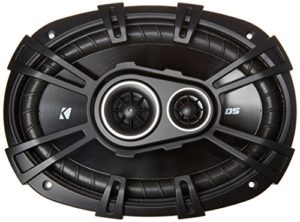 Created by an upcoming stereo speaker company, the KICKER 43DS69304 is a well-designed 6×9 speaker that nicely complements any car's audio system.
This 3-way speaker comes with a decorative steel frame, making it highly durable and attractive.
The KICKER 43DS69304 has 90 watts of RMS power and can handle up to 360 watts of peak power. It gives you amazing high and low-level tones, allowing you to enjoy a heart-thumping bass and loud volume.
More importantly, it has a generous frequency range, ranging from 30 Hz to 20 kHz.
Other nice features include a functional polypropylene woofer cone and a good neodymium tweeter magnet. The speakers also have a very nice construction, thanks to their UV-treated and ribbed foam that surrounds the entire package.
Additionally, it comes with PEI tweeters that don't protrude from the voice coil, giving you a great sound. The installation process is also simple, but the speakers are bigger than most units.
Frequently Asked Questions
How Do I Get More Bass Out Of My 6×9 Speakers?
To get more bass out of your 6×9 speakers, you can do either of the following:
Tuned Enclosure box: A tuned enclosure is an excellent way to get better and deeper-sounding bass from your speaker or subwoofer. Check out our article on how to tune a subwoofer box to learn more.
External amplifier: You can always get a powerful amplifier that will increase the input signal to the speakers. An amplifier increases the signal which in turn leads to the more powerful bass. You can get very powerful 2000 watt amplifiers or even 3000-watt amplifiers.
Can I put 6×9 speakers in a 6×8 Hole?
6×9 is a more common size for most vehicles than 6×9 because it is cheaper to make and simpler.
However, 6×9 speakers offer better bass response and clarity. It is possible to put a 6×9 speaker into a 6×8 hole, but you will need some effort, time, and patience.
You will also need a dremel that works with metal because you will need to make the hole bigger in the door or rear parcel shelf speakers.
Here are the steps:
Remove the 6×8 speaker from its location and disconnect the speaker wires
Place the 6×9 speaker against the speaker hole facing upwards. Now use a felt pen and draw around the inner basket. Doing this will help you know how far to remove the metal around the hole.
Plug in your dremel cutter like this one and carefully work your way around the oval markings that you have made on the door. using the pen.
Get some rough-grit sandpaper and run down the sharp edges to smooth them out. This will give it a professional finish and remove the sharp edges. Again, be careful.
Attach the speaker terminals to the 6×9 speaker and drill new holes for screws.
Why Are 6×9 Speakers Oval?
While most 6×9 speakers on the market are oval in space, you will find some round ones as well.
There is in fact some significance in round vs oval speakers that has to do with sound quality and space considerations.
In general, round speakers offer better overall sound quality while oval speakers make better use of space and offer better bass.
What 6×9 Speaker Is Best For Bass?
Hertz CPX 690 PROis the most powerful 6×9 car speaker with the best bass. The speaker's sensitivity rating is 94 dB, and its frequency ranges from 35 to 24k Hz. Moreover, it can handle 120 RMS watts.
Hertz CPX 690 Pro also comes with a water-repellent pressed paper cone in addition to a rubber suspension that ensures you get loud music whenever you want. If you couple this efficiency level with the ability to produce low-frequency sound, you can see why we regard Hertz CPX 690 Pro as the best 6×9 for bass.
This 3-way speaker has a finished metal basket combined with a durable anti-vibration rubber magnet cover. These features eliminate all unwanted spurious vibrations, making the speaker produce a crisp midrange that can serve all the occupants of your vehicle perfectly well, no matter the car's size.
What's more? The speaker comes with a highly efficient tweeter and super-tweeter. These two drivers feature Tetolon dome and Neodymium magnet, 24 mm and 32 mm, respectively. At the same time, the drivers rely heavily on the Radial Venting System technology.
Moreover, this best 6×9 speaker for bass features large voice coils, which helps it to produce distortion-free low frequencies.
While Hertz CPX 690 PRO produces excellent bass, they are a little more expensive than most competitors. Moreover, you require to match it with a quality car amplifier to get the desired result.
So, Hertz CPX 690 PRO is only the best for you if you are willing to spend a little more than usual to get a 6×9 car speaker with the best bass.
Conclusion
There you have it, the best 6×9 speakers with deep bass in 2020. These speakers offer overall excellent performance, but exceptionally high performance when it comes to deep bass.
The devices pack enough rigidity and strength to last a long time with enough power to create a real difference in your stereo system. If it's time to replace your old stock tired speakers, 6×9 units with good bass are your best bet.
Norvan Martin is the founder of BoomSpeaker.com. He is a professional Electronics Engineer and is passionate about home theater systems and AV electronics. BoomSpeaker was created as an online hub to share his knowledge and experiences as it relates to home theaters and home audio electronics.
My email: admin@boomspeaker.com
Connect on Pinterest and Linkedin