The Axess SPBT1031 is a popular, portable Bluetooth indoor and outdoor Hi-Fi cylinder loud speaker that offers powerful sound and a rugged design. It's a good choice for people looking for a durable, yet functional speaker for the outdoors. Let's checkout this powerful Axess speaker!
Axess Speakers
Axess has four SPBT speaker models currently on the market, however, the SPBT1031 can be distinguished by the location of the control buttons. The buttons are located at the center of the mesh covering the speakers. On other models, the controls are located at the top. Others include the SPBT1033 and SPBT1030.
Build and Design
At first glance, the Axess SPBT1031 is clearly not your regular, cute little Bluetooth speaker that's built all fancy and stylish. This device is built to be sturdy, durable, robust and rugged. After all, that's how you know it's a Axess speaker! It's built to withstand harsh conditions and to last!
Clearly, the Axess SPBT1031 is cylindrical in shape which gives it's a cool and rather unique design. Adding to that is the four standing pods on its underside. The device is made of hard plastic and other reinforced material. The SPBT1031 comes in your choice of Red, Blue, Black, Yellow, Green, Pink or Gray.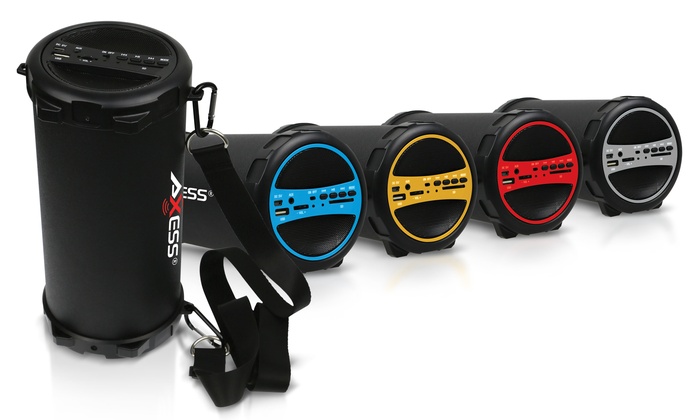 To create that powerful sound you hear, the device is equipped with a 3-inch woofer, 2-inch horn, and volume control.
One of the best features of the design is the shoulder strap for carrying the device. After all, the Axess SPBT1031 is a great candidate for your outdoor runs if it's likely to take some abuse!  It's the perfect choice for camping trips, hiking, sporting events and that kind of outdoor activity.
Sound Quality
The Axess SPBT1031 produces a loud, steady sound with dynamic sound effects from a three-inch subwoofer and two 2 inch speakers. The sound as strong as the speaker looks. It has an incredible bass and is a good choice for outdoor playing.
Now, we should point out that if you aren't a fan of bass, then this Axess speaker is probably not for you. It has really nice, punchy bass, but the high end is not the best. In other words, the SPBT1031 is bass heavy, meaning it can be difficult to hear vocals because the low end is so strong that the mid and upper registers begin to struggle to come through clearly. However, this will only happen with certain genres (for example some Blues), for other genres, the bass heavy effect is actually great! For example, the effect is just superb when listening to Hip-Pop!
Features
For non-Bluetooth connections, the device has USB input, an SD card reader, and an AUX 3.5mm jack input. The Aux Line-in is suitable for PC, MID, TV and other audio devices.
Ability to connect to FM radio
Built-in 1000mAh Lithium rechargeable battery
Subwoofer: 3-inch, 5 Watt, 4 Ohm
Two Horns: 2-inch, 2 Watt, 4 Ohm
Detachable Strap for travel
Bluetooth Range
The Axess SPBT1031 is reported to have a 10-meter operating range. In general, you'll get about 8-12m depending on several environmental factors including obstacles such as walls and furniture or environmental conditions.
A2DP Stereo Bluetooth Playback
Like some other Axess speakers, the SPBT1031 is equipped with A2DP Stereo Bluetooth playback which allows it to wirelessly stream music from any Bluetooth-enabled device whether it be a smartphone, laptop, tablet or another audio device.
Cool Controls
As mentioned, the SPBT1031 may be identified by the controls in the center of the speakers (which are located at the side of the device).
This feature is actually quite impressive since most Bluetooth speakers are designed with minimal controls (most are intended to be controlled by external devices).
However, the SPBT1031 is designed with all the controls available; so if you leave the phone in another room for example, you can still enjoy your favorite playlist with ought leaving the room.
Stream Music with Bluetooth
If you like to stream music, then this axess speaker is a great choice. The SPBT1031  has A2DP Stereo Bluetooth playback which allows you to wirelessly streams music from any Bluetooth-enabled device. This could be a smartphone, laptop, tablet or any similar device. Moreover, the speaker offers a  large 32 foot range which means you will get maximum mobility which is excellent for the outdoors.
Batter Life
With a device this heavy duty, you would expect it to use a lot of power. Well, we have no surprises for you. It does use a lot of power! In fact, this unit is a power hog! It is equipped with a built-in Lithium rechargeable battery which will play music continuously for just 1-3 hours which is below par for most Bluetooth speakers.
Is Easy To Carry!
This speaker isn't the smallest out there because it's not meant for the indoors. It is rugged and meant for the outdoors. Yet, it is rather easy to carry considering that each speaker is only 2.9 pounds making it very lightweight and also has a strong strap that can be attached for easy portability.
Conclusion
The Axess SPBT1031 is the all about mix of style, performance and function. It's really stands as a good representative as an Axess speaker.  It's a robust device that will accompany you on your roughest outings while enjoying that rich, powerful sound.