The eARC is also known as the Enhanced Audio Return Channel and it is an advanced version of the HDMI ARC. This feature allows you to send both video and audio to the receiver via a single cable. There are a lot of AVR that now support the eARC and we will discuss some of them.
What are HDMI ARC and eARC?
ARC transmits audio from a television to a receiver or soundbar using an HDMI wire. It is a set-up you can use on your television to switch between different audio and video sources. HDMI ARC can help simplify a difficult AV setup by reducing the number of wires required.
eARC is an advanced version of HDMI ARC, meaning it is even cooler. eARC comes with a greater boost to its bandwidth and speed, which allows it to process higher quality audio and picture quality.
Are HDMI Arc and eARC The Same?
The HDMI ARC was the earliest version of the video-audio processor. However, the eARC is an enhancement to the previous ARC which is implemented in the HDMI 2.1.
A primary difference between the ARC and the eARC is that HDMI eARC includes defined support for higher resolution picture formats. This format includes 3D, 4K, 8K TrueHD, DTS-HD, and other higher-quality Dolby.
eARC now includes some features which were initially optional on HDMI ARC. This makes it easy to match up the high-quality picture to the corresponding sound quality.
5 AVRs with eARC Support
Sony STR-DH790 comes with Dolby Atmos capability, a more advanced automatic calibration system, and an eARC HDMI connector.
One of the most impressive things about the DH790 is that it has Dolby Atmos and a 4K HDR video.
The device has built-in Bluetooth technology, which allows wireless streaming. If you have a paired phone or tablet, you can also use Bluetooth Standby to turn on the receiver from the phone or tablet.
Even the most seasoned audiophile or movie fan will be impressed by Denon's incredible bundle. In terms of the Denon AVR-X2700H, versatility is its most notable attribute.
Using the additional 5 HDMI inputs, the Denon AVR-X2700H can play video games, watch Blu-ray discs, and connect other devices to the upscaled 8K video output. As a result, it can transform any living room into the ideal home theater experience with this device.
This is an AVR packed in a sleek design. It comes with all the amazing features packed into a 10cm high AVR design. It includes features such as VRR, ALLM, QFT, and 8K support in one of the HDMI ports.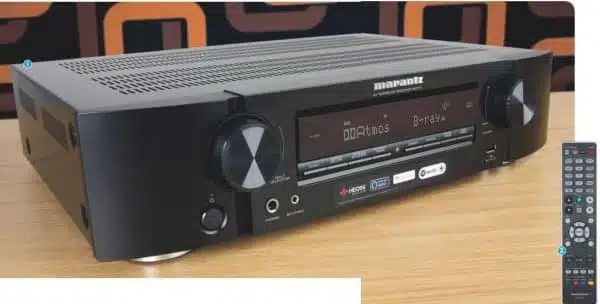 It is pretty easy to set and it has amazing portability, which makes it easily fit into any space. The Marantz NR1711 AVR is rated at about 90-watts with one speaker and around 70-watts when connected to two speakers.
Marantz NR1711 comes with a fully compatible Wi-Fi network built into it and supports the Denon HEOS ecosystem for multi-room control.
Denon AVR-X4700 offers a superb sonic attack. It offers a 7.1.2 or 5.1.4 Atmos setup through its 9-channel amplification. If you are a lover of hard sound, this AVR can be upgraded to 11.2-channel.
The Denon AVR-X4700 has up to 3 eARC-supported output ports, which also come with a phono input for vinyl use.
The AVR supports high-quality formats such as the HDR10+, Dolby Vision, HLG, and HDR10. In addition, it also supports most advanced audio formats, including Dolby Atmos, Auro-3D, DTS: X, and others.
It has a characteristic porthole display that is both stylish and timeless. It features a Hyper Dynamic Amplification Module that allows the AVT to maintain its musicality. The Marantz SR6015 can easily alter bass management because of its IMAX feature that helps it drop deeper on flagged content.
Although the SR6015 has up to 7 HDMI inputs, only one of these supports eARC, which is the only HDMI 2.1 port featured on the receiver. It has excellent upscaling that can improve a low-resolution source in UHD format.
Best AVR with eARC
The Denon AVR-X4700H tops our pick for the best AVR with eARC. Apart from the fact that this receiver comes with amazing features, including the Dolby Atmos, HDR10+, 9-channel amplification, and so on, it also has 3 eARC-supported ports.
This port allows you to connect your receiver to multiple devices for unbeatable audio and visual experience. In addition, it also comes with phono input for turntable usage.
Denon AVRS with eARC
From the mid of 2018, most AVR produced by Denon has eARC compatibility. Some of the notable ones include:
Some of the key features that come with the Denon AVR with eARC include Dolby Digital Plus; Dolby TrueHD; Dolby Atmos; DTS-HD High-Resolution Audio; DTS-HD Master Audio; and DTS: X.
Yamaha AVRs with eARC
Yamaha is a leading giant in home electronics and sure they are not left behind in AVRs with eARC. Notably, among their latest AVR design with eARC are the RX-V6A and RX-V4A.
The two AVRs have an amazing build and a modern design. They both come with 8K compatibility, Dolby Atmos; MusicCast multi-room app control; and a voice control feature that supports Alexa, Siri, and Google Assistant.
FAQs
1. Does My Receiver Need eARC?
A point worth noting is that for the eARC features to probably take effect, both your receiver and the TV must be eARC compatible.
To check if your receiver supports eARC, check the ports on the back of the receiver to see if it is labeled. If your TV is eARC supported, you need a receiver that supports it to enjoy the full features.
2. What is the difference between an ARC and an eARC?
The primary distinctions between ARC and eARC are bandwidth and speed. The improved Audio Return Channel offers significantly more bandwidth than its predecessor. Bandwidth denotes the range of frequencies or the quantity of data delivered at one time.
3. Does eARC improve picture quality?
eARC will enable TVs to emit high-quality Dolby Atmos constantly, as well as lossless Dolby Atmos pass-through. Full-resolution sound signals, including 3D surround sound formats such as Dolby Atmos and DTS:X, may be transferred back and forth between your TV and audio systems via eARC.
4. Is HDMI ARC a good option?
Yes, HDMI ARC is a good choice if you are considering it. Dolby Digital Plus, Dolby Atmos, and up to 7.1 channels of uncompressed audio are supported.
Conclusion
eARC is a new technology that is fast taking up the space since it offers an endless possibility of video-audio experience. We believe by now you know the difference between ARC and eARC. Even though they are pretty new in the market, we have included a couple of AVR that supports the eARC feature already.