As an Amazon Associate, we earn from qualifying purchases made on our website.
Arcam and Marantz are two renowned and well-respected brands in the audio industry that produce high-quality speakers, headphones, soundbars, subwoofers, amplifiers and receivers.
This article will cover a general overview of both brands, looking specifically at sound quality, durability, price and so on. Of course, each brand has different devices at different price points, however we will compare them as closely as we can.
Arcam is known for its high-quality home theater systems and audio equipment, while Marantz is a well-known brand in the home theater and audio industry known for its high-quality home theater systems and audio equipment.
Pros and Cons of Arcam:
Pros: Known for producing high-quality audio components, including amplifiers, receivers, and CD players. Many of their products are well-regarded for their sound quality and build quality.

Cons:

Some of their products can be expensive, and some users have reported issues with durability.
Pros and Cons of Marantz:
Pros: Known for producing high-quality audio components, including amplifiers, receivers, and CD players. Many of their products are well-regarded for their sound quality and build quality.

Cons:

Some of their products can be expensive, and some users have reported issues with durability.
Quick History
Arcam Quick History
A&R Cambridge LTD (Arcam) is a company based in Cambridge Innovation Park, Waterbeach, Cambridgeshire, England. They are well known for their hi-fi equipment manufacturing. The company was created by students of the science and engineering department of Cambridge University in 1976.
The company products include, Amplifiers, AV receivers, Streamers, Speakers etc
Marantz Quick History
Saul Marantz started Marantz in 1953 and since then Marantz receivers have evolved from the 'Consolette" pre-amp of 1953 to the modern receivers produced under Sound United.

In 2000, Marantz Japan Inc. brought together all the subsidiaries and assembled the SR Series Home Theater Receiver with improved sound quality, Hyper Dynamic Amplifier Module, and AirPlay connectivity. Today, Marantz is well known for its Av receivers, Av separates, amplifiers and hi-fi components.
Sound Quality
Arcam Sound Quality
One of the reasons for the creation of Arcam audios is to give the best sound possible to people, this allows the company to produce products with top-notch sound quality.
When using the Arcam SA30 in a cinema hall, you'll experience all the Sonic smoothness you really want in an audio system. The high, mid and low levels are clear and precise.
Marantz Sound Quality
Many listeners generally describe Marantz as having a "warm" sound. Yet, they are "soft", softer than Denon for example. In general, the sound is high quality and accurate. One highlight is the balanced bass, but you may find less dynamism than some other brands.
In fact, Marantz has a unique audiophile-quality sound that passionate music lovers appreciate.
In addition, the Marantz receivers built back in the 70s characterize the apex of the solid-state hi-fi era. Marantz 2245, for instance, hits a real sweet spot, as many users say, both in terms of power and price. The Marantz 2270 and Marantz 2245 are good examples as well.
Features
Arcam Features
Arcam product has many beneficial features which make them surpass or compete with other renowned brands. These features include:
Ethernet support

Airplay- for streaming of music on iOS devices

Google Chromecast- for music streaming on Android devices

Wi-Fi

USB port

Several input ports such as- Coaxial, optical, MC & MM phono and RCAs
Marantz Features
Marantz products are built for the future. Let's look at some of the features of the Marantz 4K UHD AV Receiver SR5014 – 7.2 Channel as an example:
Advanced object-based audio formats
Versatile HDMI eARC connectivity
High-performance, high-resolution audio playback
HDAM circuit boards for detailed and dynamic sound
HEOS built-in technology allows multi-room audio, digital music streaming, voice control, and comfortable HEOS App operation
Build Quality
Arcam Build Quality
Arcam devices are said to be in the middle of the road with their build quality (not bad but not fantastic) i.e they don't always have a 5-star rating.
Arcam devices are built with a full metal jacket (FMJ). They are built using both steel and aluminum. The aluminum covers the front panel while the steel covers the chassis. This makes some of the devices looks like tank which some customers don't find attractive but it makes the devices durable
Marantz Build Quality
Marantz receivers are stylish and offer luxurious feels with illuminated displays. Therefore, to say that the build of Marantz receivers is perfect is not an overstatement.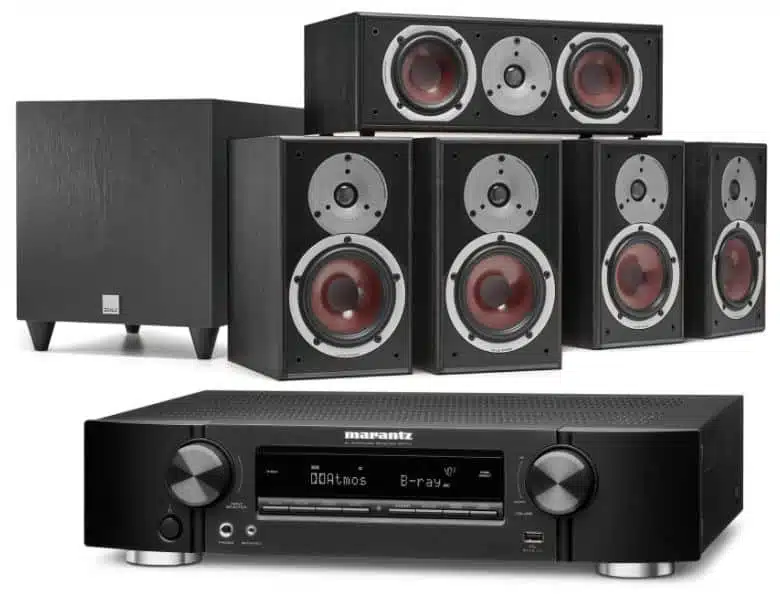 For instance, you can find 11 speaker terminals on Marantz SR7015 with gold-plated RCA terminals that make it look quite appealing.
The design is high-end, with stunning finishes and top-of-the-line components embedded throughout the body construction. Marantz's designs will surely win you over at first impression.
Ease of Use
Arcam Ease Of Use
Arcam devices are easy to use for people with or without smartphones, the mobile app is compatible with both iOS and Android device users to control the sounds from the comfort of their phones.
People without smartphones can control Arcam devices with the use of remote control. Arcam devices also have a well-labelled and soft button at the front for easy access and control.
Marantz Ease Of Use
Most people describe Marantz receivers as user-friendly products that are very easy to set up. Besides, their sound is excellent, and every user will quickly set them up in their home or office without requiring any skills.
Cost
Arcam Cost
Arcam devices seems kind of expensive but affordable.
Below are price ranges of Arcam devices
Amplifier- $500-$2500

AV Receiver- $2000-$7000

Streamer- $500-$1500

Speaker- $300-$1500
Marantz Cost
Speakers: $50 – $2000
Tweeters: $20 – $100
Amplifiers: $200 – $3000
Space Requirements
Arcam Space Requirement
Arcam devices are very portable and handy. They consume less space.
FMJ A18 has a dimension of w×d×h (432×275×85) and has a weight of 7.2kg
Marantz Space Requirements
Most of the receivers from Marantz are compact and require very little space. Whether you want to place them closer to your TV or together with your home theater, they will always find a space to fit in without looking cumbersome.
Remote Controls
Arcam Remote Control
Arcam devices have a remote control that works for more than 1 device. You'll be able to control both devices eg (sound bar+Tv. They work in a range of 15 metres.
Marantz Remote Controls
Marantz receivers come with factory remote controls that make navigation easier. Also, new Marantz receivers now come with a Marantz AVR remote app that you can use with iPhone and Android devices. This allows you to control the device with your smartphone seamlessly.
Connectivity Options
Arcam Connectivity Option
Arcam devices have several connectivity options. They can be connected both with wired connectors and wirelessly.
WiFi and Ethernet are available for wireless connection while USB, coaxial and RCA are available for wired connection.
Marantz Connectivity Options
Built-in Wi-Fi
HDMI
RCA
Optical
Bluetooth
Speaker level inputs
Power Range
Arcam Power Range
The device's performance and capacity determine the rate at which Arcam devices consume power. Nevertheless, Arcam devices consume less power than some brands. They have a power consumption in the range of 300 watts to 400 watts. An example is the FMJ A18 with a power consumption range of 350 watts.
Marantz Power Range
Speakers: Up to 150 watts
Receivers: Up to 300 watts per channel
Amps: 150 watts per channel into 8 ohms and 180 watts per channel into 6 ohms
Frequency Response
Arcam Frequency Response
The frequency response of Arcam devices also varies from device to device depending on the capacity of the devices but on average, Arcam devices have a frequency response range of 0.3hz to 20khz. An example is the FMJ CD17.
Marantz Frequency Response
Major products range from 10 Hz to 20 kHz. For instance, the audio section of the SR6014 is 10 Hz – 100 kHz. The Tuner, however, has a smaller reception frequency range of 87.5 MHz – 108.0 MHz.
Conclusion
On a final note, Arcam devices might be expensive but the functions and other qualities are worth it. Arcam devices are the best option for anyone who wants devices that consume less power but not for those who want cheap devices.
Marantz produces averagely priced audiophile-quality sound systems and is well known for its AV receivers. Also, their build quality is good, and the devices are futuristic and easy to use.
Related Articles
Denon Vs Marantz
Arcam Vs Denon
Arcam Vs Nad
Marantz Vs Rotel
Marantz Vs Cambridge Audio
Marantz Vs Mcintosh
Norvan Martin is the founder of BoomSpeaker.com. He is a professional Electronics Engineer and is passionate about home theater systems and AV electronics. BoomSpeaker was created as an online hub to share his knowledge and experiences as it relates to home theaters and home audio electronics.
My email: admin@boomspeaker.com
Connect on Pinterest and Linkedin