As a music lover, it is common practice to test and try audio devices from different brands. Even though manufacturers of the different brands may sometimes use the same components. In this article, we will compare Anthem and Marantz receivers to help you determine which brand is the better choice for you.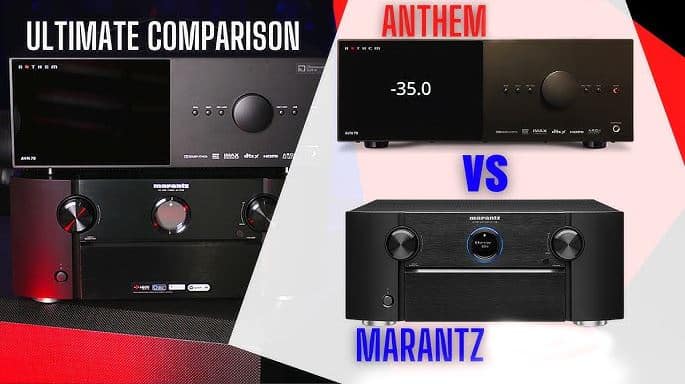 Marantz is a well-known Japanese brand that produces affordable receivers with the Audyssey EQ system. Anthem on the other hand is based out of Canada and produces more pricey receivers with the ARC EQ system. Anthem receivers are generally better in terms of simplicity (and flexibility) as well as reliability, and features, but they are more expensive.
Anthem vs Marantz Receivers Comparison Table
| Criteria | Anthem | Marantz |
| --- | --- | --- |
| Brand Reputation | Anthem has a solid reputation for high-end audio equipment. | Marantz is renowned for its audio heritage and quality. |
| Sound Quality | Anthem receivers are known for their pristine and immersive sound. | Marantz receivers deliver rich and warm sound with musicality. |
| Build Quality/Design | Anthem receivers are built with precision and often have a modern design. | Marantz products feature a blend of classic and modern design with robust build quality. |
| Product Range | Anthem offers a range of high-performance receivers and processors. | Marantz provides a diverse lineup, including premium and entry-level receivers. |
| Pricing | Anthem products are typically positioned in the higher price range. | Marantz offers a variety of price points, catering to different budgets. |
| Features | Anthem receivers often come with advanced features for customization. | Marantz receivers are feature-rich, focusing on user-friendly functionality. |
Similar Comparisons
Before we continue, you may also be interested in checking out these comparisons:
Which Brand Do We Recommend?
As we have stated, Anthem receivers are generally of better quality and will generally offer a better experience, but they are more expensive. However, your best bet when choosing receivers is to listen to both systems.
If you listen to a Marantz and you're happy with the sound, why not go for it if you're on a limited budget?
On the other hand, if you listen to Anthem and you feel like they added something that was lacking with the Marantz, then you can either choose a higher-end Marantz to compare or simply get the Anthem if you have the budget for it.
In any case, let's take a closer look at these brands and what they offer.
A Look At Anthem Receivers
1. Anthem Company Review
With a vision to manufacture high-quality products at lower prices, Anthem has been in the audio device design business for over 20 years.
Most Anthem receiver models are built for business. With solid connectors and beefy speaker terminals that will accept all types of plugs.
Anthem specializes in the production of a small variety of home theater systems. The majority of products from Anthem are therefore preamps, power amplifiers, and receivers, and you can easily expect a higher precision from focusing on a few audio devices as opposed to diversifying too much.
2. How Much Do Anthem Receivers Cost?
Anthem receivers typically range from a low of $1,500 to as much as $4000. In addition, they have 13 different amplifier models, most of them priced between 4,000 dollars to 8,000 dollars.
3. Are Anthem Receivers Good?
For a long time, Anthem MRX home theater receivers have been a household name. The company is known for producing great products in general and they produce high-quality receivers.
With their most current IoT (Internet of Things) A/V Receivers, IP-based network control has been a key inclusion which means you can control the devices over a network. In addition, their home assistant platform offers excellent control and support for the receivers.
Anthem Receivers and IoT
Supported models include MRX 520, MRX 720, MRX 1120, AVM 60, MRX 310, MRX 510, and MRX 710.
However, older units like the RS-232 serial-based units use a totally different protocol and are not currently supported.
This is why when installing Anthem receivers, it is important to add the following variables to your configuration file:
Name: this is the name of the device used in the frontend
Port: the port number of the device
Host: the IP address of the device also known as hostname
Some popular Anthem receivers include:
Anthem MRX540 A/V receiver
Anthem MRX740 A/V receiver
Anthem MRX1140 A/V receiver
4. Anthem Room Correction (ARC System)
Anthem Room Correction (ARC) is among the best in the market and Anthem constantly improves it, with free software updates.
Rooms contribute to several sound issues by causing differential reflection of sound signals at different frequencies. The phenomenon greatly lowers the quality of sound.
As a company located in Canada, Anthem has access to the most sophisticated audio test equipment from the National Research Center.
They have therefore used the government-funded facility to build up Anthem Room Correction and deliver more accurate and tighter bass with enhanced sound clarity.
The company has since improved its ARC which they currently named ARC Genesis. With this development, you can easily send a full-range signal to your subwoofer and main speakers at the same time. Besides, Anthem receivers now come with ARC kits. In the kit, there are connecting cables, a microphone, and a microphone stand.
When running the ARC, the microphone is positioned in such a way that the dot faces the front of the room. The software then sends prompts and takes the sweeps as you move the microphone around the room. Besides, the flexibility offered by ARC Genesis is just amazing!
5. Anthem Receivers and Streaming Platforms
Anthem has adjusted its receivers and now includes Airplay 2, Chromecast, and Bluetooth in all their new receivers.
As a result, DTS Play-Fi has been removed from the new models. Besides, Anthem plans to add Roon and Spotify Connect to make your musical experience even much better.
6. Anthem Receivers and Input Handling
Anthem receivers are designed with 7 HDMI inputs that support IMAX Enhanced video and Dolby Vision for greater visibility. Besides, they have 2 coax digital, 5 analog inputs, and 3 Toslink digital inputs.
When it comes to assigning audio input to video inputs, Anthem receivers are not limited. With up to 30 "virtual" inputs, you can easily assign audio to video into a named input or even mix and match to your satisfaction using the HDMI.
A Look At Marantz Receivers
The company was started by Saul Marantz in 1953 and has therefore been in the market for over 67 years. It is therefore an old name when it comes to the manufacture and marketing of audio devices.
1. Are Marantz Receivers Good?
Marantz boasts many popular and excellent AV receivers like the Marantz 2270 – a true classic. However, since 2019, Marantz has continued to improve its receiver models. Some of the features that are new or have been added to improve the receivers include:
HDCP 2.3 all HDMI inputs/outputs
USB input supports both NTFS and FAT32
Dolby Atmos Height virtualization included
Bluetooth transmission to a single set of headphones
Main zone HDMI/TV Audio distribution downmixed to 2CH for Zone 2/HEOS speakers
All Zone Stereo settings added to smart select buttons
Airplay disable (ON/OFF)
HDMI Input Auto Rename. This setting allows the AVR to automatically change the input name, especially if recognized. For instance, if you are using PS4, the name will automatically change to PS4.
HDMI Custom Input Assign. This setting makes it easier to assign and save a single HDMI input jack to multiple source names so that separate audio input assignments such as digital, HDMI, and analog can be individually saved.
Can "overplay" the volume bar, OPTION, and INFO menus on all 4k and 8k videos with the setup menu on a black background. This setting must however be enabled, otherwise, "overplay" will be disabled.
Roon has been tested and can use either USB or Airplay.
Screen saver with a moving MARANTZ icon is now enabled and will appear after no video for more than 5 minutes. Also added is a moving MUTE icon.
Marantz receivers have therefore greatly improved with robust additional features augmented to make your listening experience undebatable.
Besides, all Marantz receivers purchased from authorized dealers come with a 3-year warranty. Refurb models purchased from authorized dealers have a 1-year warranty.
Some popular Marantz receivers include
Marantz SR7012 Ultra HD Network AV Surround Receiver
Marantz AV Receiver SR5013
Marantz M-CR612 Network CD Receiver
2. Marantz Room Correction (Audyssey)
Marantz uses the popular Audyssey for room correction. Now some people will argue that ARC does better room correction than Audyssey.
We say it's subjective. ARC is easier to use, yes, but if you know how to use Audyssey, you can get just about the same results.
Anthem Vs Marantz
As we have mentioned in the discussion, both Anthem and Marantz are making strides. Besides, every manufacturer recognizes the changing technology and market preferences and considers upgrading their products to match the current needs of music lovers.
With that said, here is how Anthem and Marantz compared on critical features:
1. Input Assignment
Anthem: The assignment of inputs on the Anthem is quite flexible. This is because the audio and video can travel through the same HDMI input. However, you can assign a different profile using the same input. Better yet, this can be done multiple times up to 30 different activities. This also means you can tweak the frequency response across different activities.
Marantz: Marantz isn't as configurable as Anthem. For one, you can reuse inputs across multiple activities.
2. Simplicity And Ease of Use
Anthem: Anthem receivers are very simple, or at least relatively simple.
Marantz: Marantz receivers are a bit more complex, which may not be a problem for more advanced audio enthusiasts.
3. Tech Support
Anthem: Based in Canada, Anthem's tech is made up of fluent English speakers and tech support is quite responsive. You will get a technician in fairly short order when you call.
Marantz: Marantz has an online support system, but it's fair to say not everyone has had great luck with it. The good thing however is if you purchased a new system from one of their authorized dealers, you can return it if under warranty. However, for simple fixes that a technician can walk you through, you may find yourself searching Google instead of reaching out to their support staff.
Are Anthem Receivers Any Good?
Anthem receivers are fabulously effective, and their sophisticated room correction is outstandingly pleasant. The latest models sound perfectly precise and balanced. What's more, the bass is deep and granite-hard. The soundtracks are also admirably tight. At the same time, the receiver's dialogue remains articulate and crisp.
Where Are Anthem Receivers Made?
Anthem receivers are made in a colossal facility in Mississauga, Ontario. The facility occupies approximately 230,000 square feet. Moreover, it's home to more than 300 employees.
Is Marantz Considered High End?
Marantz is a well-established manufacturer with a rich history of producing innovative hi-fi electronic items. So, you can be sure that their receivers are high-end as well.
The SR8015 is the company's flagship receiver. At the same time, the SR range of Marantz receiver is their best-known high-end model.
Is Anthem Coming Out With New Receivers?
Anthem has come out with many new receivers, such as MRX 540, MRX 740, and MRX 1140. These new arrivals are housed in a modern, sleek design. The receivers also come with high-resolution displays on the front panel. At the same time, these models also include ARC® and come with 24-bit digital-to-analog converters that help the system stream audio with reduced jitter.
Why is Marantz So Expensive?
Marantz has a reputation for manufacturing premium-quality receivers and other electronic products. It's also known for embracing innovation and relying on the latest technology to meet the evolving needs of its esteemed customers. So, Marantz's customers are willing to dig deeper into their pockets to acquire their products.
Which Is Better, Anthem Or Marantz?
Every brand comes with its own mark of quality and a price attached to it. Depending on the product you purchase from either the companies, the quality you get will depend on intended use, power, and compatibility with other components.