Adam and KRK are two renowned and well-respected brands in the audio industry that produce high-quality speakers, headphones, soundbars, and subwoofers.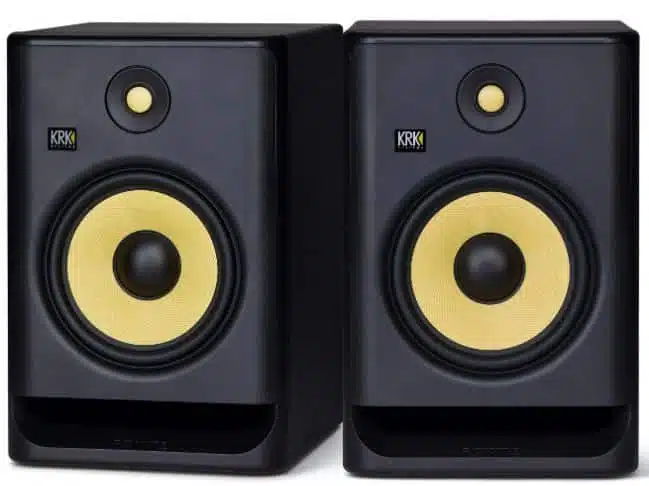 In this article, we will cover a general overview of both brands, looking specifically at sound quality, durability, price, and so on. Of course, each brand has different devices at different price points, however, we will compare them as closely as we can.
ADAM Audio is a well-regarded brand in the audio industry known for its high-quality studio monitors, while KRK is a well-regarded brand in the audio industry known for its high-quality studio monitors and headphones.
Adam vs KRK Comparison Table
| Criteria | Adam Audio | KRK |
| --- | --- | --- |
| Brand Reputation | Respected for producing high-quality studio monitors and speakers used in professional audio production. | Well-known for studio monitors and speakers, popular among music producers and audio professionals. |
| Sound Quality | Emphasizes high-precision audio reproduction, often used in critical listening environments such as recording studios. | Known for delivering accurate and clear sound, especially in the midrange, suitable for studio monitoring and mixing. |
| Build Quality/Design | Known for durable construction, often with advanced driver technology and unique designs for optimal sound dispersion. | Features sturdy build quality, with a focus on reliable performance and design suitable for professional studio environments. |
| Product Range | Specializes in studio monitors and speakers, offering a range of models catering to different studio setups and requirements. | Offers studio monitors and speakers tailored for various studio applications, including nearfield and midfield monitoring. |
| Pricing | Falls in the mid to high-end price range, reflecting the premium quality and precision required in professional audio environments. | Varied pricing, providing options for different budgets, including entry-level studio monitors and higher-end models. |
| Features | Known for advanced features, including proprietary driver technologies and unique designs for optimal sound reproduction. | Emphasizes features such as bi-amped designs, room tuning controls, and reliable performance in studio monitoring applications. |
Before we continue, you can check out similar comparisons in the series:
Pros and Cons of KRK:
Pros: Known for producing high-quality studio monitors and headphones with a balanced, accurate sound. Strong reputation in the audio industry.

Cons:

Some products may be on the expensive side.
Pros and Cons of Adam:
Pros: Known for producing high-quality speakers and headphones with excellent sound quality and build quality. Many of their products are well-regarded by audiophiles and have received positive reviews.

Cons:

Some of their products can be expensive, and some users have reported issues with durability.
Quick History
ADAM Audio Quick History
Advanced Dynamic Audio Monitors (ADAM) Audio was founded in March 1999 in Berlin, Germany. The company develops, manufactures and distributes active loudspeakers and other audio devices like headphones.
The head factory is still located in Berlin, but they are represented in over 75 countries.
KRK Quick History
KRK is an audio company that deals with the production of monitor speakers, headphones, and subwoofers.
The company was founded in 1986 by Keith R. Klawitter who was frustrated by the fact that he couldn't find a monitor that gave him the clarity and accuracy he needed while working on movie production. He began building his own monitors ever since. The company's headquarters is based in Chatsworth, California.
Sound Quality
ADAM Audio Sound Quality
Adam Audio devices offer surplus bass extension, vital mid-range clarity, detailed, uncompressed highs, and a high maximum power output level with minimum distortion.
These features make their devices produce accurate, transparent and high-definition sound.
KRK Sound Quality
KRK devices have fairly good sound quality but are not perfect because they suffer from an exaggerated low and top-end frequency.
Their products are great for general listening, but not always ideal for studio use and professional sound production. They however do have satisfying mids. KRK devices sound warm and pleasant, which is great for minimizing ear fatigue.
Features
ADAM Audio Features
Here are some features of Adam Audio devices:
Several equalizer presets

Internal Digital Signal Processors (DSP)

The S Control app, Available for Windows and Macintosh, gives Access to your device via USB connection

Excellent driver technology and superior materials

Spacious rear-facing bass reflex ports
KRK Features
KRK's products come with a number of interesting features. Some are listed below.
Built-in efficient Class D power amp
Balanced TRS / XLR Combo Jack Inputs
LED Indicators for Power On/Off
LCD Display for EQ and Setup Parameters
Mobile app for easy control on both the Apple Store and Google Play Store.
Build Quality
ADAM Audio Build Quality
Every Adam Audio device receives rigorous monitoring during manufacture, and even stricter post-production testing to produce high-quality devices.
They have features like acoustically optimized cabinets; ultra-light but acoustically superb materials like Rohacell, carbon, and glass fibre; and solid aluminium waveguides; other materials include HexaCone and polypropylene.
KRK Build Quality
KRK devices are well-made and durable. The case is designed with low sound resonance in mind.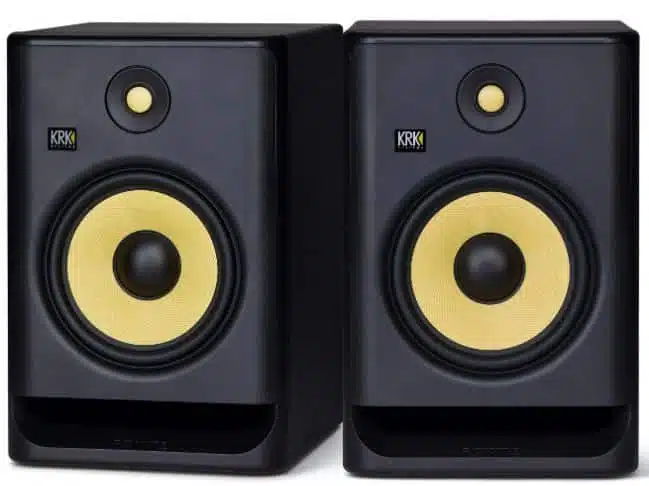 This keeps the low-end sound smooth and punchy. KRK devices have a built-in custom Class D amp that works efficiently even at high temperatures. The parts used to make KRK drivers have a high tensile strength-to-weight ratio for high-end sound reproduction.
Ease of Use
ADAM Audio Ease Of Use
Adam Audio makes every effort to make their devices user-friendly. This is reflected in their deliberate placement of basic controls (volume, power) in easy-to-reach places like the front. The devices can also be controlled using wireless remotes and personal computers using the S Control software's user-friendly interface.
KRK Ease Of Use
KRK devices are well-made and durable. The case is designed with low sound resonance in mind.
This keeps the low-end sound smooth and punchy. KRK devices have a built-in custom Class D amp that works efficiently even at high temperatures. The parts used to make KRK drivers have a high tensile strength-to-weight ratio for high-end sound reproduction.
Cost
ADAM Audio Cost
Some Adam Audio devices are quite affordable, but as shown by the list below, most are for serious professionals only.
Speakers: $200 – $36,000

Subwoofers: $700 – $10,000

Headphones: From $500
KRK Cost
KRK devices are very cheap and affordable. Several manufacturers sell similar products for a higher price than KRK. Below is the price range of different products from KRK Company:
Monitor speakers: $150 – $1000
Subwoofers are sold for around $300
Headphones: $100 – $300
Space Requirements
ADAM Audio Space Requirement
Adam Audio produces very compact devices, but their devices can be very heavy. The S5H studio monitor weighs 72.6Kg and measures 430x885x500mm (HWD) while the slightly smaller S2V, also a studio monitor, measures 346x222x338mm and weighs 11Kg.
KRK Space Requirements
KRK devices, just like many other manufacturers, have a variety of product sizes and shapes. KRK has some portable devices which will not consume much of your space and vice versa.
You must definitely take into consideration the available space in your room before getting any audio products for yourself.
Remote Controls
ADAM Audio Remote Control
Adam Audio devices can be controlled via wireless remotes. The S Control app, available for Macintosh and Windows computers, allows users to set up, adjust, and update their devices via USB.
KRK Remote Controls
KRK Company produces remote controls that can work perfectly with their devices and some other devices as well. Their remote has the power to work within a range of 25 ft.
Connectivity Options
ADAM Audio Connectivity Option
Adam Audio devices are not lacking when it comes to connectivity. There are analog ports such as XLR and RCA for lossless, unprocessed audio playback and modern digital ports including HDMI, AES3 and USB. There are also extension ports if you need more options than those available.
KRK Connectivity Options
Here are the main connectivity options compatible with most KRK speakers:
Power Range
ADAM Audio Power Range
Adam Audio devices are power-efficient and therefore produce sound precisely, even at very high volumes. The A7X studio monitor peaks at 225W. Compare that to the S2V which peaks at 230W. Adam Audio devices generally range from 50W to 900W.
KRK Power Range
KRK device power range varies from device to device, but on average, KRK devices do not consume too much power. They have a power range of 50 W to 200 W capacity.
Frequency Response
ADAM Audio Frequency Response
Adam Audio devices are well-known for their impartial audio reproduction in a wide frequency scope. The A7X studio monitor ranges in frequency from 42Hz to 50KHz. The S2V on the other hand, starts at 35Hz and goes up to 50KHz. The typical frequency response for Adam Audio devices can range from as low as 20Hz all the way up to 50KHz.
KRK Frequency Response
KRK produces different devices which makes the frequency response vary from device to device as well.
An example is the KNS 6402 headphone, with a frequency response of 10 Hz–22 kHz, and the KRK ROKIT 8 G4 monitor speaker, with a 32 Hz–40 kHz frequency response. Generally, for their speakers and headphones, you will get a frequency range of 10 Hz–40 kHz.
Conclusion
The excellent price-performance ratio for Adam makes them very good purchases for everyone. The high-end prices, however, make them only suitable for professionals and upscale home use.
KRK is one of the best choices out there when it comes to durable monitor speakers. They have excellent designs and features, and they are quite affordable and up to the task. KRK device gives you great sound and is well-built and user-friendly.