As an Amazon Associate, we earn from qualifying purchases made on our website.
Lee De Forest made the first audio amplifier in 1906. Until the 1970s, many amplifiers had hit the market. In this article, we look at the 7 best Vintage integrated amplifiers made in the 70s – a golden era. These are some of the best old school amplifiers. Let's go!
Even though there are ways to make a speaker louder without an amplifier, the fact is nothing can produce the earthshattering power in an audio system as an amp. Let's take a look at the real OG amplifiers!
Made in 1977, the amp from Sansui is designed with an input, output, and speaker terminal on the sides. On the rear, there's a power cord and outlets only.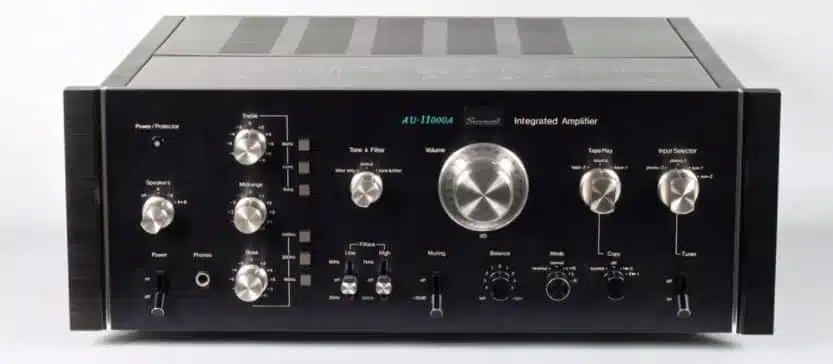 Also, it uses independent circuitry in the amplification process which means that every component from the bias control board to the power supply all have 2 independent and identical circuits per channel. This is to separate the 2 stereo channels as well as reduce the Total Harmonic Distortion (THD) down to 0.08%.
Pros
Heat sinks

Calibrated master volume control knob

Professional sound quality
Cons
This heavyweight integrated amplifier toped Denon's range of amplifiers between 1978 and 1979.

It is an attractive amp with high-quality circuitry with the ability to deliver up to 100-Watt RMS power into 8 Ohms per channel. With three turntable inputs (MM & MC), this amp outmatches most of the modern high-end outboard phono stages.
Pros
Reliable performance

Sounds better than most modern integrates
Cons
This was a classic representative Yamaha HiFi constructed with the seamlessly connected single-sheet aluminum front panel and white cabinet.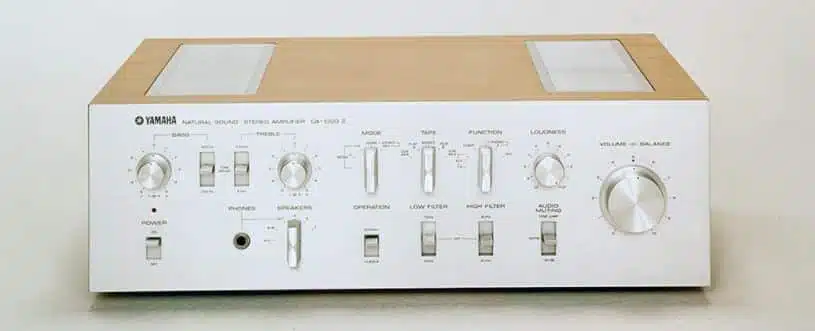 It has a power amp section featuring the world's first Class A/B switchover that makes it seamless to switch between the low-distortion, priority-on-sound-quality class A operation to the high-power class B operation.
Pros
Class A/B switchover

Loudness control

High building quality
Cons
Not natural

Overheats in class A
This 1977 original design from Kenwood is a two-channel integrated amp rated at 90 WPC RMS at 1 kHz into 8 ohms and a 0.03% distortion. The two UV meters offer 3 watt and 100-watt adjustable user selection.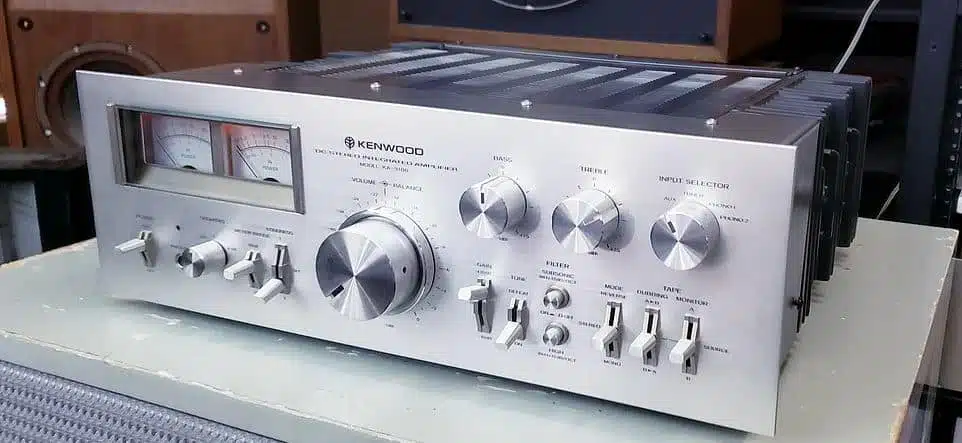 It has provisions for two turntables, an AM/FM tuner, two tape decks, and an Auxiliary. Also, it has versatile Bass and Treble controls, and Tone Defeat. The panel is made from solid, brushed aluminum giving it a more logical and beautiful appearance.
Pros
Heat sinks

Affordable

Superior speaker terminals
Cons
Vintage and replaceable parts are not easy to get
5. Best Heat Sink Configuration: Pioneer SA-9800
The Pioneer SA-9800 has a special non-switching amplifier specially created by Pioneer. It integrates features of both class A and class B amplifiers. Besides, the heat sinks allow it to run for longer hours without suffering heat problems.

The power output is100 watts per channel into 8 ohms with a frequency response of between 5 Hz to 100 kHz. The harmonic distortion factor is 0.005% and the amp boasts of a damping factor of 55.
Pros
Low sound distortion

Low noise transistor
Cons
This vintage stereo amplifier manufactured in 1977 delivers up to 100 watts per channel into 8 ohms.
It has a total harmonic distortion of 0.03% and a damping factor of 50. It's however very heavy at 12.5 kg.
Pros
Impressive design

Superior bass
Cons
Marantz 1060 is a stereo console amp with three-line inputs – a tape loop and one phono input. manufactured in 1971, it comes with a pair of switchable sockets for main and remote speakers. With a frequency response of between 20 Hz to 20kHz, this amp will drive up to 30 watts of power per channel into 8 ohms speakers.
Although it is a bit bass-shy, you can still change the main filter capacitor and the coupling capacitors with new ones to improve the bass response. The damping factor is 45 and the total harmonic distortion is 0.5%.
Pros
Superior performance

Affordable

Conservative power rating
Cons
No speaker protection

Low bass
The NAD 3020 stands out as a simple, yet powerful amplifier that was designed to deliver 20 W of power per channel. When we say simple, we mean the amplifier is without the many bells and whistles that many other amps in this category have. If you are not interested in excessively tuning your audio system and prefer something that is closer to plug-and-play, this is the best option.
While a few different versions of the 3020 exist, most lovers of the NAD 3020 still agree that the UK-built first model is the best. At about $200, this amplifier is worth every penny, even more than 30 years later.
Pros
Cons
Other Leaders Of The Vintage Category
1. Audio Research SP-3 Preamplifier
The SP-3 preamplifier runs the same league as the legendary Mclntosh and Marantz, though at a more reasonable price. You can still send it back to the factory for a better top-to-bottom rebuild that incorporates all the technologies found in the current ARC preamplifiers. With tone controls, this preamp recreates music with added clarity.
Pros
The soundstage is wide and deep
Very clear
Tone controls available
Cons
No remote
Slightly more background noise than the newest version
Ugly looking
2. Threshold 400A Power Amplifier
Shaman Nelson Pass manufactured this class-A power amplifier. It was one of the best, most powerful amps with a beefy power supply. The two-channel amp can deliver up to 500 watts RMS per side. However, this amp will require continuous powering 24/7 to keep its thermal conditions more stable, as powering on and off makes it considerably unstable.
Rated 100 watts per channel, both channels are driven into 8 ohms, 20 Hz through 20 kHz at a 120-volt line source.
At the rated power, harmonic or intermodulation distortion does not exceed 1 percent and reduces monotonically with lower power to unmeasurable levels. The hum and noise at the output terminals are also very low at 0.5 millivolts.
Pros
Low noise
Two channels
Does not overheat
Cons
Should be left powered on 24/7, which contributes to high power bills
3. GFA-535 Amplifier
This GFA-535 from Adcom was a top-of-the-line amp with the ability to deliver 60 watts per channel with a top-notch refinement that was very rare at the time. At $299, most audiophiles passed on it just because it was not expensive enough to sit in a high-end system.
At 60 clean watts, this oldie can drive a wide range of speakers. And even today, it still offers satisfying performance.
Pros
Affordable
Clean performance
Low noise
Cons
4. Mark Levinson 23.5 Power Amplifier
Used price ranging from $1,200 – $1,500, this is one of Levinson's most expensive old-school amps.
Offering up to 200 watts, the class AB power amp climbed to the top in 1991. It boasts high versatility and can comfortably drive power-hungry speakers.
Also, this powerhouse provides a high-end level of resolution that many new class-D lightweights struggle to deliver. This is the kind of old-school amp you don't want to play catch with.
Pros
Frequency extension
Bass control and projection
Cons
5. Dynaco Stereo 70 Amplifier
This Dynaco Stereo 70 amplifier is much like the Porsche 914. Hobbyists constructed the model. Some of the homebrew amps, however, look like a pile of linguini under the hood. Although this contributes to the ill-deserved reputation for being a bit noisy, this characteristic is unintended.
Pros
Cons
6. Conrad Johnson PV-12 Preamplifier
This PV-12 was built to deliver a classic CJ sound: romantic and slightly warm. It also makes recordings sound very pleasant, even if they were less impressive in the first place.
There are two versions of the amplifier, one with phono and the other without. The one with a phono is usually about $300 more. If you crave a more modern CJ sound delivery, then you can take the PV-12 back to the factory to upgrade the C1 capacitor. This capacitor offers a suitable balance between the midrange warmth and punch of the latest CJ components.
Pros
Good bass and excellent midrange
Reliable and very stable
Cons
It lacks a remote and IES power cord
Best Stereo Amplifier Ever Made
This Peachtree audio nova300 weighs 17 lbs, has a DAC, and delivers 300 watts at 8 ohms RMS. The amp is more thunderous, providing roaring bass, crisp highs, and outstanding richness that most standard amps are shy of.
Also, the amp comes with an ESS Sabre digital-to-analog converter together with a clean digital circuit that delivers clean shaves on harsh recordings. For audiophiles looking for crisp fidelity even at top volumes.
An updated version of an earlier giant, the nova220, the nova300, tops the list even without the visible tube from the nova220SE.
Power And Volume
At 300 watts per channel with a peak of 450, this amp is a goddamn monster, very loud.
Detail And Clarity
Apart from being very loud, this amp delivers extraordinary sound. Even at low volumes, it provides a performance that imbues the music with much more life. Even with the incredibly dense material, as well as low or high frequencies, the performance is super clean, and the audio is highly detailed.
Design
The design is simple and joyous. With a giant, rectangular construction, the amp is made with a smooth housing design, an all-metal front end, two enormous vent sections on top, and a slim vertical profile.
Pre And Power Amps
The nova300 is an integrated amp and therefore packs both pre-and power amps but lacks the tube used in the 220SE. It also includes a DAC to handle all your audio needs.
Inputs And Outputs
This super amp gives you several inputs and outputs. There are two USB inputs – one specifically for Apple products, a Coax input, an Aux input, two optical inputs, a ground connection for turntables, and a Phono input.
There are two speaker binding ports, input, and output for the loop feature, a 6.3mm headphone output and a preamp output.
Accessories And Packaging
The amp comes with a lengthy USB cable, power cord, remote, and a comprehensive user manual.
Pros
Huge sound
Easy to set up and use
Recently dropped in price
Excellent design
Home Theater Bypass mode
Cons
Very little
It needs to be well ventilated
Best Vintage Marantz Integrated Amplifiers
Other than the Vintage Marantz 1060, other amps from Marantz that rocked the world include:
1. The Baby: Marantz 2010
This is a 10 watt-per-channel beast standing in a smaller chassis. Manufactured between 1972 and 1973, this amp will cost you about $200 upwards.
2. The Middle Weight Champion: Marantz 2245
This model is powerful and will drive inefficient speakers with much ease. Manufactured between 1971 to 1976, the amp delivers 45 watts per channel. The prices vary from $400 upwards.
3. Your Last Stereo: Marantz 2270
This stereo amp manufactured between 1971 and 1975 is made to sound loud. It delivers 70 watts per channel and will cost you from $700 upwards.
Best Vintage Japanese Integrated Amplifiers
There are many vintage Japanese amps from companies like Marantz and Luxman (55A & L-570z), Sansui, Pioneer and so on. Excellent examples of the best vintage Japanese amps are the Technics SU-8080 and the Luxman L-85V integrated amp.
What Is The Best Vintage Luxman Amplifier?
The best vintage Japanese integrated amplifier is the Luxman L-85V, a little powerhouse offering 80 watts per channel into 8Ω (stereo) and a frequency response of 10Hz to 50kHz with just 0.05% total harmonic distortion.
Best Vintage Sony Amplifier
Sony's vintage ES amplifiers are preamps that were highly regarded in the past. There are many models, but our recommendation is the TA-F730ES. This is a powerful and durable Sony vintage amplifier. However, here are some other models:
TA-TF555 ES
TA-T555ES
TA-F222ES
TA-F700ES
Best Vintage Amplifier Under $500
Amplifiers have always been expensive and so finding an excellent amplifier under $500 can be difficult, even for vintage options. However, you can indeed find vintage amplifiers under $500 in good working order.
Here are some examples:
Dynaco SCA35
Marantz PM80, 7200, or 7001
Marantz PM5004
However, we do suggest that if you have $500 to spend, just go ahead and purchase a new amplifier. You can find new amps at this price that are worth it.
FAQs
1. Is It Worth Buying A Vintage Amplifier?
The older products get, the higher the potential savings on purchasing one. Depending on how old it is, it can save thirty percent to fifty percent on purchase. However, prices of products over three years are affected by scarcity, demand, appearance, quality, working order, and other factors.
2. Do Older Amps Sound Better?
In theory, considering that defective amps would most likely have been discarded long before now, it makes sense that whatever vintage amps are still around now are in great working condition. In reality, however, vintage amps (also called valve amplifiers or tube amplifiers) were built with vacuum tubes rather than transistors, which gives them a unique sound.
Older stereos come with amplifiers that were built to possess way more electrical current capacities than the more recent amps, and they are certainly not as powerful. Older, earlier stereos also produced richer, fuller sound than the current productions on the market.
3. Which class amplifier is best for sound quality?
Class A design is not great but it provides the best sound quality.
Class B design is somewhat more efficient but has significant distortion.
Class AB design offers a powerful punch in terms of power efficiency and sound quality.
Class D design is the most efficient, although it is not as high-fidelity.
4. Why Are Vintage Stereo receivers so expensive?
Vintage stereo receivers are highly-priced because of their scarcity and the demand placed on them. Considering how well-built they must have been to function so well still many decades after production, it makes sense that there would be such a demand for them.
5. How many watts is a good amplifier?
A higher power amp with at least 100 watts is recommended if you want to play in large settings. Otherwise, you can go for a bigger amp (12-15″) with 50 watts.
Conclusion
That's our guide to the best 1970s amplifiers, you can also check out other guides in this series:
Best Vintage Bookshelf Speakers of All Time
Vintage vs Modern Speakers
Best Vintage Bookshelf Speakers
Best Vintage Speakers Under $1000 and Under $500