An AV receiver can be thought of as the brain that controls and powers a home theater system. Its major function is to receive, interpret, and process data before transmitting it to your speakers and television. More powerful AV receivers, such as 4K receivers, have been developed because of today's technological advancements.
Why Do I Need A 4K Receiver?
You will need a 4K receiver if any device in your system is 4K. If you have a 4K TV, then you will need to feed it a 4K input signal via HDMI sources and you will need a 4K receiver to switch those sources.
5 Best 4k Receivers
There are a variety of 4K receiver brands available today. However, not all of them are the most cost-effective.
Ideally, you want to make a wise investment choice when want to purchase a 4K receiver. By researching and short-listing the best brands available today, we have made it easy for you to choose the appropriate 4K receiver for your needs.
Top 3 Picks
The Denon AVR-X6700H offers all the specifications of the top 4K AV receiver on the market. It's well-designed and sounds great in both Hi-Fi and surround.
This model is ideal for watching movies in large rooms because it includes a full suite of 3D sound technology. There is no competition in this price range because the sound is so fantastic. AVR-X6700H differs from many other receivers in that it has one HDMI input and two HDMI outputs which are 2.1 generation.
As a result, the AVR fully supports 8K at 60 Hz and 4K at 120 Hz, as well as the HDCP 2.3 content protection standard. Furthermore, all HDMI inputs are compatible with the most up-to-date video technology and decoders.
The sound is considered more controlled and mature, and the additional bass volume delivers complete and realistic voices. When combined with good up-scaling of HD images to 8K resolution, the user experience is ideal.
Pros
DTS: X Pro supports 7.2.6 and 9.2.4 configurations.

Besides the speakers, the Bluetooth TX capability allows you to broadcast the audio signal to a compatible headset.
Cons
Even with active cooling, the receiver may be extremely hot.
This Denon has built-in Bluetooth capabilities for wireless music streaming. Its Bluetooth connectivity allows you to wirelessly stream music from a Bluetooth-enabled smartphone, laptop, or tablet.
This allows you to listen to music while performing other chores on your smartphone.
Another distinguishing feature of this receiver is that it is equipped with the most up-to-date sound processing technology.
It can decode DTS-HD Master Audio and Dolby TrueHD surround sound. Dolby TrueHD is a sound technology that provides cinematic sound effects. DTS-HD Master Audio improves sound clarity while also allowing for lossless audio. Check out our review of Dolby receivers to learn more.
Pros
A sound calibration microphone is included for fine-tuning the speaker arrangement in a home theater area

There are two composite video inputs and one composite video output on this unit.

Use a smart TV remote or a smartphone app to control the device.
Cons
Phono input for a turntable is missing
This receiver supports High Dynamic Range (HDR) technology, which is another premium feature.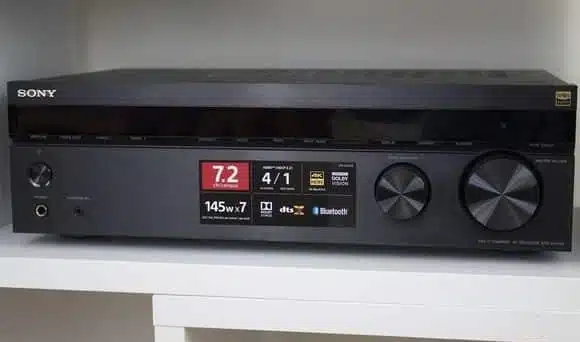 It provides exceptional brightness and contrasts for better color and detail in pictures. It also supports Dolby Vision, HLG, and HDR10, as well as other contemporary HDR technologies.
You'll have various options for setting up your home theater speakers with this receiver. A 7.2 or 7.1 surround sound system is supported by the receiver. You may also use it as a 5.1.2 channel Dolby Atmos receiver. You may even get surround sound effects with just two stereo speakers.
Pros
It maintains image quality from the source to the screen thanks to the 4K pass-through capability.

The receiver includes a setup mic that allows it to adapt its sound output depending on the area and speakers.

Smart Bluetooth technology for wireless music streaming
Cons
Price ranges that are more expensive
The Yamaha RX-V 685, which should be termed the best cheap 4K receiver, provides far more functions than other similar products if you're looking for a basic 4K up-scaling receiver.
The RX-V 685 has basic features, such as the ability to stream music directly from Spotify or other network sources via wireless smart speakers and Wi-Fi.
The Yamaha RX V685 features a Dolby processor for surround sound. There are many settings available with Dolby Audio (Low Volume Sound, Auto Volume, or Dual Gain mode for simultaneous treble and bass control).
Multi-channel Dolby Digital and Dolby True HD formats are also supported by the Yamaha RXV685.
Pros
Its use on other sound systems is limited because of its compatibility with MusicCast.

Compatibility with compressed file types has been improved.
Cons
The sound becomes distorted and interrupted at high volume settings, up to and including a complete mute.
This receiver generates a lot of sounds, with each channel outputting 155 watts at 6 ohms or 80 watts at 8 ohms.
It can provide enough power to powerful speakers to improve the surround sound experience in a large room. It provides full-range sound in the 20 Hz to 20 kHz range to speakers.
The superior Bluetooth capabilities of this 4K receiver are another key feature. When streaming music over Bluetooth, you can manage the volume from your Bluetooth-enabled device.
You can also use Bluetooth headphones to listen to the receiver's sound output. That way, when you're listening to music or viewing a late-night movie, you won't wake up the rest of the family.
Pros
Supports DTS Neural: X upmixing and Dolby Surround upmixing.

Both Dolby Decoder and DTS Decoder technologies are supported.

Bluetooth technology is built in for wireless music streaming

4K or 8K Signal Upscaling
4K or 8K Video Passthrough
Cons
No Bi-amp Capability
No Wi-Fi connectivity
No IMAX enhanced
FAQs
1. Why Do You Need A 4K Receiver?
The entire chain of devices must be 4K compliant when using a 4K TV. So, if you buy a new 4K TV, and you want to feed it 4K via HDMI sources, and want to switch those sources using an AV receiver (rather than the TV), you'll need to buy a new 4K receiver.
2. What Is 4K Receiver Upscaling?
Upscaling is simply scaling an incoming video signal to a higher resolution. Upscaling low-resolution source video (such as Full HD (2K)) to 4K high-definition signals is possible using 4K upscaling.
As a result, 4K upscaling AV receivers allows you to watch and experience Full HD video data over HDMI in greater quality.
3. Will High-Speed HDMI Play 4K?
If you would like your HDMI cables to support 4K resolution, they must be High-Speed HDMI cables. They have been tested to transmit video resolutions ranging from 1080p to 4K with a more vibrant color palette. High-Speed HDMI cables are required whether HDR is present or not.
4. What Is A 4K Pass-Through?
The 4k pass-through capability allows data to pass across a system without reducing image quality.
On 4K-compatible TVs and projectors, the AV receiver with a 4K pass-through feature reproduces 4K signals from video playback equipment while keeping 4K quality – this is called 4K pass-through.
Conclusion
Selecting the best 4K receiver for your demands and budget should not be a big deal once you know the right things to look out for. Simply make sure the receiver you purchase has all of the features you desire. Also, be sure it's made of high-quality materials for long-term durability and dependability.